After Season 46 of "Saturday Night Live" ended in May, fans of the popular NBC series are eager to find out when they can expect to tune in for the show's 47th season. The release date for the next season is still unknown, but Screen Rant predicts that the premiere date will be scheduled for sometime in September, keeping in line with previous seasons. However, given that Season 46 started in October of 2020, there's no reason to think that the September date is exactly set in stone. 
"Saturday Night Live" brings back viewers every year with its comedic sketches, hilarious hosts, and hot-button musical acts. The Season 46 cast included Kenan Thompson, Chris Redd, Alex Moffat, Pete Davidson, Melissa Villaseñor, Lauren Holt, Cecily Strong, and Colin Jost, along with guest appearances from showbiz heavy hitters like Alec Baldwin and Jim Carrey. 
One highlight of Season 46 that Season 47 will need to beat was the presidential debate skit, which featured Baldwin as Donald Trump and Carrey as Joe Biden and former cast member Maya Rudolph returning to impersonate Kamala Harris. Among other memorable moments during the season were tributes to well-known celebs who are no longer with us, a performance by Lil Nas X in which he split his leather pants, and an appearance from Jimmy Fallon. As fans gear up for a new season, many are wondering which of their favorite cast members are returning and which are leaving. Keep scrolling to find out.
The cast members you can expect to see in season 47 of "Saturday Night Live"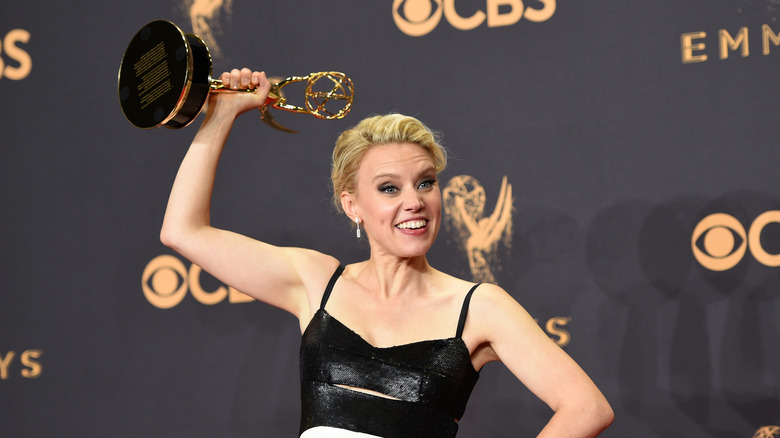 As of August 2021, it is still officially unknown as to which "Saturday Night Live" cast members will be returning or leaving ahead of Season 47, per AV Club. At this phase in the summer, cast members are still typically working out deals, and "SNL" announces renewed and new contracts toward the end of the summer, just ahead of the next season. However, there are definitely a handful of cast members that can be expected to return for the new season. 
Long-time player Kenan Thompson, who has spent 18 years on the show, confirmed back in March that he was not in a hurry to leave "SNL" and was shooting for hitting 20 seasons. "I am never in a rush to leave because I have never seen anything like it and number two, there aren't many live shows left," Kenan told Deadline. "It never gets old because it's sketch comedy and it changes every week." Similarly, Kate McKinnon, known for playing Hillary Clinton and Ellen DeGeneres among other noteworthy names, told Variety back in April that she loves working for "SNL" and didn't have plans to leave at the time. Michael Che, co-anchor of the "Weekend Update" says he's "99.9% sure" he'll be returning to "SNL" for Season 47 on The View.
However, there are a few other names that have been dropping hints that they're on the way out.
The cast members rumored to be leaving "SNL"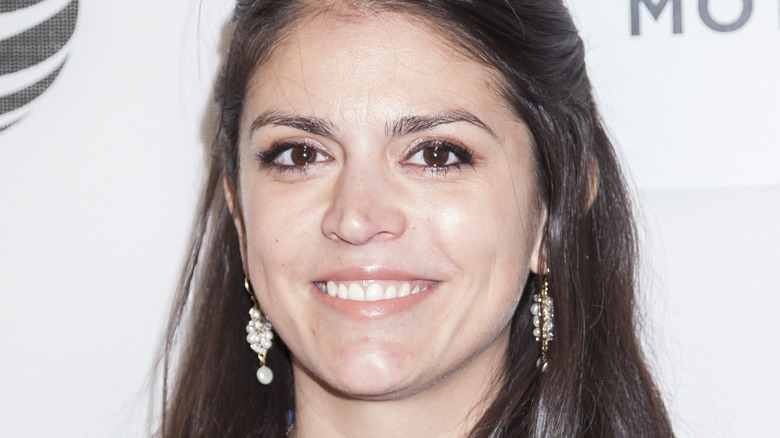 Just as a large chunk of the "Saturday Night Live" cast may be staying on for the 47th season, there are also several long-time favorites that have either hinted at their departure or are rumored to be leaving. Cecily Strong, known for her bit as "Girl You Wish You Hadn't Started a Conversation With at a Party," is one such cast member who hasn't given a definitive answer yet as to whether or not she's leaving "SNL," but who missed filming large sections of Season 46 due to dedicating her time to her Apple+ musical series "Schmigadoon" (via Vanity Fair). "I know that, if I leave, I'm so happy with the time I've had there," she told Collider in July. "And then, if I stay, it means I get to go back to a place that I love so much. I'm just not sure yet."
Pete Davidson will be sorely missed if he leaves "SNL" after seven eventful seasons but seems ready to move out of the way for new talent. Speaking with Gold Derby in June, he said, "Right now, it's all up in the air… It's a big cast… there's a lot of great new talent that it's their time to shine. I have no idea what's going on right now." Like Davidson, Aidy Bryant is waiting for a moment of clarity to tell her whether or not to return (via AZCentral). She puts it simply: "I really don't know [yet]." 
Source: Read Full Article