If you can't contain your excitement for the upcoming season of American Horror Story, you're not the only one.
Many of us can't wait to finally get a taste of AHS: 1984 and all that is set to take place in yet another season of the hit franchise.
Though we are still in the dark of what exactly this season is about, we do know the actors who are set to go back to the 80s.
While some of our favorite season regulars will not be making a comeback this time around, one person whose return is still in question is Sarah Paulson's.
Though it has been confirmed Paulson would not be appearing as a significant role this season, fans think that she still could make a small cameo and even reprise a past character.
Fans are certain this season will bring back Lana Winters
To say the news of Sarah Paulson not taking on a large role in American Horror Story: 1984 was a disappointment would be an understatement.
After hearing that, many fans were upset, shocked, and even heartbroken that the woman who's practically been part of every season of this hit show might not be part of this upcoming season.
https://www.instagram.com/p/BzyHgu7JL4t/
While there is still a chance Paulson could be appearing in the ninth season, her role will not be as big as all of her past ones.
Although many fans have taken to social media to share their anger of Paulson's possible absence, others have been sharing a new theory that could most likely happen.
According to fans, they believe that Sarah Paulson will briefly appear in the new season of AHS as a fan-favorite character from two seasons ago.
The theory predicts that the actress will reprise her role as Lana Winters, the journalist who was introduced in AHS: Asylum and had to endure a horrific experience as a patient at Briarcliff Manor.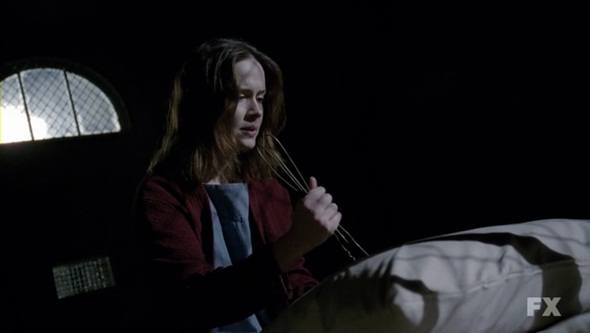 Since Lana Winter was one of the main characters that season, made a cameo in Roanoke and was also mentioned in Cult, fans have a good feeling she will be making yet another comeback to the show.
This season could have a connection to one of Lana Winter's books
In American Horror Story: Asylum, Lana Winters recalled all of the events that happened to her at Briarcliff Manor in her book titled, "Maniac: One Woman's Story of Survival."
According to a different fan theory, it is to be believed that AHS: 1984 could possibly be taking place on the set of a horror movie and the characters are actually filming the screen adaptation of one of Winter's books.
While this could be pretty far fetched, many might remember that in AHS: Asylum, Winters did say that she sold the rights to her Maniac book so that could also mean she sold the rights to her other books as well.
If that is the case, we will hopefully be seeing Sarah Paulson reprise her role as Lana Winters in American Horror Story: 1984.
The upcoming season premieres on September 18th on FX and we'll see then if this fan theory turns out to be true or not.
Source: Read Full Article