A spontaneous bend-and-snap lesson may not be very likely. Still, some scenes from this iconic 2000s movie were based on real-life events. That includes one Legally Blonde moment with Elle Woods (Reese Witherspoon) as the president of her sorority, Delta Nu.
Elle Woods showcases her unique leadership skills in her Harvard Law School admission video
Once things went south for Elle's relationship with Warner, this character decided to follow her ex-boyfriend to Harvard Law School. She had a 4.0 and a killer LSAT score, so she wasn't worried about getting in. After all, she's not afraid to use legal jargon in her everyday life.
During Elle's Harvard Law School admission video, the student explained that as the president of her sorority, she had no problem commanding a room. Viewers see the Delta Nu members voting on a very serious topic with Elle Woods at the head of the table — the maintenance staff changing from Charmin toilet paper to a generic brand.
This toilet paper vote was actually based on real experiences at one sorority
After Elle Woods brings up this impactful toilet paper news to her sisters, she puts it to a vote, saying, "all those opposed to chafing, please say 'Aye.'" It may seem a little out of the ordinary to include in an admission video for Harvard Law School. However, this character did get into the school thanks to her grades and, mostly, her charisma.
According to Insider, that meeting moment, although it was a point of comedy, was based on co-writer Karen McCullah's experience in a sorority at James Madison University.
"We were denied our toilet paper," McCullah reportedly told the university's Montpelier magazine. "I offered my sorority sisters activity points for stealing replacement rolls from the administration building."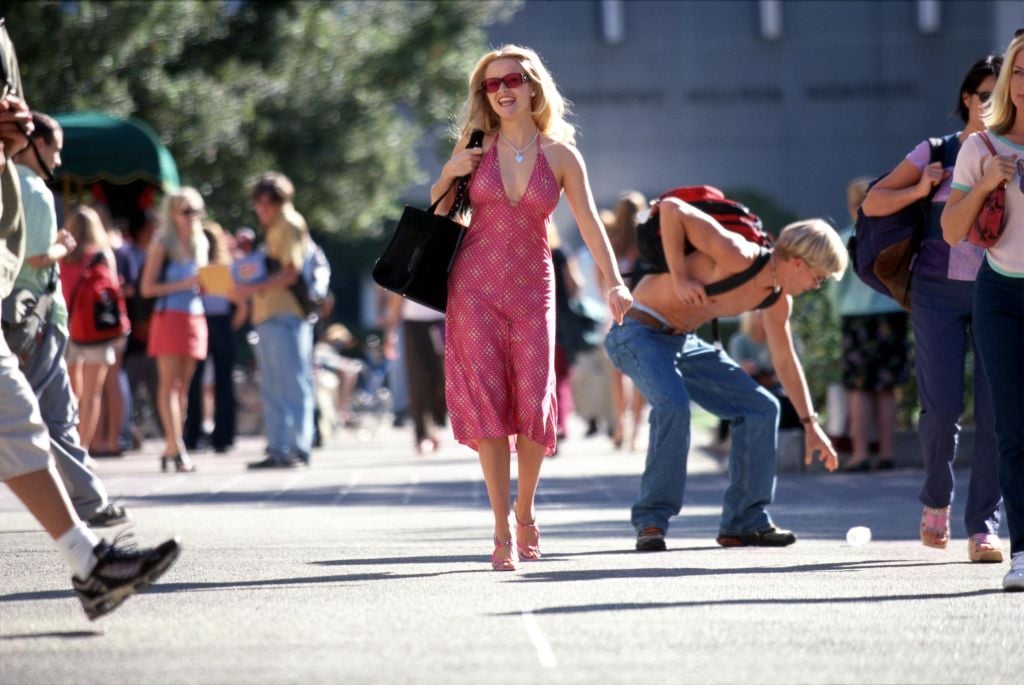 This wouldn't be the only 'Legally Blonde' moment based on real life
The whole film is based on a novel by Amanda Brown and was inspired by her real-life experience at Stanford Law School — fuzzy pink pen and all. During an interview with Elle, the costumer designer for the film, Sophie de Rakoff, explained that they picked Elle Woods' signature pink color after visiting a sorority house.
Not everything was based on real-life, though. The bend-and-snap moment was "totally spontaneous" and almost excluded from the rom-com, according to Showbiz Cheatsheet. (It later became a musical number in the stage production, Legally Blonde The Musical.)
Fans look forward to seeing more adventures with the actor as the optimistic and headstrong Elle Woods in the upcoming third movie in the franchise. Legally Blonde 3 is set to premiere on May 20, 2022.
In the meantime, fans can watch the original movie and its sequel Legally Blonde 2: Red, White & Blonde, which is available for purchase digitally and physically. As of October 2020, both Legally Blonde and its sequel are available for streaming on Hulu with the Showtime add-on.
Source: Read Full Article