Reboot season has been in full effect, and the latest blessing from the sequel gods is HBO Max's Pretty Little Liars: Original Sin. For those of you calculating this new reboot timeline, you're not the only one—the original Pretty Little Liars aired on ABC Family (RIP, it's now called Freeform) from 2010 to 2017. So, yeah, if you're mathing correctly, you know that the original PLL wrapped just *five* years ago.
Original Sin was announced back in the dark times of 2020 and was met with a bit of saltiness from fans of the OG series. I mean, there were legitimately tweets like, "The bodies aren't even cold yet." Lol! In response to many tweets of this nature, Pretty Little Liars creator I. Marlene King tweeted, "The #OGPLL fans are the most passionate, loving, and loyal in the universe. Thank you for all of your support. We are family forever. I love you." Now, two years later, the new series is finally here. Well, almost.
Original Sin follows a group of teenage girls still reeling from a tragic event that occurred 20 years earlier. The girls are tormented by an anonymous villain marked "A," who is exacting the sins of the girls *and* those of their parents two decades ago. Much like the original series, the parents will play a pivotal role in this mystery. But while both the new liars and the old are haunted and hunted by A, the new series has a different vibe and will lean more toward slasher horror and away from the OG's mysterious thriller genre.
It's also worth noting that Original Sin exists in the same universe as the original but not the same town. Pretty Little Liars' famous town of Rosewood, Pennsylvania, has been replaced by the neighboring Millwood, Pennsylvania, a fictional, small, blue-collar town. The locale change makes sense, considering the original series left no stone unturned in Rosewood. If you made it through all seven seasons of Pretty Little Liars, then you likely know the names, favorite colors, and social security numbers of every single Rosewood resident. It's time to move.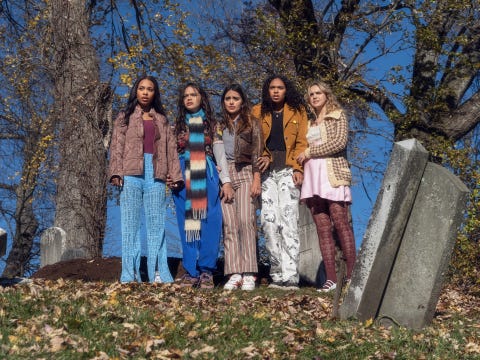 If Original Sin is anything like Pretty Little Liars, we won't know who A is for a very, very, very long time. So if you're already on the hunt for a second, third, or maybe seventh season, here's what we know about the future of the show.
Will there be a season 2 of Pretty Little Liars: Original Sin?
After the past few weeks of seeing some of our favorite HBO Max titles disappear, PLL fans can finally let out a sigh of relief. Pretty Little Liars: Original Sin has officially been renewed for a second season! That means we'll get to see more of our favorite new liars from Millwood.
That's not all! The show will officially have go through a title change when it returns for another season of fun and thrills. Co-creator Roberto Aguirre-Sacasa revealed that season 2 will be called Pretty Little Liars: Summer School and based on the poster, not everyone will survive.
Fans are wondering if the girl in the poster is Karen or Kelly Beasley and we're already accepting bets on who will meet their fate. Check it out below:
https://www.instagram.com/p/CkYqkO2umx5/?utm_source=ig_embed&utm_campaign=loading
A post shared by Roberto Aguirre-Sacasa (@writerras)
Who will be coming back?
That's the big question! The season 2 cast hasn't officially been confirmed just yet, so we're going to have to wait and see who will be back for another round of scares. Here's hoping that they will all come back!
Source: Read Full Article