Guys…we are so close to being finished with this season of The Bachelorette. Don't get me wrong, I really love Alabama Hannah. But after all of the Luke P. drama, this season has felt less "Roll Tide!" and more like a muddy puddle. Anyway, the good news is that Bachelor in Paradise is right around the corner. Season six starts August 5. Here's everything you need to know about it!
These are the confirmed women
The original cast for BiP has been confirmed! This includes Tayshia Adams from Colton's season, who was already spotted in a golf cart in Mexico.
(SPOILER): Another. Tayshia Adams down in Paradise. pic.twitter.com/NBJOVN4ZPN
Hannah Godwin, another one of Colton's almost-baes, was also been photographed looking very Paradise-y with a cocktail in hand that is not making me jealous AT ALL.
(SPOILER): Hannah G down in Paradise today. Filming begins tmrw. pic.twitter.com/kTesozw2Hp
Also on the original cast list are:
These are the confirmed men
Heads up: Some of these dudes are from the ongoing season of The Bachelorette, so if you're worried about spoilers, AVERT YOUR EYES NOW.
Dylan Barbour, from the current Bachelorette season, has been confirmed after he was already caught filming his intro for BiP. Dylan hasn't made too much of an impact on the current season (his ABC bio isn't even formatted properly), but Chris Harrison told us to watch out for him—so maybe the best is yet to come?
(SPOILER): And another. Dylan Barbour filming his intro for Paradise. pic.twitter.com/PRiDOyzyGd
Hannah B. may have said goodbye to John Paul Jones already, but we won't have to! His name is also on the original cast list. Sure, I may have liked a few memes that compared him to a serial killer at the start, but he's really grown on me.
There's also Kevin Fortenberry, who I don't particularly remember but according to the ABC cast website "won't go anywhere that doesn't have an available gym"—so TBH, I can see why Hannah B. will dump him. Also, just when I thought I'd never have to hear the phrase "always be Cam" again, Cam Ayala is also confirmed. What else would you be, Cam?!
There's also a few non-Hannah B. contestants confirmed:
The trailer looks absolutely nuts.
This looks like one big dramatic, crazy party. There's so much making out! And crying! And fighting! And cheating! And…shirtless Cam moments?
Spoilers
Definitely do not continue reading if you're trying to live a spoiler-free life.
As always, more contestants will show up throughout the season.
Kristina Schulman (from Nick's season) was part of Reality Steve's original season leaks and is rumored to appear in episode 2. More men rumored from Hannah's season include my personal episode one babe, THE BOX KING (apparently his name is actually Joe Barsano) and Old Matt Donald. Also, Connor S., Hannah's adorable post-hospital date that left the Post-it note trail around her hotel room.
There's a ton of drama leading up to the first rose ceremony.
It seems like season 5 BiP lovebirds Chris Randone and Krystal Nielson will be getting hitched on the show:
(SPOILER): Shouldn't come as too much of a surprise based on their recent engagement party and meeting in Paradise last year, but Chris Randone and Krystal Nielson will be getting married next week in Mexico as part of filming for "Bachelor in Paradise."
They have already reportedly gotten married in a ceremony officiated by Chris Harrison (?!)
The first rose ceremony will see the men handing out the roses—with three women getting eliminated. Then, each rose ceremony will switch off after that, bouncing between men giving out roses or women giving out roses.
There is also a *lot* of rumored Blake drama. First, that he gets the first date card of the season goes out with Tayshia. Then, Kristina arrives on Day 2 and asks Blake out (FYI:The two briefly dated last year). Standard BiP, right?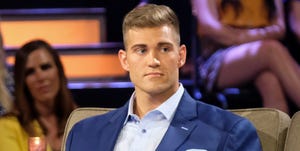 Just wait. It's then apparently revealed that Blake had previously hung out with Tayshia, then had sex with Caelynn the next night, then had sex with Kristina THE NIGHT AFTER THAT. In case that wasn't enough Bachelor incest, he also may have had a thing with Hannah G. Step aside, Dean, it looks like BiP has a new juggler. There are a LOT of tears, particularly from Caelynn.
Blake then gives a rose to Tayshia at the first rose ceremony but then decides that he is really there for Hannah G. Hannah G., on the other hand, is not pleased with Blake's previous dips into the BiP pool and stays with Dylan. Blake and Kristina then give each other roses in the following ceremonies, but apparently not because they're actually rekindling things. Yikes.
This season will feature the first same-sex relationship in the franchise's history.
As you saw in the preview, Demi comes out as bisexual on the show and will even be bringing her girlfriend, Kristian on after a few episodes. You also probably saw Demi gettin' down with Derek, so…expect this to be a rollercoaster. If you're wondering how this will effect rose ceremonies, according to Reality Steve, each one starts out with Demi giving Kristian a rose.

These are the couples that will get engaged.
Demi and Kristian, Dylan and Hannah, and Katie and Chris are all rumored to be engaged at the end of the season. Damn. Talk about trusting the process.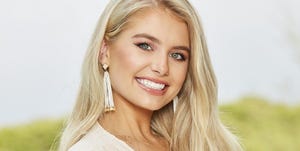 We'll be updating this post as soon as we hear more goss on BiP season six.
Source: Read Full Article