But Jeff Shell "couldn't be more excited" about how it's going
Photo by: Patrick McElhenney/Peacock
NBCUniversal executives are suddenly quite cagey about the number of Peacock signups and monthly active accounts (MAAs). During a Thursday morning conference call tied to parent company Comcast's third-quarter earnings, NBCU boss Jeff Shell and his boss Brian Roberts sidestepped a media analyst's request for updated streaming-subscriber numbers.
"Everything on Peacock is heading in the right direction, and there's really nothing from a trajectory perspective that's any different than it was last quarter or the quarter before. All metrics are pointed up," Shell said. "Our usage continues to be great, our mix of users continues to be great. We added a few million more subs, more MAAs."
"We couldn't be more excited about where Peacock is," he added.
A spokesperson for Comcast did not respond to our requests for the actual number of signups or MAAs to-date or at the end of Q3.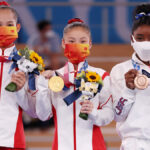 Last we heard, Peacock had reached 54 million users by July 29, which was the day Comcast reported its second quarter financial results. At that time, Comcast also said the streaming platform boasts 20 million monthly active accounts.
That was a convenient time to boast: the Tokyo Olympics Opening Ceremony took place on July 23, so we were nearly midway through the Games. All events were carried on Peacock, which certainly led to a surge in signups.
The Tokyo Olympics began more than three weeks after Q2 ended. Therefore, the lion's share of that Olympics surge likely took place in early Q3, but before the second-quarter's earnings call.
Either way, the (now-private) signup count is well ahead of initial targets, as Comcast had previously projected Peacock would have up to 35 million subscribers by the end of 2024.
Peacock, which offers originals like former NBC comedy "A.P. Bio" and the "Saved by the Bell" reboot, as well as library content like "The Office," is available in two tiers, Peacock Free and Peacock Premium. The tier that will cost you has two different levels of fees: $4.99 a month for an ad-supported option, or $9.99 a month to have no ads.
The premium tier features everything on the free option but also includes all Peacock originals, early access to late-night series like "Tonight Show" and "Late Night" and more sports including Premier League soccer and WWE Network.
Thursday's Q3 call gave us — at best — a slight anecdotal update on overall Peacock signups. It most certainly did not reveal how many people are using the free option and how many are actually paying for one of the streaming platform's two premium tiers. NBCU has yet to reveal that Peacock breakdown at any point since its launch last year, but Bloomberg reported in early July that the streaming service has about 14 million monthly users, with about 3 million of those paying for Peacock.
It should be noted that Peacock was finally made available on Amazon Fire TV devices, a huge player in the streaming world, towards the end of Q2, with the full impact of that change reflected in these Q3 numbers.
Peacock will be launching internationally for the first time later this year as it becomes available to European customers via UK-based media provider Sky, which is owned by Comcast.
Read all about Comcast's Q3 earnings here.
More to come…
Source: Read Full Article