Fox's Last Man Standing will officially say farewell after nine seasons with a "gentle and fun goodbye," according to star Tim Allen.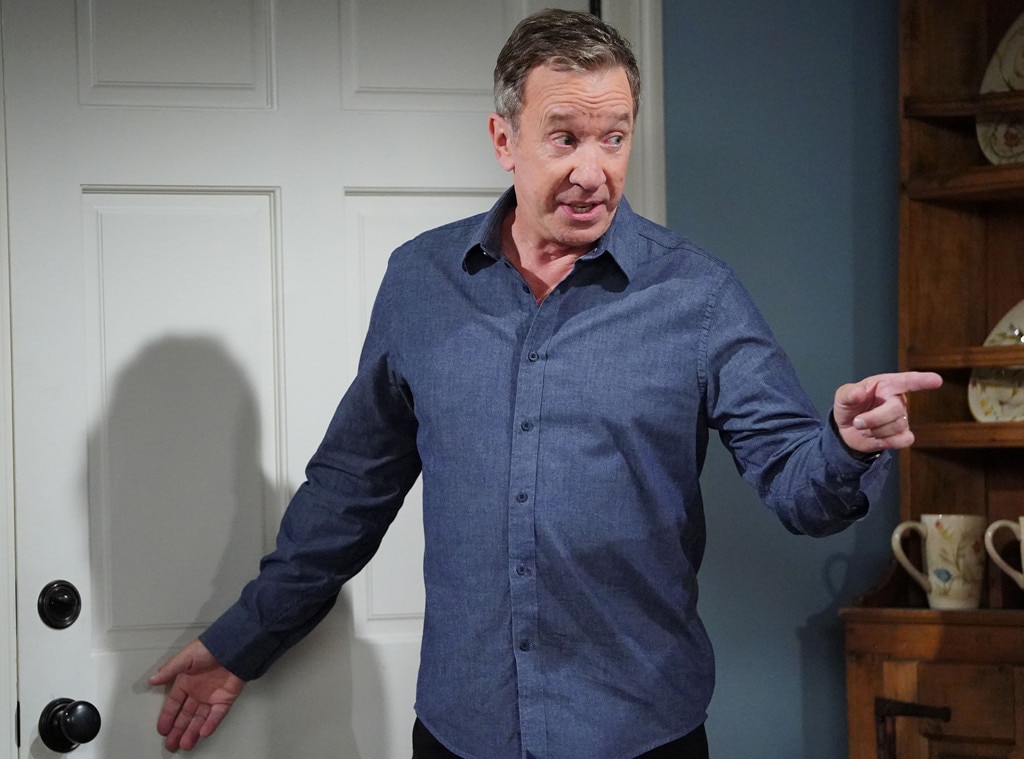 Last Man Standing is taking one last (man) stand. 
Fox announced that the comedy will end after season nine, which will premiere sometime in January and will consist of 21 episodes. A total of 194 episodes will have aired across its run on ABC and then Fox. 
Last Man Standing originally premiered on ABC in 2011 and was canceled after six seasons in 2017, but Fox picked the show back up in 2018 for a seventh season. In a statement, star and executive producer Tim Allen promised a final run that fans won't forget.
"I've been one lucky dude to have been part of Last Man Standing," he said. "I so appreciate the incredible support from our fans over this near decade of work. As we approach the ninth season, I just admire and feel grateful for all the hard work our wonderful cast and crew have done. We had all considered to end the show after last season, but together with FOX, we decided to add a year so we could produce a full season to create the gentle and fun goodbye. I'm looking forward to a memorable and hilarious final season."
The show stars Allen as Mike, a dad and grandfather surrounded by a lot of women: his wife Vanessa (Nancy Travis) and his three daughters Kristin (Amanda Fuller), Mandy (Molly McCook) and Eve (Kaitlyn Dever). Season eight ended with Kristin going into labor. 
Hector Elizondo, Christoph Sanders, Jordan Masterson, Jonathan Adams and Krista Marie Yu also star. 
Keep up with all the renewed, canceled and ending shows by scrolling down! 
Four years after it was canceled on ABC and three years after it returned on Fox, Last Man Standing will end after nine seasons in 2021. 
Though it was initially renewed for season two in September 2019, Showtime gave Kirsten Dunst's show the ax in October.
"Last year, Showtime renewed On Becoming a God in Central Florida but unfortunately, due to the pandemic, we were unable to move forward with production on the new season," Showtime said in a statement to E! News. "The pandemic has continued to challenge schedules across the board, and although we have made every effort to reunite the cast and crew for a second season, that has become untenable. It is with great regret that we are acknowledging On Becoming a God will not return."
Despite having been renewed for a fourth and final season, Glow won't be returning after all. A Netflix spokesperson said that the streaming site decided not to do a fourth season "due to COVID, which makes shooting this physically intimate show with its large ensemble cast especially challenging." 
Teenage Bounty Hunters was canceled after one season at Netflix—another casualty of the coronavirus pandemic.
Supergirl will come to an end after season six, which will premiere midseason in 2021. 
Netflix has canceled its Dark Crystal adaptation after one season. 
Despite a renewal in May 2020, Stumptown has become a casualty of the pandemic and will not be returning to ABC for a season two. 
ABC introduced the new comedy in July, but it was given the ax after one season and eight episodes on air. 
Selena Gomez will be cooking with more chefs in her home kitchen in a second season on HBO Max. 
Netflix has said goodbye to the drama after two seasons. 
Netflix renewed the teen drama in July 2019, but no new scripts had been finished. Due to the pandemic and the uncertainty of production dates and cast availability, the streamer had to let go to the popular show. 
The Netflix drama was quietly renewed for a second season and then canceled due to the coronavirus pandemic, which would have made filming complicated and costly. 
Hulu has said goodbye to the Zoe Kravitz-starring adaptation after one season. 
Padma Lakshmi will be back to make us all hungry in a season two! 
Hulu has ordered a second season of the Love, Simon follow up. 
Freeform has canceled the mermaid drama after three seasons. 
Not only has Stargirl been renewed for a second season, but it's officially making the move from DC Universe to The CW. 
The anti-superhero drama will return for a season three on Amazon Prime Video. 
The Netflix summer hit will return for a second season. 
The Netflix comedy will return for a third and final season. 
Amazon's nazi-hunting show will return for a second season. 
The original plan was to end with season five, but now creator Peter Morgan has changed his mind and the series will end after its sixth season, starring Imelda Staunton. 
Sabrina's chilling adventures will end after the upcoming fourth season on Netflix. 
The CW has said goodbye to Riverdale spinoff Katy Keene after one season.
Netflix has renewed the comedy for a third and final season.
Netflix renewed Mindy Kaling's coming-of-age show for a second season.
NBC has opted to disband the council after one season.
Despite previously announcing season five would be the final one for this Tom Ellis drama, Lucifer will return for a sixth—and final—season.
NBC's big plane mystery is taking off for a third season. 
This love story is unfortunately over for now.
Trending Stories
See Bachelorette Clare Crawley's Reaction to Those Dale Moss Rumors
See Colin Farrell, Robert Pattinson & Zoe Kravitz on Batman Set
Disney Fan Finds Hocus Pocus Easter Egg in Halloweentown
Last Man Standing will return to Fox in January. Keep up with all the premiere dates so far with our handy gallery.
Source: Read Full Article