There is only one man Bachelorette Katie Thurston will be running and jumping on from now on, and it's Canadian hottie Blake Moynes! Because the super cute couple has started making their first round of public appearances post-Bachelorette finale, we knew a roundup and refresh of how their love blossomed throughout the show was crucial.
This timeline of Katie and Blake's relationship is in *reverse chronological order*, so all the newest, best info is right at the top. And obvi bc Blake and Katie just went public with their engagement, most of their relationship history is, well, from the show. Let's dive in, shall we?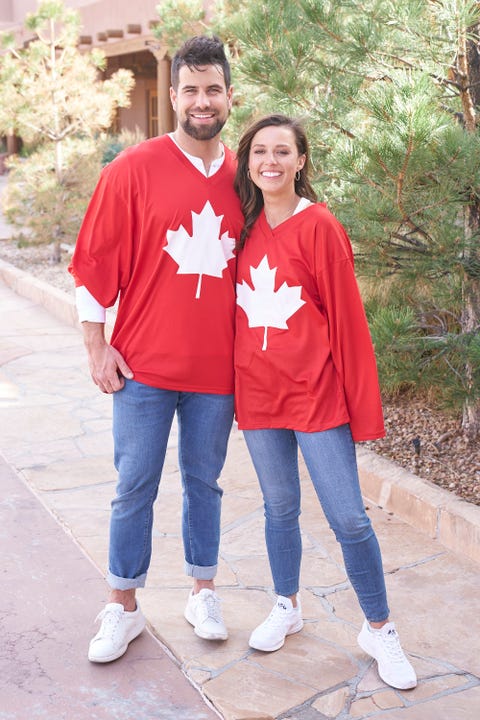 Blake proposed to Katie!
Katie's season of The Bachelorette ended on August 9, 2021 exactly how she wanted: with a whole engagement! One the show's finale, after Katie and Blake each said super sweet, super gushy words to each other, Blake dropped down on one knee and popped the question.
https://www.instagram.com/p/CSYMW8otvng/?utm_source=ig_embed&utm_campaign=loading
A post shared by The Bachelorette (@bacheloretteabc)
Later that night (but not on national TV), Katie and Blake both posted IG pics sharing their joy at finally being public. "So excited to start our best fucking life!" read part of Blake's caption. Blake also dropped a precious lil nickname for Katie: "Buggy." Adorbs.
https://www.instagram.com/p/CSYSC2Yr05Q/?utm_source=ig_embed&utm_campaign=loading
A post shared by Blake Moynes (@blakemoynes)
https://www.instagram.com/p/CSYPRzvryo5/?utm_source=ig_embed&utm_campaign=loading
A post shared by Katie Thurston (@thekatiethurston)
Also, based on Katie's post, it seems that the couple is heading to Canada for some reason. To move? To visit Blake's family? So. Many. Questions! We're not sure of the reason at this moment, but once we know, trust that you'll know too.
Katie and Blake had an amazing Fantasy Suite date
The August 2 finale featured Blake's Fantasy Suite date, which included a paintball balloon fight and champagne in a hot tub. Later in the evening, Blake told Katie exactly how he felt about her, dropping the L word for the first time: "I love you and I'm fucking really excited about life with you," Blake said.
"I fucking love you so much and I couldn't be happier that you're here," Katie responded. They ended the night with maple syrup desserts and a trip to the Fantasy Suite.
The next morning in a lil debrief with co-host Kaitlyn Bristowe, Katie said was "plenty satisfied, many times" on the sleepover. Love to hear it.
Hometowns went smoothly for Katie and Blake too
Katie obviously chose Blake as one of her final four, and hometowns, which aired on August 2, were a big deal for each of them.
Hometowns were where Blake's *true* feelings for Katie were solidified. "It was when you took off your high heels and we were playing hockey. You scored a point and you were backpedaling backwards after you scored it and your hands were in the air and you yelled, 'Go America!' And it was when I remembered that moment, that without thinking about it and without trying to think about it, I just realized. I said to myself like, 'Fuck, I love her.'" Who's cutting onions in here???
Needless to say, Katie hit it off with Blake's fam, so much so that his mom gave her a Canadian flag dildo?! I would have loved to be a fly on the wall for that gift exchange, truly.
Source: Read Full Article