Food Network viewers can't get enough Guy Fieri. The Diners, Drive-Ins, and Dives host has an extreme personality that rubs some people the wrong way. But he's also undeniably talented in the kitchen, with a knack for finding the perfect combination of salty and sweetness. They don't call him the Mayor of Flavortown for nothing.
Fieri recently partnered with King's Hawaiian brand products to promote even more unique combinations and flavors. And now, this Food Network star is sharing some of his favorite tips and tricks for novice home chefs.
Guy Fieri recommends paying attention to texture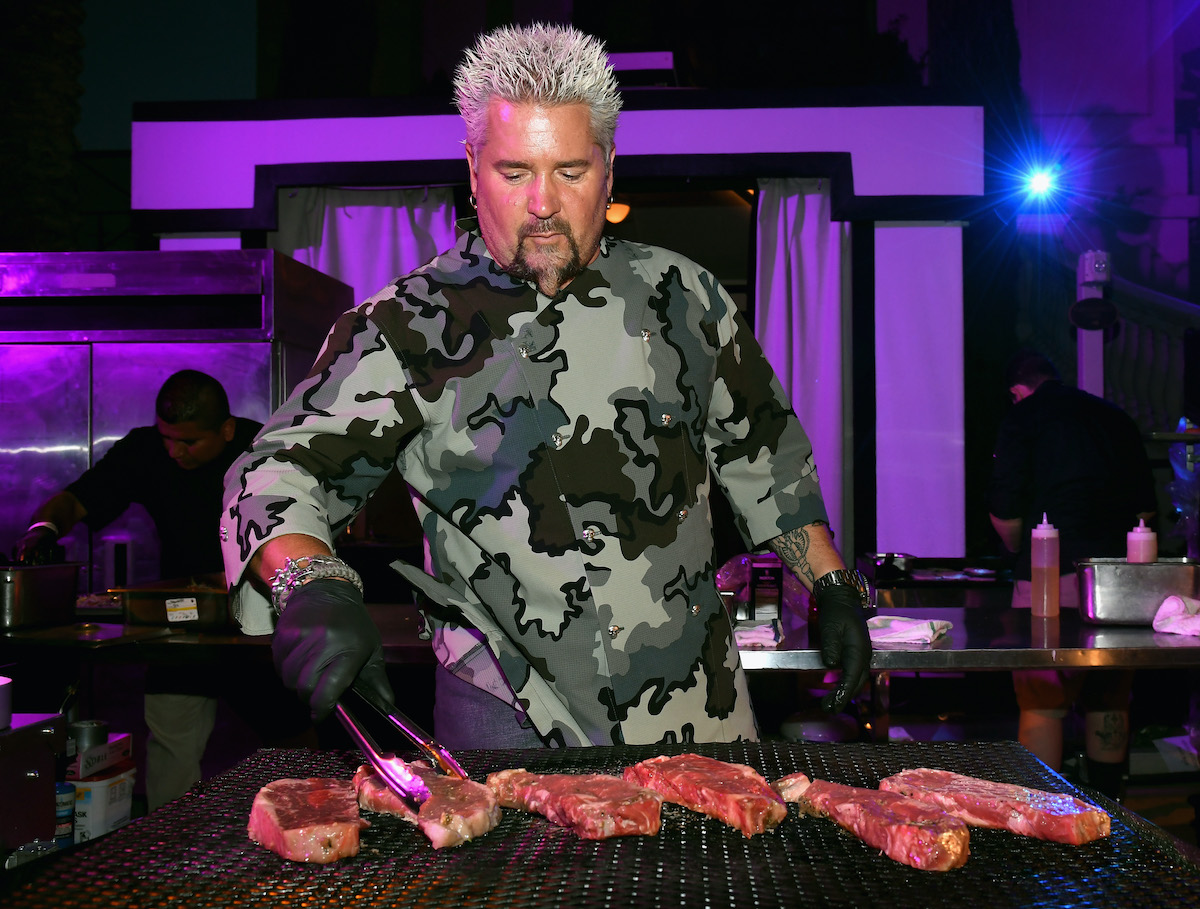 While flavor is a crucial component to any recipe, the Guy's Grocery Games host warns his followers not to neglect the importance of texture, too. He spoke with Insider about how, for example, a simple sandwich can get a major upgrade based on the bread alone.
"The sandwich always starts with the bread," Fieri added. "First thing that makes it in your mouth, first thing you see on the plate is the bread."
He advocates for King's Hawaiian both for taste and feel. Plus, adding condiments will enhance moisture and texture.
He combines unexpected flavors to delight his audience
Fieri gained a reputation for breaking the mold of what a Food Network star looks and sounds like. This boldness carries over into his recipe recommendations as well. The Diners, Drive-Ins, and Dives host loves taking a classic recipe, like macaroni and cheese, and kicking it up with unexpected additions.
The celebrity chef puts chili powder in his brownies and white wine in his Alfredo sauce. These small additions may not seem like much, but the spicy and sweet come together in flavorful harmony to make a more delicious meal.
"The key to great cooking, you guys, is great ingredients," he told Insider. "Ingredients make all the difference. It's really not using subpar ingredients and then having to doctor things up. Use great ingredients!"
Fieri relies on nostalgia when deciding what to make
Coming up with new recipes can be overwhelming with literally thousands of options to choose from. To narrow it down, Fieri chooses dishes that mean something to his family, but then adds his own special touch to them.
Even though the Guy's Grocery Games star doesn't love breakfast, he does have a special spot in his heart for his mom's granola.
"My mom used to make the best granola when I was a kid, and I just look for the texture. I like granola made with honey, and I like there to be nuts in it," Fieri said, according to Insider. "But just a little bit of yogurt, just to kind of add a little moisture and kind of smooth it out a bit, and then some fresh berries."
The Food Network chef recommends perfecting 1 simple recipe
It can be tempting for Food Network fans to find the fanciest recipes to impress their guests. But Fieri insists it's much wiser to perfect a simple dish with very few ingredients and make it your signature.
And along the same lines, he recommends experimenting with one complicated dish at a time while keeping the rest of the menu basic.
"How about you cook the rice that you know how to cook, the vegetable that you know how to cook, and then get adventurous on the protein, or vice versa?" Fieri told Insider.
"Don't try to take on all these different endeavors at the same time, because you are inevitably going to mess things up. So slow and steady."
Not everyone can become a Food Network star. But even novice chefs can improve their skills and be just like Fieri in their own home kitchens.
Source: Read Full Article