The cast of Squid Game has gained immense notoriety in Hollywood because of the Netflix Korean drama. Main actors like Lee Jung-jae, HoYeon Jung, and director Hwang Dong-hyuk have attended multiple awards shows with star-studded celebrities. On The Late Show With Stephen Colbert, Lee admitted he encountered every fan's dreams of taking a photo with Leonardo DiCaprio at an event.
Leonardo DiCaprio is a fan of 'Squid Game'
On The Late Show With Stephen Colbert, Lee was asked about Squid Game's global popularity. Colbert mentioned the South Korean actor is already a household name in his home country for decades. Lee has starred in multiple K-dramas and movies throughout his career. Even Lee is getting his own star-studded Hollywood fan base.
Colbert showed a photo of Lee and none other than Leonardo DiCaprio. Lee posted the photo on Instagram as the two actors attended the Los Angeles County Museum of Art Gala. Even a worldwide star like DiCaprio watched Squid Game and praised Lee.
"I couldn't believe it, really. And he told me that he actually did watch Squid Game. He enjoyed it very much, and he told me, 'you're so lucky to be in, and you did an amazing job.' It was unbelievable," said Lee. It begs the question of whether the now acquainted actors have each other's numbers?
Lee Jung-jae and Leonardo DiCaprio have a mutual friend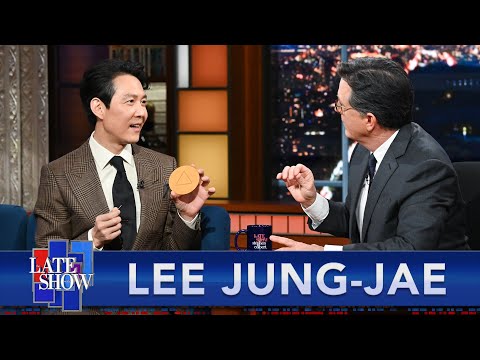 Colbert asked the one question fans wanted to know. He asked Lee if it was true the photo was taken with DiCaprio's phone. The Korean actor does admit it is true but bashfully says he does not have DiCaprio's personal phone number.
Through a translator, Lee explained he and DiCaprio have a mutual friend. The mutual friend likely sent Lee the photo from the Hollywood actor. Even Colbert was dismayed and hoped to take a selfie and send it personally to DiCaprio.
No worries, Lee fulfilled part of Colbert's wish and whipped out his phone for a selfie. But instead of a selfie, Lee realized he was taking a video. Regardless, Colbert urged Lee to send DiCaprio the video. The interview ended with Lee teaching Colbert how to do the Dalgona challenge.
'Squid Game' fans had comical comments about the photo
Fans on Reddit had some comments about DiCaprio's photo with the Squid Game actor. One fan on Reddit said, "Leonardo DiCaprio has truly made it in the movie world… he's posing with legend Lee Jung-jae!" Another Redditor continues the joke saying, "so nice of Lee Jung-Jae to take selfies with his fans <3."
One unanimous discussion thread Squid Game fans had was over Lee's youthful glow despite his age comparison to DiCaprio. "Give me Lee Jung-jae over Leo any day," said one fan. Anyone looking at the photo would not have guessed Lee is older than DiCaprio by one year.
"Wow. Leo looks his age, but Lee Jung-jae looks like he's in his late 30s/early 40s there," said one fan. The Squid Game actor is 48-years-old while DiCaprio is 47-years-old.
Source: Read Full Article