"And they called it puppy love…"
Disney announced a live-action remake of Lady and the Tramp in February 2018 and now a first official look at the new movie is finally here. The classic story about the romance between an upper-middle-class Cocker Spaniel named Lady and a streetwise, footloose stray named Tramp. Disney released the first official trailer of its latest live-action remake Lady and the Tramp at the D23 Expo in Anaheim, California.
The film will star Tessa Thompson as Lady and Justin Theroux as Tramp. Other supporting cast members include Ashley Jensen, Janelle Monáe, and Sam Elliott. The live-action Lady and the Tramp will be the very first among the many live-action remakes that will be available for streaming on Disney's newest platform Disney+.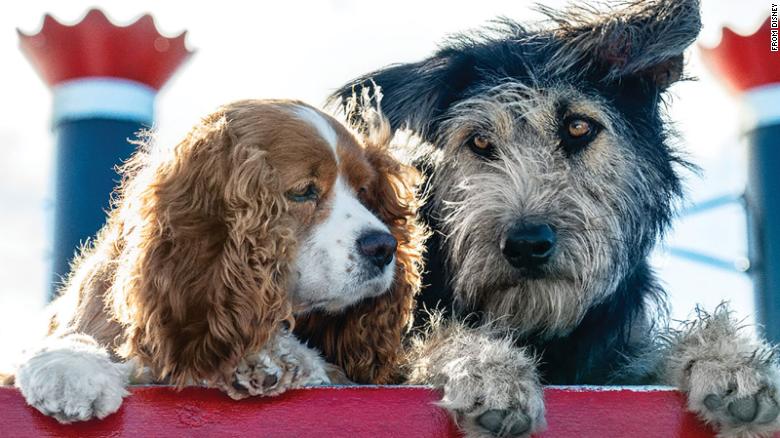 The trailer teases memorable, beloved scenes from the original
A gorgeous cover of "Bella Notte" plays softly in the background as we catch our first glimpse at our adorable main character, Lady. The new trailer pays homage to all of the old familiar scenes we know and love from the 1955 original. Tramp tells Lady, "I've got no leashes or fences. With me, every day could be an adventure," as he tries to persuade her to leave her pampered lifestyle to become a street dog with him.
The trailer gives us a glimpse of beloved scenes and characters, like Lady's four-legged friends, Jock and Trusty. Finally, we're given a first look at the famous spaghetti dinner scene. All in all, the first trailer for Lady and the Tramp was a beautiful, nostalgic first look at the live-action remake.
'Lady and the Tramp' stars actual animals
Unlike Disney's live-action remake The Lion King, Lady and the Tramp will feature real four-legged, furry stars as the main characters. The celebrities provide voices for an entire cast of real-life rescue animals. A cocker spaniel named Rose will play Lady, while Monte, a two-year-old Terrier mix rescued from Arizona, will play Tramp. Disney announced that both dogs have found their "happily ever after" in the form of forever homes after filming.
What Disney fans have to say about 'Lady and the Tramp'
When Disney announced its live-action remake Lady and the Tramp, Disney fans had generally mixed emotions. After the live-action remake The Lion King received some less-than-positive reviews, it became clear that not everyone was excited to revisit their childhood classics. "These live-action remakes by Disney are a) a scheme to make more money, b) designed to limit creativity in the animation field and c) death to art. Also, Disney has a monopoly on the movie industry," said one Twitter user.
Others feel the exact opposite and are very excited to see timeless Disney classics reimagined. "Man, how can you guys complain about #LadyAndTheTramp being remade with real dogs? They're dogs! What's not to love?! I think some of you owe these good boys and good girls some pup-pologies!" said one Twitter user.
Disney's live-action remake Lady and the Tramp will be available for streaming on Disney+ on Nov. 12, 2019.
Source: Read Full Article