On 90 Day Fiancé: The Other Way, Evelin Villegas and Corey Rathgeber hire a celebrity wedding planner, Carolina Muzo, to plan their upcoming nuptials. Evelin reveals that Carolina has planned a wedding for Victoria's Secret angel. Which Carolina planned which supermodel's Ecuadorian wedding?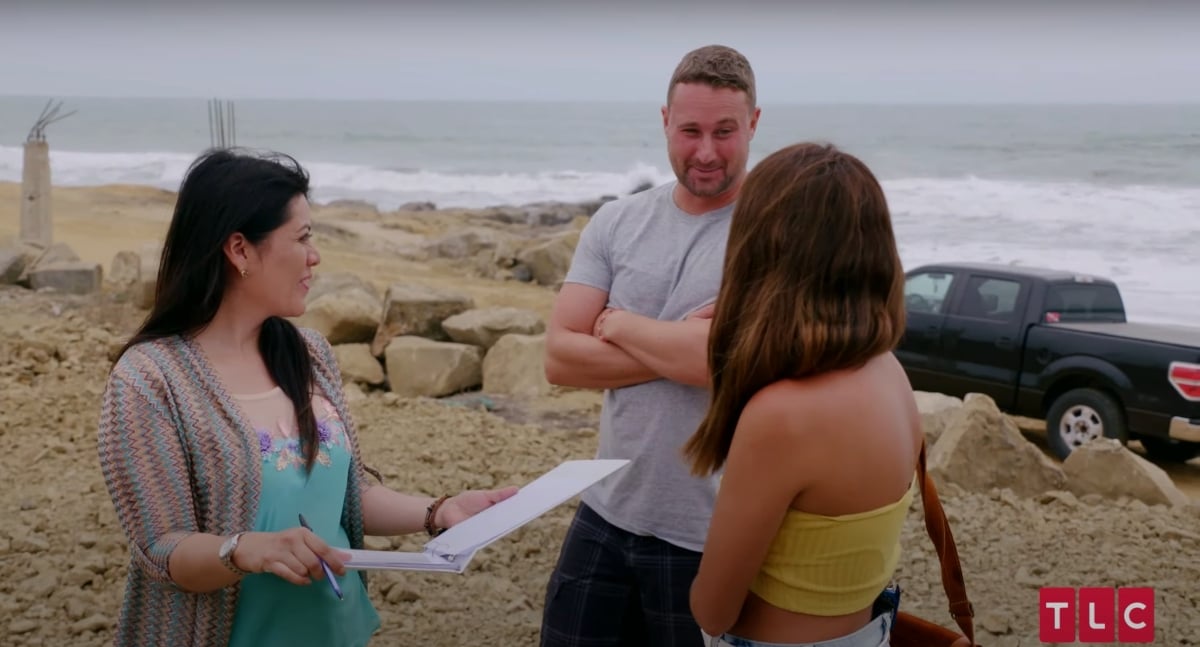 Corey and Evelin hire a wedding planner, Carolina Muzo
In a clip teasing the upcoming episode, Evelin and Corey meet up with their wedding planner for the first time. Carolina Muzo is one of the top wedding planners in Ecuador, and her price reflects that. Muzo is checking out Corey and Evelin's beachfront property but quickly decides that their property won't be a good choice for a wedding.
The award-winning wedding planner tells them that having a wedding on the property is "not possible." Carolina explains that there needs to be space for the ceremony, cocktail hour, and reception. That means moving the water, sewage, and electricity. When she revealed her prices range between $26,000 to $50,000, Corey was shocked by the prices, as he was hoping for a price tag of around $9,000.
Carolina Muzo planned a wedding for a Victoria's Secret Angel
While scouting wedding locations, Evelin reveals that her wedding planner had "planned a wedding for Victoria's Secret angel." Which Victoria's Secret supermodel is Evelin referring to? On Carolina's official Instagram account, she posted a photo of her clients and Victoria's Secret model, Jasmine Tookes, and her fiancé, Juan David, the Senior Executive of Snapchat. Carolina posted the photo on May 25th of the happy couple.
https://www.instagram.com/p/CPTbdjEjCX1/
She captioned the photo in Spanish, which translated, reads: "Selected the liquor for the wedding! A match like no other! We have been planning this wedding for months! Jasmine (VS model) Juan David (Snapchat senior executive) are a match like no other! A beautiful love!! Thank you for the trust placed in my brand for this special day."
However, this isn't Carolina's first celebrity interaction. On her website, "She has taken courses with the famous Wedding Planners: Preston Bailey, David Tutera, Sasha Souza, Emily Post, Silvia Woodtock, Donnie Brown, Cristian Ott, and Martha Stewart, among others. In addition, he has shared the stage giving seminars for Event Organizers with Marcy Blum and Ira Levy."
Will Corey afford the $50,000 price tag for the wedding?
While it's obvious that Carolina Muzo is the best in the wedding planning business, the issue for Corey is the cost. He told TLC cameras, "My brother had a wedding in the United States, it cost him $5,000. Ok? Don't tell me that we're going to spend fifty to sixty thousand dollars on a wedding in a third-world country."
Evelin tries to convince Corey that Carolina is the best wedding planner. Corey says, "I believe she's the best. With that kind of money, anybody can be the best." He concludes the interview by saying, "I'm kind of freaking out right now because I don't know how I'm going to pay for this wedding. I'm screwed, man."
If Corey can afford the award-winning celebrity wedding planner's prices, they won't be disappointed. However, it seems that the bigger issue is whether or not Eveiln and Corey should even be getting married. With Evelin flipping back and forth on the issue and Corey's fling in Peru, it will be a miracle if they can make it down the aisle.
Source: Read Full Article