Since releasing her debut single "Drivers License" in January, Olivia Rodrigo's career has propelled rapidly and shows no signs of slowing down. According to SPIN, the song broke records on streaming services by becoming the fastest song to reach 100 million streams.
Rodrigo's next single, "Deja Vu," peaked within the Top 3 on the Billboard 200 and was quickly followed-up with her most recent hit, "Good 4 U," which became another chart-topper for the teen sensation. The actor, who rose to fame as Nini Salazar-Roberts in "High School Musical: The Musical: The Series," dropped her highly-anticipated debut album "Sour" in May and didn't disappoint fans, to say the least. The LP reached No. 1 in various countries around the world and currently holds a Metascore of 83 on Metacritic, proving to have received critical acclaim.
It's obvious to state that Rodrigo has a large fanbase who resonate with her music. With that being said, she has yet to go on tour to perform her songs. Despite a busy schedule, there have beens talks about her going on the road in 2022. Keep reading to find out more.
TV commitments have gotten in the way of Olivia Rodrigo's tour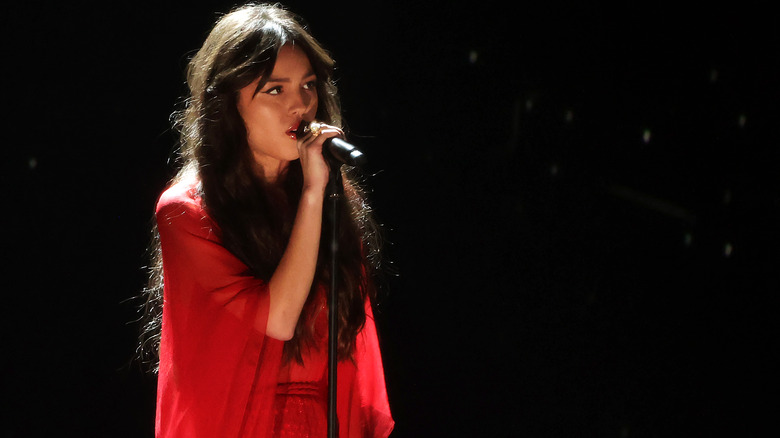 Despite being one of the biggest musicians of the year, Olivia Rodrigo has been able to go on tour due to TV commitments. The chart-topper is currently starring in Disney+'s successful "High School Musical: The Musical: The Series" and has signed on to do another two years, according to Billboard. Industry sources told the outlet that these commitments have prevented her from going on the road.
Before embarking on huge arena tours, promoters are reserving theater-sized venues that can hold between 3,000-5,000 seats, so she can experience the touring life before upgrading to bigger venues. The singer previously performed at the 2021 BRIT Awards and on "Saturday Night Live." In late September, Rodrigo is scheduled to play at the iHeartRadio Music Festival in Las Vegas.
"You've got to build and take the right steps before you shoot for the moon," Louis Messina, the promoter for Taylor Swift and Ed Sheeran, said, adding, "It's hard to win over 18,000 fans if you're not ready for it. You've got to put in the groundwork. Yeah, she could go out and do an arena tour. But arena and stadium tours are always going to be available to you if you've got the goods."
While some doubt her future success — "By the time she's able to tour, I don't know what the relevance is going to be," longtime producer Brock Jones told Billboard — her fans' dedication doesn't seem to be waning.
Source: Read Full Article