Before Pop Smoke's untimely death in February 2020, he released plenty of popular hits. If you're a fan, then you surely know songs like "What You Know Bout Love" and "For The Night." But what about "Mr. Jones" featuring Future?
Following Pop Smoke's death, "Shoot for the Stars, Aim for the Moon" was released on July 3, 2020, as his first — and history-making — posthumous album. However, there was apparently more material left behind by the rapper, which is why a second posthumous album, "Faith," was also put out just over a year after the first, on July 16, 2021. It's with this collection that fans can find "Mr. Jones."
The second collaboration between Pop Smoke and Future, per Genius, it's believed that the late rapper likely recorded his part of the song in 2019, while Future may have added his vocals after Pop Smoke died. While knowing the circumstances around the song might make it hit that much harder, read on to find out the true meaning behind this playlist-worthy tune.
Pop Smoke and Future give us a glimpse at the good life in 'Mr. Jones'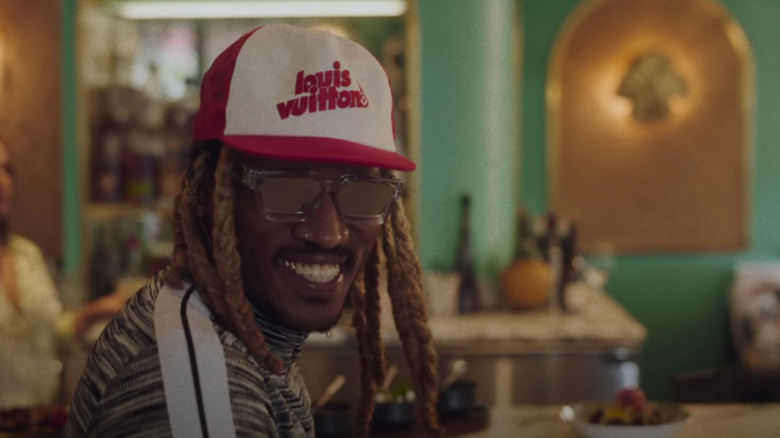 "You worried 'bout the wrong thing / That's backwards, it's 'bout the cash first," Pop Smoke tells his listeners in the first verse of "Mr. Jones," per Genius. In the second verse, Future takes over, adding, "We in Sky-ami … / Goin' all the way up … / Gotta hunnid b*tches in the VIP, ready to go—" Er, we're sure you can guess what they're ready to do.
We're also sure you can fill in the blanks when we tell you that the rest of the arguably X-rated lyrics in the song's verses focus on women, partying, and enjoying a few of the finer things in life. That's why Future continues with: "Top of the penthouse, a personal shopper bringin' fine threads can't find in the store / … Jimmy Choo shoe, Manolo Blahnik / Cop a new jewel just for the fun."
So, is this song just about being rich and having fun? Nope. You might remember that it happens to be called "Mr. Jones." But who — or rather, what — is Mr. Jones?
Pop Smoke and Future aren't referring to a person when they recall 'Mr. Jones'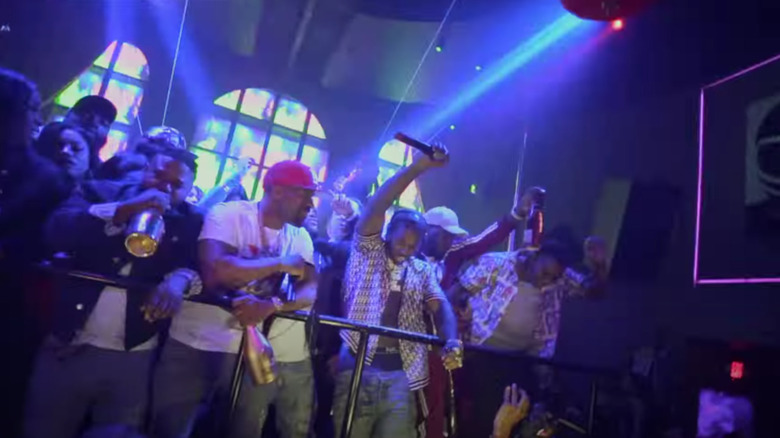 When Future mentions "Sky-ami" in "Mr. Jones," you might have assumed that he was referring to Miami, and you'd be right! How do we know that? Well, in the song's chorus, Genius notes that Future and Pop Smoke come in together to tell fans, "See we in Miami, we just left Mr. Jones."
While there are a fair share (like a lot) of NSFW lyrics that come after that, you're surely wondering who they're talking about when they mention Mr. Jones. It turns out that they're not talking about a person at all. Instead, they're recalling times they've likely spent at what Genius explained is "the famous Mr. Jones Nightclub located in Miami."
Found in Florida's Miami Beach, to be exact, the Mr. Jones nightclub not only offers its patrons a stellar restaurant if you happen to be hungry and a stunning rooftop patio that's the perfect place to party, but also hosts famous artists like Drake, Nicki Minaj, Wiz Khalifa, Playboi Carti, Young Thug, Migos, Kodak Black, and Lil Uzi Vert, not to mention Rick Ross, Puff Daddy, 50 Cent, and so many others. It's also a place that mentions both Future and Pop Smoke on their website, two stars who clearly love (and loved) what they got up to in the well-known nightclub so much that they wrote a song about it.
Source: Read Full Article