Music sensation Lorde is becoming the songstress of the summer. In June, per Pitchfork, Lorde announced in a newsletter that she'd be releasing a new album titled "Solar Power" on August 20, 2021. The album will be her third studio release after a four-year music break. Throughout the album-making process, Lorde deliberately stepped away from social media and spent more time outdoors, which gave her lots of songwriting inspiration.
In her newsletter, Lorde said the forthcoming album "is a celebration of the natural world, an attempt at immortalising the deep, transcendent feelings I have when I'm outdoors." She further emphasized that she wants the album "to be your summer companion, the one you pump on the drive to the beach. The one that lingers on your skin like a tan as the months get cooler again."
After releasing the title track on the same day she published her newsletter, Lorde has shared her second single from "Solar Power." Find out the meaning behind "Stoned at the Nail Salon" below.
Lorde found her new single 'super comforting' to write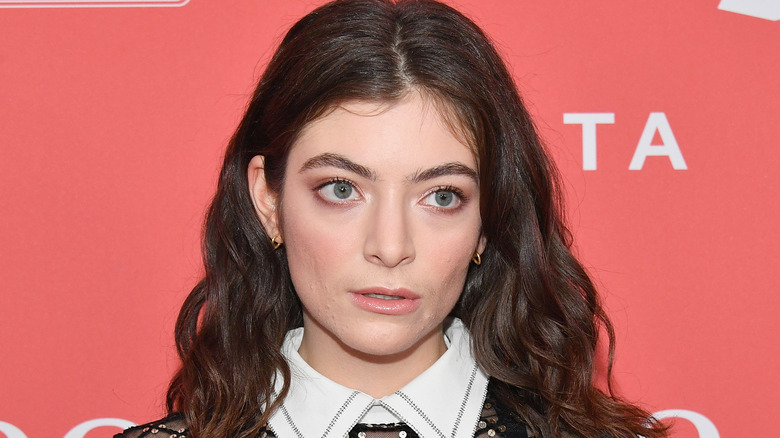 Lorde may be one of the world's biggest pop stars, but she's also like one of us — and will get insecure about her life from time to time. Unlike her first single "Solar Power," "Stoned at the Nail Salon" is a somber reflection on growing older and being unsure about decisions in life.
"Got a wishbone drying on the windowsill in my kitchen," Lorde begins the song over an acoustic guitar (via Genius). "Just in case I wake up and realize I've chosen wrong / I love this life that I have." Later in the verse, she wonders if domestic life is for her and wonders "what I'm missing." Lorde further drives home the struggles of young adulthood in the chorus, singing, "'Cause all the beautiful girls, they will fade like the roses / And all the times they will change, it'll all come around." She then chalks up her thoughts as being "stoned at the nail sail salon."
The domestic life is not for everyone, as Lorde noted in a statement on the single's release day, per Rolling Stone. "This song is sort of a rumination on getting older, settling into domesticity, and questioning if you've made the right decisions," she said. "I think lots of people start asking those questions of themselves around my age, and it was super comforting to me writing them down, hoping they'd resonate with others, too."
Source: Read Full Article