Carly Rae Jepsen is finally back with new music. After a two-year hiatus, the "Call Me Maybe" singer debuted a new song during her stint at Coachella Valley Music and Arts Festival in Indio, CA. The singer has been hyping to release for weeks via billboards and social media.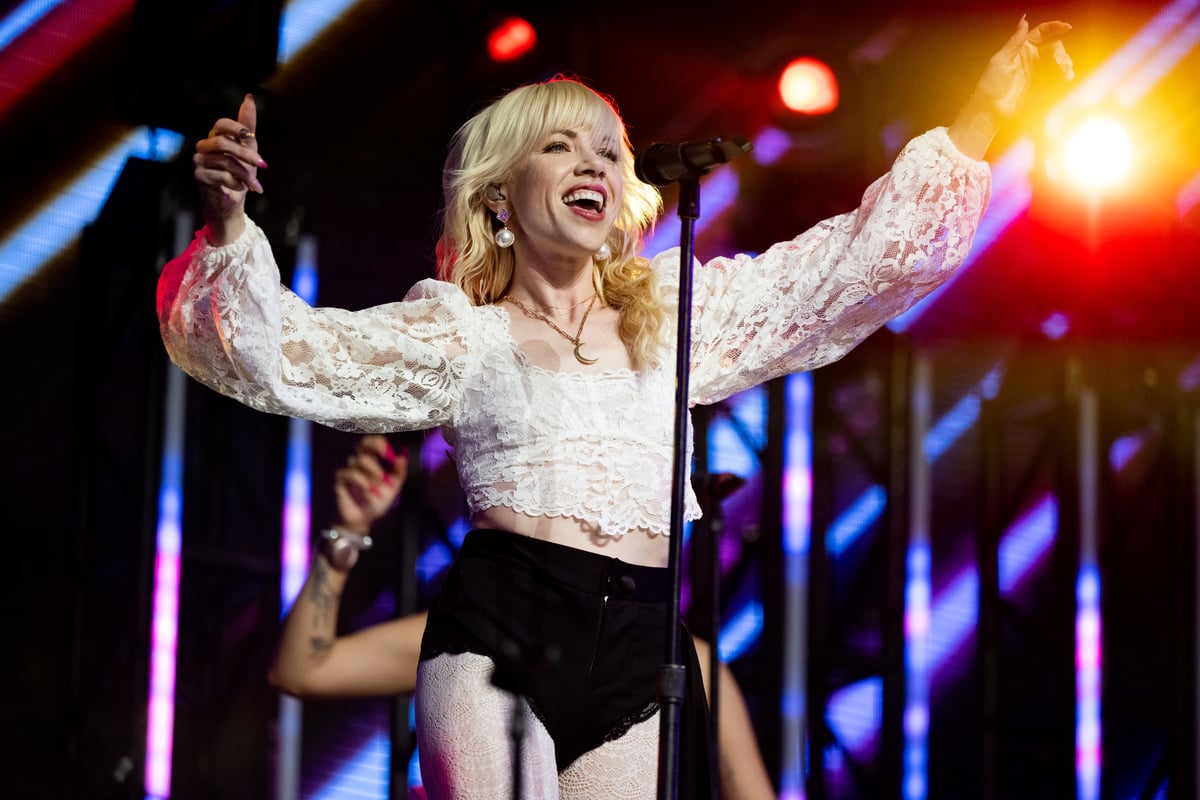 Carly Rae Jepsen drew a map to Coachella as a clue for fans
Jepsen strongly hinted her new song would debut at Coachella in recent weeks. A billboard appeared along I-10 with a picture of Jepsen and the text "Western Wind." The billboard also included the phone number 213-732-3275. The number takes callers to a recording of Jepsen's voice.
"Hello, you've reached the Carly Rae Jepsen hotline. Text me here to stay in the loop about all kinds of things: new music, tour, secrets that I haven't even come up with yet, nudes… No, wait, there will be no nudes. Sorry, but there will be music for sure."
Jepsen also tweeted a map with an "X" on the grounds of Coachella. Her caption read, "X marks the spot." 
On Friday, April 15, the 36-year-old Canadian singer debuted new music for the first time in two years. Jepsen performed at the Mojave Tent at Coachella and showed a more mature take on fun dance-pop with her new song "Western Wind."
'Call Me Maybe' celebrates 10 years with epic Coachella sing along 
In Sept. 2021, Jepsen's smash hit "Call Me Maybe" turned 10. She shared a photo on Instagram dressed as a grandmother to mark the occasion. On Twitter, however, Jepsen shared a lengthy statement expressing her gratitude. 
"I want to say thank you all for the joyous videos, silly dances, and wild nights together in different countries!" She continued, "You have opened my world and my heart with this adventure of a song and I could not be more grateful to you all."
The bombastic cheers when "Call Me Maybe" came on were easy to hear during the Coachella YouTube live stream. Fans sang or screamed along with every word of the ten-year-old hit. 
Jepsen's Coachella set showcases an array of hits
"Call Me Maybe" is cemented in pop music history. Still, Carly Rae Jepsen has released a solid catalog of pop songs throughout her career. She sang 11 songs to an enthusiastic audience for the past two weekends.  
Although the order of songs changed slightly, she performed the same tracks on April 15 and April 22 at Coachella:
"No Drug Like Me"
"Emotion"
"Run Away With Me"
"Julien"
"Now That I Found You"
"Call Me Maybe"
"Western Wind"
"Want You in My Room"
"I Really Like You"
"Boy Problems"
"Cut To The Feeling"
No date has been revealed for Jepsen's new album. Chances are she'll share details on social media soon.
Source: Read Full Article