"The mother of all gossip bombs" shakes up "Vanderpump Rules," as LVP confronts Sandoval for having Raquel spend the night at his home while Ariana was out of town for her grandmother's funeral.
Tom Sandoval's affair with Raquel Leviss wasn't nearly as under the radar as the rest of the world thought, as his "Vanderpump Rules" costars are all starting to suspect something's up between them on the show.
After talk of them dancing together at The Abbey at 1:00am without Ariana Madix in sight dominated last night's episode, an even bigger piece of intel was revealed in a preview clip from next week's hour. Bravo dropped the first seven minutes of the episode overnight, showing Lisa Vanderpump's husband Ken Todd casually drop "the mother of all gossip bombs" in his home in front of Katie Maloney.
"I can't believe that Tom Sandoval had Raquel over while Ariana's away, in the jacuzzi as well and she stayed all night," he blurted out, as LVP told Katie she was the one who told Ken that morsel of gossip, after hearing it from Raquel herself the previous day. Ariana, it should be noted, was out of town for her grandmother's funeral.
Unable to render YouTube Video.
The clip then flashed back to the day before, with Raquel showing up an hour and a half late to work for a new menu tasting at Sur.
"I'm sorry, I'm so sorry I'm late. I overslept. I stayed up late. I went back to Tom's place and we went in the jacuzzi with Schwartz," she said, confirming she stayed the night at Sandoval's but "nothing happened though."
"It doesn't matter whether anything happened, it's just the fact you were there," Vanderpump told Leviss, who said it was "just easier to sleep on the couch and stay the night."
LVP was then seen calling up Sandoval, telling him Raquel had shown up to work late "looking like a bag of s—" after getting wasted and spending the night at his place. Tom Schwartz was also on FaceTime with Sandoval when she called and the two started laughing. "It's not funny," Lisa told them.
Tom Sandoval Blows Up After Being Accused of 'Secret Rendezvous' with Raquel Leviss on Vanderpump Rules
"We hung out for a little bit, she literally dipped out. Actually, she left early," Sandoval responded, fumbling over his words. "So she didn't stay the night?" asked Lisa, before Tom told her, "I said she dipped out, which is true."
That, of course, didn't answer her question … so Vanderpump kept up the grilling. "What does dipped out mean? Did she spend the night at your house? Did she or not, yes or no?" she asked, before he called her "dude" — something she didn't appreciate — and admitted that, yes, she did sleep over, but he has people "crash at my house" all the time.
We'll have to wait and see whether Ariana finds out about the sleepover and how she reacts to the news, as she, Tom, Raquel, Schwartz, Scheana Shay and Brock Davies are all seen taking a "glamping" trip together for Leviss' birthday in the episode as well.
"Vanderpump Rules" airs Wednesdays on Bravo.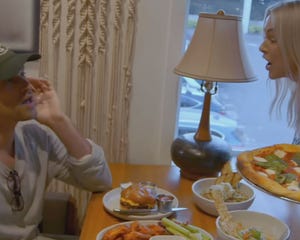 Lala Kent and Tom Schwartz Get Into Vicious Fight on Vanderpump Rules : 'F—ing Loser,' 'Bootleg Housewife'
Source: Read Full Article