Matt Blankinship and Frannie Marin did a terrible job of trying to hide their growing romance during "Survivor 44," making them a dangerous pair and obvious target.
They first bonded over their geeky awkwardness as part of the same Soka tribe when "Survivor 44" began, and that friendship quickly blossomed into more.
[SPOILER WARNING: This story digs into the latest episode of "Survivor," talking about its ridiculous amount of twists and turns, and even its evicted castaway.]
While Matt Blankinship and Frannie Marin liked to delude themselves that they were doing a great job of keeping a respectful distance from one another in Fiji, in truth, everyone could see they were becoming a pair.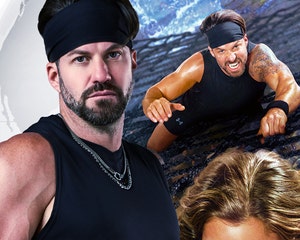 Why Johnny Bananas Is Still Doing The Challenge After 17 Years (Exclusive)
As in most reality competition shows like this, pairs can be notoriously dangerous, and showmances are almost always targeted. As the days passed, though, the chemistry was apparently undeniable and they became more brazen in their affection.
In truth, it has been a while since a real-life romance blossomed on "Survivor." The most famous, of course, is between winners Rob Mariano and Amber Brkich, who met on the show, fell in love, got married and are still together today.
In other words, island romance can be a real thing. So, does that mean there's a possible future for Matt and Frannie? While it was a dangerous thing for both of their games, social media latched onto the pair's adorable antics and have been rooting for them.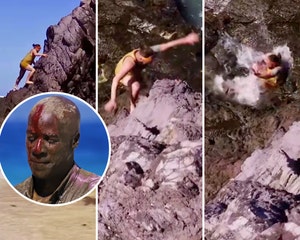 Survivor Player Removed After Gnarly Head Injury, Before Two More Medical Incidents
A day later, we still have a headache over what happened on Wednesday's episode of the show, which seemed to pull out more twists than entire early seasons of the show.
First, rather than fight for individual immunity, contestants were divided in two. As there was an uneven amount, one contestant was not selected and instead threw his lot in with one of the groups — if they won he won and vice-versa.
This split divided Matt and Frannie, which left them sweating a bit. Making things more complicated, the winner from each group won individual immunity, but the overall winner won immunity for their entire group.
When Frannie became the last woman standing for her group, she could have dropped out and she would have been safe and Matt's entire group would have been safe. She didn't do that, though, and ultimately beat out everyone, making her entire group safe and Matt vulnerable.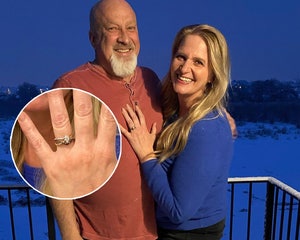 Sister Wives' Christine Brown is Engaged to David Woolley
The odd man out had also selected Frannie's group to win, so he was safe, too. The winner from Matt's group had immunity, meaning there were only four people available to be evicted. But the fun — this word is being used sarcastically — did not end there. The winning group was also not allowed to vote.
But wait, there's still more (and more)! The losers were also sent to another beach before Tribal Council so they couldn't talk strategy. On top of that, Matt had not brought his bag to the challenge, so he didn't have his Shot in the Dark or his fake idol to maybe try and bluff people.
We won't even get into the winners' group twist that had them running through the jungle to find keys so one person could win the chance to control someone's vote from the losing group during Tribal Council. It was all just so ridiculous.
The bottom line was that in the losing group, there were three people who'd been on the same tribe from the beginning, and there was Matt, and there was Yam Yam. So it was down to those latter two and in the end, Matt came up short.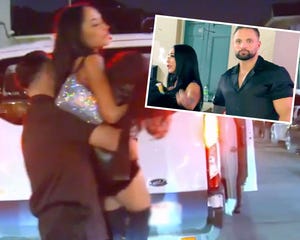 Angelina Pivarnick's New BF Drags Her from Fight on 'Initiation' Night Out with Jersey Shore Costars
Now, he'd have likely been targeted sooner rather than later because of that showmance, but he and Frannie were not yet a priority for anyone, so this was twists dictating the flow of the game, which many fans are growing frustrated with. There, now we all have headaches!
You're welcome.
All of that was to say that Matt has now been eliminated from the show, which means he was free to talk about that burgeoning romance. As he's also the first member of the Jury, there's a chance they'll be able to continue if Frannie winds up eliminated before the end.
But what many fans wanted to know right away is if what happened on the island stayed on the island, or if the geeky romance continued once Matt and Frannie got home.
"We're still dating. We're still going strong," Matt told Entertainment Weekly after the episode aired. "Obviously, there is so much chemistry there. We're two dorky magnets. We couldn't stay away from each other. And we knew the whole time."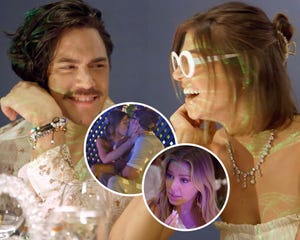 How Tom Sandoval Reacted to Raquel Kissing Schwartz on Vanderpump Rules — After She Kissed Him First!
He admitted that the showmance was probably a bad idea, and said that he knew coming into it that it was an absolute no-no. "We literally couldn't help it," he admitted. "So, yeah, we're still going strong."
He has no regrets, though, about that relationship they forged on the island. "That relationship with me and Frannie is so beautiful and so pure," he shared. "It would be a disservice to me and a disservice to her to not allow that to flourish, regardless of game, you know?"
The eliminated contestant noted, "I'm the real winner of Survivor 44."
They've also been enjoying watching their romance blossom and flourish on the screen.
"Honestly, there are a lot of little moments that were so cute and it feels so sweet and dear," he shared. "All of these adorable moments at the fledgling stages of our relationship, that means the world. And we got a montage!"
Frannie's quest for the million dollar prize continues on "Survivor 44," Wednesdays at 8 p.m. ET on CBS.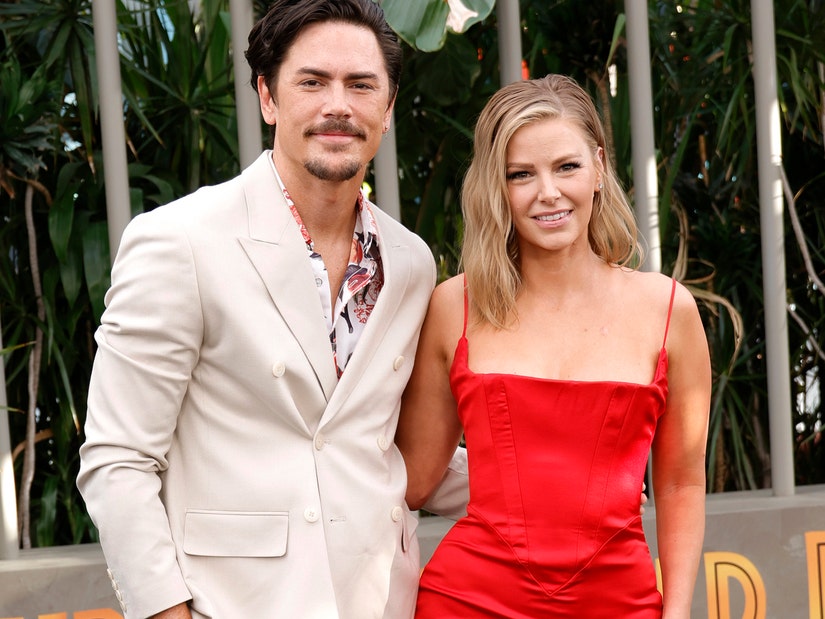 Source: Read Full Article