In this column, we deliver hot (and cold) takes on pop culture, judging whether a subject is overrated or underrated.
I'm convinced that Ryan Murphy hit the TV sweet spot with his 2009 show Glee. Melodramatic musical-theatre kids plus teenage hormones plus people expressing their feelings through song equals great TV.
I was 12 when the comedy-drama series about the ups and downs of a high school show choir debuted, and I was hooked. Glee was poppy yet edgy, at times ridiculous, and blindingly earnest to the point of parody.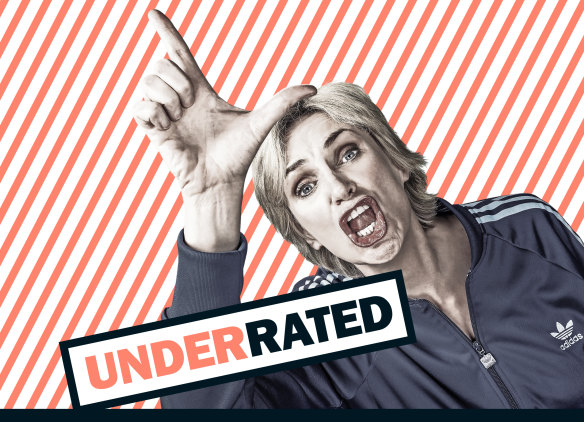 Glee celebrates the cringe.Credit:
The series gave us over-the-top Barbra Streisand renditions and a Lady Gaga tribute episode, complete with pitch-perfect recreations of her most iconic costumes. There were some truly deranged storylines (fittingly, teacher William Schuester was originally written as a meth addict), from fake pregnancies to a student who finds Jesus after seeing His face on a grilled cheese sandwich (a "Grilled Cheese-us", if you will). And a host of unexpected celebrity guest appearances from Gwyneth Paltrow and Britney Spears, to Neil Patrick Harris and Jeff Goldblum.
On top of all of this, Glee showcased genuine talent. Lea Michele (love or hate her, you can't deny talent), Darren Criss and Amber Riley are all brilliant vocalists who have since enjoyed successful careers on Broadway and beyond.
The other thing about Glee is that it put front and centre a breed of teen that hadn't been properly examined before. Sure, nerd culture had become mainstream thanks to the movies of Judd Apatow and shows such as The Big Bang Theory, but the musical-theatre nerd had yet to be handed the spotlight.
If you haven't already guessed, I was a musical-theatre kid. I wasn't a talented one. I couldn't sing, act or dance, and yet I adored everything about musical theatre. I loved the feeling of being part of something: the pre-show jitters, the pomp and pageant of the actual show.
Heavily involved in choir, band and musical theatre, I could relate to the specific uncoolness that comes with the performing arts when you're in high school. The members of the Glee Club, especially in the earlier seasons, are frequently "slushied" (a trope of the show where bullies throw a slushie in the face of their victims), locked in portaloos, thrown in dumpsters and mocked.
While I was never bullied, I was intimately familiar with the feeling of embarrassment (something that, as an adult, I now believe to be character-building). A closeted scholarship kid at a private school where the incomes of most students' parents were far beyond those of my own, I certainly knew what it felt like to be an outsider. And like the members of the Glee Club, the performing arts were where I could feel accepted.
As with many shows of the 2010s, there are aspects of Glee that have not aged well. The series had a diverse cast of characters but many lean heavily into offensive or worn-out tropes. There was Tina Cohen-Chang, the shy Asian girl with a lisp, and Brittany S. Pierce, the dumb blonde cheerleader. And there was Mercedes Jones, the sassy black teenager who, while equally talented as her white group member Rachel Berry, is frequently passed over for the lead spot. She is mainly given the lead when the group chooses gospel or R&B songs. Glee epitomised the Obama era and its brand of identity politics, patting itself on the back for its diversity without completely interrogating how its characters were portrayed.
Glee was, however, the first time I had seen two queer, femme-presenting women on screen. The romance between cheerleaders Brittany and Santana is a consistent thread of the series, with the pair eventually marrying in season six.
Their representation isn't perfect. In the first season, hints at the pairs' sexual relationship are often played out for comedic effect, while their sex scenes can lean into a fantasy of hot young cheerleaders. Nevertheless, Brittany and Santana do show genuine love and care for each other, and their relationship deepens as the show progresses. And for a teenage me, not yet at terms with her sexuality, I had never seen lesbians on screen that weren't stereotyped as butch and man-hating. Santana's rendition of Adele's Rumour Has It and Someone Like You after she is outed still makes me teary, especially now given that Naya Rivera, the actor who plays her, has died.
While Glee's last episode aired almost eight years ago, it has managed to remain in our cultural conversations today – sometimes for dark reasons. The show has lost three of its cast members: Rivera, Cory Monteith and Mark Salling. Some internet commentators have dubbed this string of tragedies the "Glee Curse". A new three-part documentary, The Price of Glee, which does not yet have an Australian release date, explores their deaths.
Generation Z has given the show new life on TikTok, which abounds with parody and compilation videos. Pop star Olivia Rodrigo, who was only five when the show debuted, sings about Glee on her 2021 album Sour. One of its stars, Lea Michele, was at the centre of some drama last year involving the Broadway production of Funny Girl and her Glee co-star Jane Lynch. She has also been the target of internet sleuths who believe she never learned how to read – fans have taken to commenting emojis on her TikTok videos that she'll be able to understand.
I write this as I listen to a Glee compilation album. What's on my "in" list for 2023? This year, I'm happily embracing all things cringe.
To read more from Spectrum, visit our page here.
A cultural guide to going out and loving your city. Sign up to our Culture Fix newsletter here.
Most Viewed in Culture
From our partners
Source: Read Full Article