Mother's Day makes me think of two mothers coincidentally linked to Oatlands Golf Course: 2021 Mother of the Year Leila Abdallah and my own mother Grace Pitt (nee Aiken).
Abdallah's name is tragically linked to Oatlands because that's where three of her six children died in a car accident in February last year while walking to the shops along the footpath next to the golf course fence. My mother's family name is more happily associated with the Oatlands/Dundas district, because it is where she and all our family lived since 1938 on acreage adjacent to what is now the sixth fairway.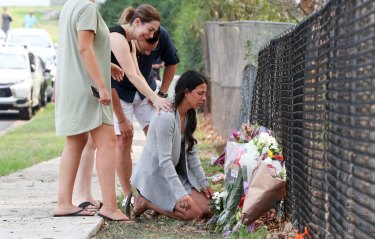 Mother Leila Abdallah at the scene where three of her children died in Oatlands in 2020.Credit:Edwina Pickles
It's been a rollercoaster couple of weeks again for Abdallah, who received the Family Voice Mother of the Year honour on Thursday, had her Telopea home robbed the week before, and had her request for a commemorative garden for her children refused by the Oatlands golf club board on Wednesday.
The Oatland news immediately transported me back to this leafy green corner of north-western Sydney where I grew up.
In bestowing the award Family Voice Australia said Abdallah demonstrated "grace beyond measure".
Listening to 36-year-old Leila made me hanker for my Grace.
The Aiken family home on the edge of Oatlands golf course.Credit:Margaret Aiken
My mother died a decade ago next month. I still miss the sound of her voice; its gentle cadence, her funny expressions – and especially her laugh.
A lovely thing happened last month. I recently wrote a story about McIvers Ladies Baths in Coogee, which became my sanctuary as my mother drifted into the fog of Alzheimer's and then after her death. It was where I went to swim out my sadness, and take solace from the tiny creatures at the pool: the crabs in the rock crevices and the willy wagtails who greeted me with their "sweet pretty creature" song of the bush. I came to think of the tiny black and white fantails as visitations from my mum.
After reading that story, Helen Proctor contacted me to say she had a cassette recording of an interview she did with my mother for her PhD 20 years ago.
It was on the subject of co-education. Proctor, A professor in education history and policy at Sydney University, was curious about its benefits so spoke to students of the oldest selective co-educational high school in NSW, Parramatta High.
Grace Aiken and family at her wedding on their family farm.
She interviewed my mum from the class of '49 as well as about 40 other students between 1910 and 1950, to see if girls fared better educationally compared to boys, and girls from single sex schools. I'm not sure she got the answer to that question from my mum but what she did get was a 20-page transcript and a cassette recording of the interview which had been gathering dust in her office.
Professor Proctor sent it to me last month and while it took me a while to find a cassette recorder to play it, listening to it this week was the best Mother's Day gift I will ever get.
Her voice again.
I loved the rambling way she told stories packed with details like her Irish Aiken ancestors. I was reminded of what my father used to call the unofficial Aiken family motto: "Why use 10 words to say something when 1000 will do."
I learnt so much about her. Her love of high school, playing the piano, becoming a prefect, captaining the hockey team. Her high grades in French I'd always known about.
I relished rehearing the details of a story she told me often about her first year of high school in 1945 – school was cancelled because World War II ended and she went to church to give thanks.
"We'd forgotten our hats that day so we had to put a hankie on our heads. I can just remember I wandered up and down the main street of Parramatta. There were people just arm in arm dancing, singing … it was just a terrific atmosphere."
The author's family's boundary fence with Oatlands Golf Course in the 1970s.Credit:Margaret Aiken
But I didn't know how traumatising the war had been for her, my aunt and my widowed grandmother.
"I remember the alarms, sirens going off when the submarines came into Sydney Harbour and how frightened I was," she said.
I also didn't know she'd always thought she would be become a teacher like her own mother, the youngest in a family of 11, 10 of whom were teachers. Until she got to fourth form (as they called year 10 then), changed her mind and went to business college like her older sister. Listening to the exacting details of her photographic memory, I realised she was the best teacher I ever had. And remains so from beyond the grave.
I'm sure mum would have lent her voice to the Abdallah family, locals and MPs calling for a memorial for the Abdallah children: Sienna, 8; Angelina, 12; and Antony, 13; and their cousin Veronique Sakr, 11.
Actually Grace probably would have donated part of our golf course boundary fence to Leilah, near where the willy wagtails nested in the ancient Yew trees, and got down on her knees to plant the garden herself.
Because one thing my Grace knew, like Leila, was how to shower children with love. That's motherhood.
So please Oatlands Golf Course board, reconsider your decision. Making a memorial is not just a way to honour these children, but all the mothers who have lost children, and we motherless children.
An appropriate Mother's Day gift.
Start your day informed
Our Morning Edition newsletter is a curated guide to the most important and interesting stories, analysis and insights. Get it delivered to your inbox.
Most Viewed in Lifestyle
From our partners
Source: Read Full Article