The Albanese government is being lobbied to extend United States ambassador Arthur Sinodinos' posting until at least the middle of next year as Australia enters a crucial phase of negotiations to secure nuclear-powered submarines under the AUKUS pact.
Sinodinos' term as the nation's most significant diplomat is set to finish next February, but senior officials in the Department of Foreign Affairs and Trade (DFAT) are pushing for the former Liberal senator to remain in the role until at least mid-2023.
The government has said it will announce its decision on which type of nuclear-powered submarine it will acquire in March, and there is mounting speculation it could strike a deal to speed up the process by buying several vessels directly from the US.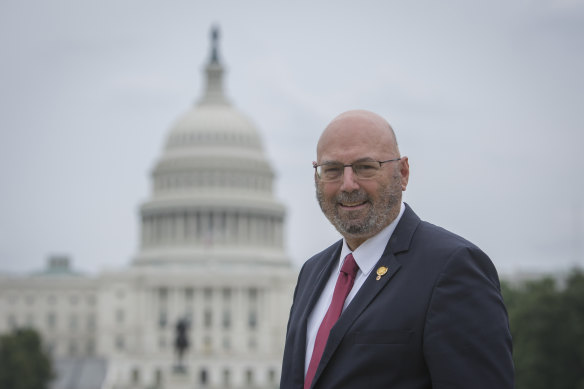 As US ambassador, Arthur Sinodinos played an important role in the creation of the AUKUS pact. Credit:Sarah Baker 
Sinodinos is respected by both sides of politics despite being one of the Liberal Party's most influential figures over recent decades.
Sinodinos served as John Howard's chief-of-staff for a decade before becoming Malcolm Turnbull's cabinet secretary when he seized the prime ministership from Tony Abbott in 2015.
The cancer survivor arrived in Washington in February 2020, just before the onset of the coronavirus pandemic.
A senior DFAT official, who was unable to speak on the record, said the likely Republican takeover of the US House of Representatives, and possibly the Senate, in January would create a volatile political environment in the US capital, added to the argument for a period of stability at the Australian embassy in Washington.
The decision on whether to extend Sinodinos' term, and who will succeed him in the highly sought-after role, will be made by Prime Minister Anthony Albanese and Foreign Minister Penny Wong.
A spokeswoman for Wong said: "Ambassador Sinodinos' three-year term is due to finish in February 2023. The Foreign Minister is grateful for his contribution to Australia's strong and enduring relationship with the United States. An announcement on his successor will be made before the end of his term."
Labor stalwart Stephen Smith, who served as foreign minister and minister for defence in the Rudd-Gillard years, is seen within the party as a leading contender to succeed Sinodinos.
Smith and former defence chief Angus Houston are conducting a major strategic review of the Australian Defence Force for the government that is set to report in March.
There is speculation that former prime minister Kevin Rudd could also be a contender because of his foreign policy experience and close friendship with Albanese.
Rudd, who spends most of his time in New York as president of the Asia Society, would be a divisive choice given the ill feeling among some in Labor over his prime ministership and behaviour during Julia Gillard's time in office.
Former defence minister and Labor powerbroker Stephen Conroy has also been discussed.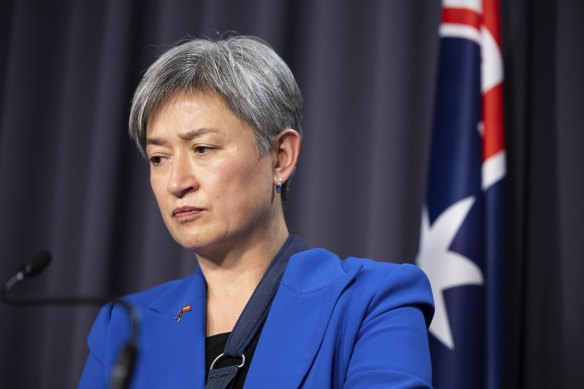 Foreign Minister Penny Wong will decide the next top diplomats posted to Washington and London, alongside Prime Minister Kevin Rudd. Credit:Alex Ellinghausen
The government's most pressing diplomatic task is to fill the crucial position of United Kingdom high commissioner, a role that has been vacant since former Liberal senator George Brandis' departure in April.
Former South Australian premier Jay Weatherill had been widely expected to take up the role, but has since ruled himself out.
In recent times, the top diplomatic roles in Washington and London have been filled by former senior politicians from the governing party rather than career public servants.
The prevailing view is that political appointees make more effective ambassadors in these postings as they are seen as having a direct line to the Australian government.
The Abbott government twice extended former Labor leader Kim Beazley's posting as US ambassador in a notable show of bipartisanship.
As US ambassador Sinodinos played an important role in the creation and development of the AUKUS pact and its promised access to prized nuclear submarine technology.
The Wall Street Journal reported last week that the Biden administration was exploring an arrangement to expedite Australia's acquisition of nuclear-powered submarines by producing the first few in the US.
Officials said the idea was to provide Australia with an initial nuclear-powered fleet by the mid-2030s while continuing the longer-term effort to help the country build up the industrial base to build nuclear submarines.
Cut through the noise of federal politics with news, views and expert analysis from Jacqueline Maley. Subscribers can sign up to our weekly Inside Politics newsletter here.
Most Viewed in Politics
From our partners
Source: Read Full Article