When you find the best foundation for you, your whole makeup routine falls in to place. It's like magic.
But sometimes finding the right one for your skin type, lifestyle and needs can be difficult because of the range of products out there.
From soft mattes to full coverage, skin tints to high street heroes, there's a plethora of options out there.
If you're struggling, it's a good idea to get to know your skin type first. Are you oily? Steer clear of dewy formulas because as the day goes on you'll naturally develop a glowy finish.
Find your skin flaking? Then avoid matte or velvety textures because they'll cling onto any dry skin, breaking the flawless illusion.
Then there's the coverage and shade: do you want something lightweight or more durable? Is your skin tone cool or warm? The more criteria you're armed with, the easier it will be to find something that's perfectly suited to you.
Once you've got all of this info to hand, it's time to find your perfect match. And we're here to help.
Check out our list below for our reviews of our favourite foundations.
1. MAC Studio Fix Fluid SPF 15 Foundation
MAC Studio Fix Fluid SPF 15 Foundation, £26.10 from Lookfantastic- buy here
There's a reason this beautiful foundation is used to create beauty looks for some of the biggest catwalks in the world.
It makes skin look the best version of itself but not by boosting the dewiness; instead, it's a soft matte.
This is the type of foundation that wouldn't be out of place on the set of a 1700s period drama (think The Great or Versailles), where it's all about romantic skin.
The Studio Fix Fluid doesn't have a pump to disperse it so just carefully shake a little on to the back of your hand; you don't need much.
We'd recommend applying this one with a brush first and then going over with a beauty blender sprayed with setting spray to give a seamless finish.
It gives medium coverage, but is buildable without becoming cakey. And even with a matte finish, it still looks completely natural.
Once this is on, it's on. Not even a mask can wipe it away.
We can't rave about this foundation enough, it really is a winner and elevates any makeup look.
The 8 best bronzers for 2022
The best anti-wrinkle creams for 2022
The 8 best vegan shampoos for 2022
2. Charlotte Tilbury Charlotte's Beautiful Skin Foundation
Charlotte Tilbury Charlotte's Beautiful Skin Foundation, £34 from Charlotte Tilbury – buy here
Charlotte's back with a brand new foundation and, like the rest of the brand's products, it's one to add to your makeup bag pronto.
Unlike her previous matte bestseller Airbrush Flawless Foundation, Beautiful Skin, which launched earlier this month, is medium coverage and mega dewy, but also incredibly natural.
Formulated with hyaluronic acid for an extra boost of hydration and rose complex for a brighter finish, this foundation is the perfect starting place for healthy looking skin.
You only need one or two small pumps onto the back of your hand and then we'd recommend using a damp beauty blender (use setting spray for a longer lasting finish) to press this liquid foundation all over your face.
There are an impressive 30 shades to choose from and the brand has created an online foundation finder, so you can match your perfect shade without having to take a step in a bricks and mortar store.
It's one of the best foundations out there at the moment, and we love it.
3. Dior Forever Skin Glow Foundation
Dior Forever Skin Glow Foundation, £37 from Boots – buy here
Whenever we get the chance to try out any Dior makeup our expectations are high and the beauty giants are yet to disappoint.
The Dior Forever Skin Glow Foundation does make skin glow just like its name suggests.
We apply it with a damp sponge for a light to medium coverage, but for fuller coverage swipe on with a brush.
The liquid dries down really quickly, allowing other products to sit comfortably on top without moving around.
Powder products look smooth and natural and blend easily rather than sitting visibly on top of the foundation.
The finish isn't too dewy, adding a slight glow just like natural skin.
There are a huge 42 shades to choose from so a variety of undertones are covered whether you're warm, cool, neutral or rosy.
Whether you're building a glam makeup or an everyday enhance this is the perfect base.
4. it Cosmetics Your Skin But Better Foundation + Skincare
it Cosmetics Your Skin But Better Foundation + Skincare, £32.50 from Boots – buy here
This one's a multitasker blending our two favourite things; makeup and skincare.
This one's the epitome of a dewy foundation, really catching the light in all the right places.
Just add some powder down the centre of the face to control any extra shine and you're left with a seamless second skin.
So what's the skincare part all about?
Well, it's infused with hyaluronic acid, aloe vera extracts and vitamins E and B5 which work to keep skin hydrated and even out skin tone after you've washed away the foundation itself.
This is by no means a replacement for your normal skincare routine but it's absolutely a bonus element.
It has the consistency of a serum so is easy to blend over the face with a brush or a sponge.
The perfect base for a natural makeup, this is one we've added to our beauty bag.
5. Chanel No 1 De Chanel Red Camellia Revitalizing Foundation
Chanel No 1 De Chanel Red Camellia Revitalizing Foundation, £55 from John Lewis – buy here
This foundation from Chanel is hot off the press.
Launched only last Friday, it carries all the luxury you'd expect from the designer brand, and includes the star ingredient of the range; camellia oil.
Derived from a beautiful red flower, camellia is one of the fastest absorbing plant oils, protecting the skin barrier and promoting hydration.
So it's no surprise that this chic foundation glides easily over skin without catching on any dry areas of skin.
It's a smooth liquid consistency, so we'd suggest a sponge rather than a brush to avoid any streaks. Just press a small amount over the face for a medium coverage and slowly build up over areas that need a little more.
The bottle does look quite small, but that doesn't mean this base won't last because you really only need a couple pumps to easily cover the whole face.
All in all, it's got our seal of approval.
6. NARS Pure Radiant Tinted Moisturizer
NARS Pure Radiant Tinted Moisturizer, £31 from LookFantastic – buy here
Looking for a base that's not too heavy but still gives a bit of coverage? Then the NARS Pure Radiant Tinted Moisturizer is for you.
It comes in a tube, but don't squeeze otherwise you could end up with a lot more product than you bargained for.
Its scent is hinted with florals, a nod to its skincare like texture, so it smells as beautiful as it looks.
We don't think there's any need to apply with a brush or sponge, simply massage in with your fingers for a natural finish.
This is the perfect option for a warm summer's evening where you still want your skin to breathe, or if you're having a particularly good skin day but you're looking for a boost of brightness.
Whatever the reason, this luxurious tint will blend seamlessly into your skin for a natural, flawless finish.
And it's doing double the work with an SPF30 already built in. Result.
7. Maybelline New York Fit Me! Matte and Poreless Foundation
Maybelline New York Fit Me! Matte and Poreless Foundation, £6.99 from Amazon – buy here
This one's a classic. A lot of us have probably had this in our makeup bag at one point or another.
The beauty of this foundation is the price. It's only £6.99 and is genuinely very good.
It a solid, full coverage foundation, that takes away any shine so it's perfect for oily skin, although we'd recommend setting with powder.
It's quite a wet consistency so it's best to apply with a sponge rather than a brush so you don't end up with any streaks.
This is a great one for a glam evening look because it will leave skin looking flawless instead of natural.
So if you're looking for a hard working foundation that's not going to break the bank, this one might be for you.
8. Lancome Teint Idole Ultra Wear Nude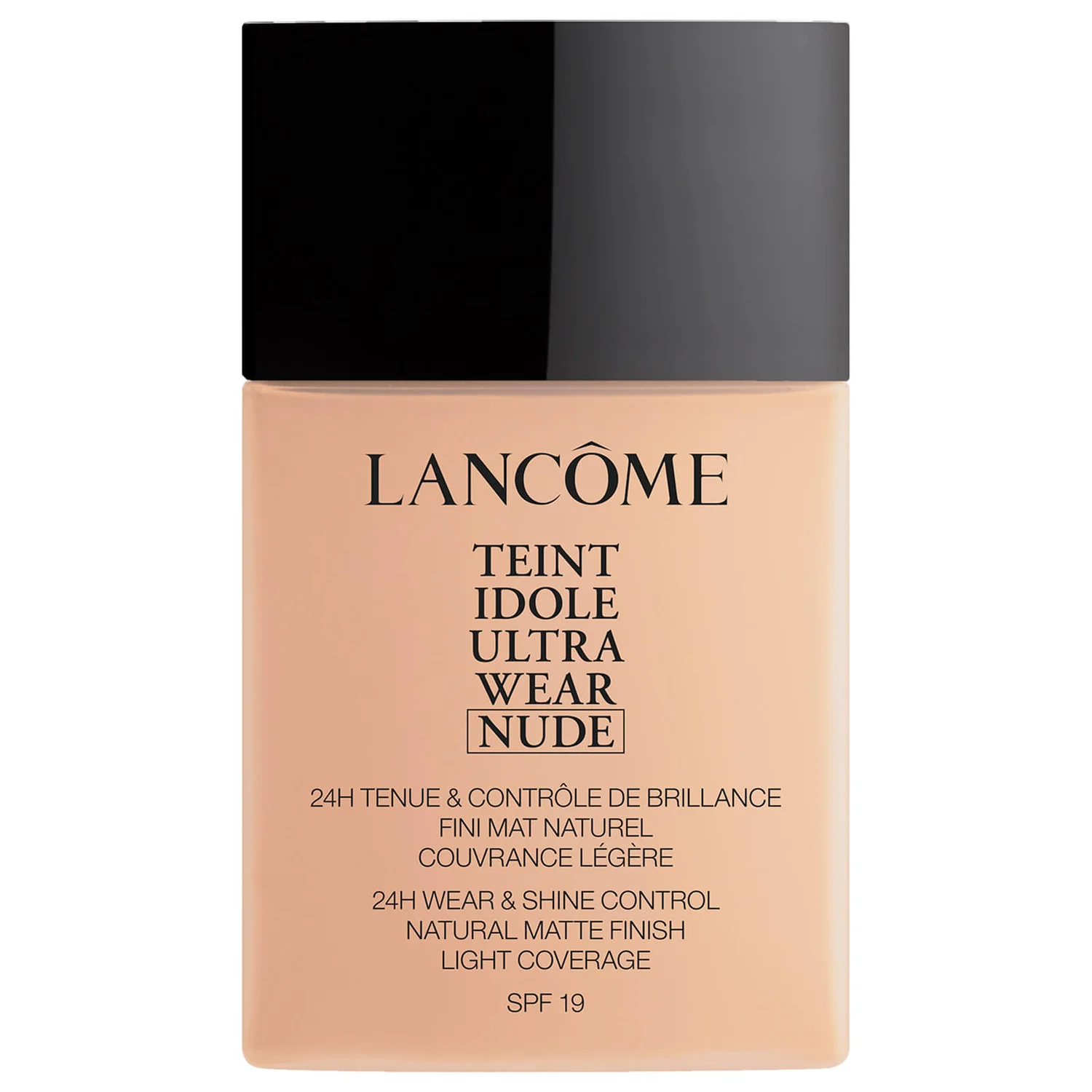 Lancome Teint Idole Ultra Wear Nude Foundation, £27.60 from Lookfantastic – buy here
If you're looking to create skin that looks good enough to eat, Lancome Teint Idole Ultra Wear Nude is the foundation to go for.
Available in 40 shades, Lancome have created a range of colours to match every undertone.
It's a light coverage, meaning you can still see your skin through the product but it covers any redness and lessens the look of blemishes.
The consistency is of a very thin liquid and it runs out of the nozzle quickly, but you don't need much at all – build up rather than starting with too much.
It feels quite wet when you first apply it but dries down naturally to a flawless, lightly glowing finish.
More than a tinted moisturiser and CC cream but on the lighter end of foundations, this is the one to reach for on those summer evenings when you're looking for that touch more coverage.
9. The Ordinary Serum Foundation
The Ordinary Serum Foundation, £5.70 from Boots – buy here
The Ordinary is very well known for its skincare, breaking down complex formulas into single, affordable ingredients.
So when it launched its Serum Foundation it looked like the best of both worlds. And it was.
The first thing we noticed was how runny the formula was, meaning it was incredibly light and easy to smooth over skin.
Because of how liquid the texture is, we'd recommend using your fingers for a sheer, radiant finish.
It really delivers on giving a 'glow from within' look, which makes it ideal for everyday wear or to quickly put on for a summery dinner in the sun.
It also includes SPF15 for an extra boost on top of your daily sunscreen, so you're protecting yourself from those harmful rays whilst showing off glowing skin.
Oh and did we mention the price? We didn't? It's £5.70. Can't get better than that.
10. Giorgio Armani Luminous Silk Foundation
Giorgio Armani Luminous Silk Foundation, £38.70 from Lookfantastic – buy here
This one's pricey but once you've used it, there's no turning back – it's that good.
On the slightly heavier side of medium coverage, this liquid foundation by Giorgio Armani is one you'll find in any beauty fanatic's collection.
As the name suggests, it has a silky finish, making skin look flawless by covering over any redness, blemishes and texture with ease.
Just by looking at the bottle, you know you're in for a treat because it looks luxurious.
And it really is. We love this as a base for evening makeup because of its staying power and flawless coverage.
And so do celebrities. This filter in a bottle has been used on the red carpet the world over on A-Listers like Cate Blanchett and Vanessa Kirby.
If it's good enough for them, it's more than good enough for us. Added to basket.
11. Estee Lauder Double Wear Sheer Long-wear Foundation
Estee Lauder Double Wear Sheer Long-Wear Foundation, £35 from Feelunique – buy here
Another cult favourite, Estee Lauder's Double Wear earns its place as one of the most talked about foundations out there.
This is the sheer version, so it's very lightweight and easy to blend in either using a brush or fingers for a quick on-the-go application.
Despite its featherlight formula, it covers areas of redness whilst giving skin a hydrated looking finish, keeping it looking natural and healthy.
It's very thin when you first squeeze it out of the bottle, but dries quickly and then doesn't move – perfect for wearing under a mask.
Expect a healthy sheen, and cover any extra blemishes with a dab of concealer so the skin as whole still looks really fresh but you're still getting the extra coverage you need .
We completely understand why this is widely lauded as one of the best foundations out there and you will too.
12. e.l.f. Flawless Finish Foundation
e.l.f Flawless Finish Foundation, £9 from Feelunique – buy here
Another high street hero, this offering from e.l.f is only £9. Yes you read that right, £9.
Filter your shade by depth and undertone to find your perfect match out of the 40 shades available.
This one's a semi-matte finish, so if you're prone to oilier skin this could be a good one for you because it settles the shine without removing all life from your skin.
It's medium to full coverage so if you suffer with any redness or acne this will cover that right up, no problem.
Apply with a brush or sponge for normal coverage, but if you're feeling like you want something slightly less heavy duty, mix it in with a moisturiser for a sheerer finish.
This foundation is a great alternative to some of the more expensive options on this list; it's inclusive with it's shade range and even has glycerin added into the formula for an extra hydration boost.
For under a tenner, this is a must.
Most read in Sun Selects
SIP SIP HOORAY!
23 Best non-alcoholic drinks you can buy in 2022
9 Best oversized jumpers to buy in 2022: shop this season's go-to slouchy knits
The best Sky deals you can get in January 2022
The 9 cheapest and best value printers you can buy in January 2022
Enjoyed our review of the best foundations? Why not check out our review of Foreo?
If you're looking to be more sustainable this year, read our roundup of the best reusable cotton pads here.
And check out our dedicated Sun Selects beauty section for more tips, trends and products.
This article and any featured products have been independently chosen by The Sun journalists. All recommendations within the article are informed by expert editorial opinion. If you click a link and buy a product we may earn revenue: this helps to support The Sun, and in no way affects our recommendations.
Source: Read Full Article