Khloe Kardashian has been through a lot ever since the first cheating scandal broke with Tristan Thompson. Things got even worse when Kardashian learned that Thompson had cheated a second time with family friend Jordyn Woods. And for a while, nobody could believe the hurt that Kardashian had gone through. But after watching last night's episode, where even more of the cheating drama unfolded, some people didn't like what they saw.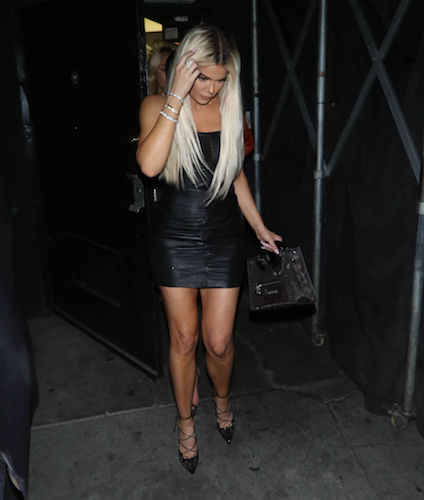 Thompson and Woods admitted to making out behind Kardashian's back
Kardashian and Thompson had been through a lot of drama before their daughter, True Thompson, was even born. Kardashian hadn't been dating Thompson for long before she found out she was pregnant. The couple seemed happy, and Kardashian was over the moon about welcoming a child of her own after watching her sisters welcome so many kids. But less than a week before her due date, footage leaked showing Thompson bringing another woman back to his hotel room.
Despite the cheating, Thompson was in the room with Kardashian when their daughter was born. They then worked to rebuild their relationship, and based on the show, things were going well between them. That was, until the sisters learned that Kylie Jenner's best friend, Jordyn Woods, made out with Thompson at a party the two were at. From there, things spun out of control once more.
On the finale, Kardashian exploded with anger and called Woods 'fat'
The Keeping Up With the Kardashians finale showed the aftermath of Thompson's second cheating scandal, plus the sisters' reactions to learning that someone so close to them could be capable of stabbing them in the back. During the finale, Kardashian was one the phone with a friend of Thompson's when she referred to Woods and Thompson as "fat." The term she actually used to describe them was even worse, but the only thing people heard from the whole ordeal was that Kardashian, who hosts a show called Revenge Body to help people lose weight and feel their best, had just fat-shamed Woods.
Fans took to Twitter to express their distaste with Kardashian's word choice
Once the episode premiered, fans instantly took to social media to express their distaste with Kardashian's word choice. While Kardashian was reportedly drinking at the time and clearly had a lot of anger toward Woods, fans didn't see it as a reason to call her fat. "So can we unstan Khloe Kardashian for fat shaming Jordyn Woods plz [sic]," one Twitter user wrote. Others suggested that Kardashian had had work done to look the way she does (which has never been confirmed) and shouldn't call other people names like that for any reason.
While people still feel bad for Kardashian's situation, it reminded us that it's never OK to fat shame
Although Kardashian has clearly been through some thingssome of us can't even imagine, it doesn't take away that she insulted Woods ina way that almost nobody finds acceptable. While people still feel for her, andshe likely still has millions of fans, it reminded us that it's never OK to fatshame anyone, regardless of how much they've hurt us. Hopefully the commentdoesn't hurt Kardashian's RevengeBody show, though it's unclearwhether people will feel good about watching it after hearing her harsh words.Time will tell if Kardashian issues an apology over the statement.
Source: Read Full Article