There's nothing wrong with a white wedding. Classic traditions are very meaningful for some brides, especially if that practice was observed in their parents' wedding or grandparents' wedding. But not every bride wants to have something old, something new, something borrowed, and something blue. After all, many wedding customs reflect heteronormative, patriarchal values and require a nuclear family unit in order to work. Elite Daily spoke to modern wedding planners for advice on how to update classic wedding traditions, because why wouldn't you want to have a celebration that reflects your own unique family and values?
For my own wedding, I wanted to subvert as many wedding traditions as I could. I didn't toss my bouquet, I didn't wear an all-white dress, and I had a friend officiate the ceremony. Though my dad did walk me down the aisle, I felt OK with it, since I knew that my virginity wasn't being exchanged for two cows and a plot of land. (If that was the case, my handmaidens would be scandalized by my unstained bedsheets the next morning.) If you'd like to honor some wedding traditions but still want to make them your own, here are some ideas on how modernize your big day.
The Father Giving Away His Daughter
The tradition of the father giving away his daughter has its roots in the days of arranged marriages, back when daughters were still considered their father's property. Besides the fact that the transactional nature of the tradition is pretty… unsettling, not every bride has a relationship with her father, or she may wish to honor her relationship with both of her parents instead.
Andrea Freeman, designer and founder of Andrea Freeman Events, has seen plenty of alternatives to the tradition of a father walking his daughter down the aisle. "I've seen dad and stepfathers share the honor," she tells Elite Daily. "Some sets of parents do it together, like in the Jewish traditions. I've also seen couples throw this tradition aside completely and walk into the ceremony arm-in-arm. This approach is one of my faves. While it's not for everyone, I do enjoy the symbolism of being two adults walking into marriage together."
Kia Martinson, owner of ESTOccasions, personally loves seeing a bride take herself down the aisle. "I had a bride walk by herself, stop to light a candle in the memory of her mother, then walk with both her stepdad and father, who met her at the start of the aisle. They then book took their seats and allowed the bride to finish walking alone instead of handing over her hand in the traditional sense."
Apryl D. Roberts, owner of Memorable Events, has a suggestion of her own. "I have had brides who have walked themselves halfway down the aisle so that they can make a grand entrance," she says, "and their father has been waiting mid-aisle to escort them the rest of the way."
The Religious Ceremony
A new trend for modern weddings: Secular ceremonies. Though this one may be non-negotiable, depending on your families' or your own religious values, a ceremony that doesn't stick to a preordained script can be a great way to make it feel like your own, whether that ceremony is religious, spiritual, or nondenominational.
Rather than having a ceremony in a church, temple, or other place or worship, perhaps you can take your religious ceremony outside. You can also seek the assistance of a nontraditional officiant, such as a family member or friend, since getting ordained is actually pretty easy. There are ways to involve as many or as few religious elements as you'd like, such as Bible readings and blessings, without feeling that you are disrespecting your family's or your own beliefs.
"I saw one non-religious ceremony where the couple each had children from a previous marriage," Freeman shares. "The couples' five children were each ordained and performed a part of the ceremony. It was beautiful! I've also seen a parent from each side perform a wedding ceremony, and that was very special as well."
The Bouquet Toss
Believe it or not, the tradition of the bouquet toss began as a way for brides to escape from the crowd of women forming around them after the ceremony. The bride would toss her bridal bouquet as a distraction and run, but somewhere along the line, the tradition morphed into a way for single women to decide who's next in line to be married depending on who caught it. Surely there's something that can be done with the bouquet that doesn't involve women fighting over it?
"Instead of tossing the bouquet, I've seen brides give the bouquet to their grandmother or an important person in their life as a way to recognize them," Martinson says. I'm totally into that alternative since, if you've ever purchased flowers before, then you know that a bouquet costs way too much money for it to be thrown into careless hands.
Roberts also has an idea that doesn't involve any petal loss (or hair pulling). "Instead of a traditional bouquet toss, I had a bride that did a 'pass the torch,' in which she presented the bouquet to a couple who is getting married soon to bring them luck," she explains.
The Father-Daughter Dance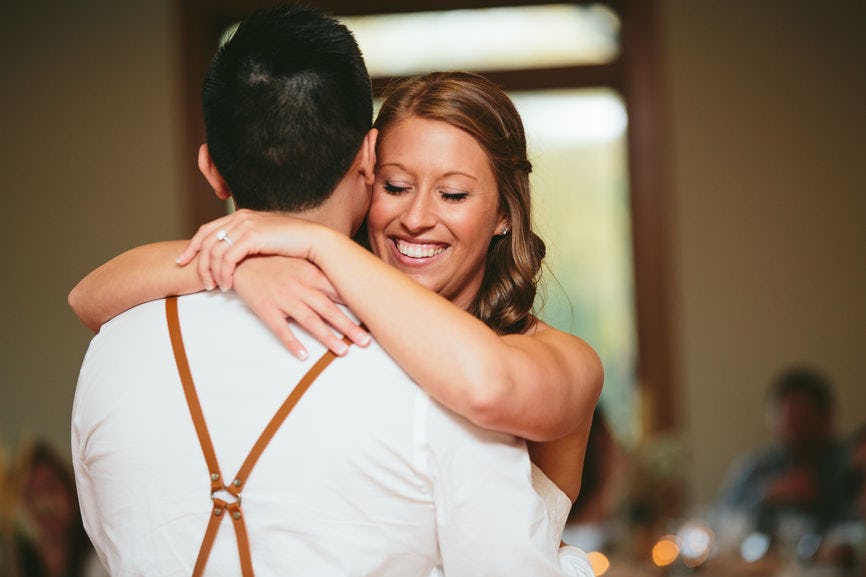 The father-daughter dance is always sweet, but it's often pretty boring. My own dad and I performed a choreographed dance to "Shout," which was a crowd-pleaser, to say the least. But just like the tradition of a father walking his daughter down the aisle, not all brides feel comfortable or have the option of participating in this tradition.
"We think the father-daughter dance is amazing, but we see many more couples come from blended families and they don't wish to make their guests sit through a bunch of dances," Martinson says. "We have been encouraging a family dance, meaning the couple starts their dance with their father or mother, and then more family members are added in and they switch throughout the song. This is a sweet way do the dance, especially if one partner has lost a parent. It is also a sweet way to include grandparents and even step-parents. Having your families come dance is nice and modern."
Freeman is also in support of the family dance. "I once had a bride and groom that did a family first dance. The bride and both of her parents started. The groom and his parents joined, and then all guests were invited to join. It was awesome!"
The Cake Cutting
Ah, the symbolic cutting of the cake, followed by the symbolic smashing of the cake in each others' faces — though what that symbolizes, I'm not sure. Historically, brides cut the cake alone to symbolize the loss of her virginity. (I just made the mistake of overthinking that one, and now I'm grossed out.) Nowadays, couples often cut their wedding cake together, before it is brought back to the kitchen to be sliced up and served to guests. Of course, that can take a while, and your guests can get impatient.
"Many couples today cut a ceremonial cake and then serve another dessert," Freeman points out. "Mini sweets on the dance floor keep the party going nicely." As well as exchanging cake for mini sweets, I have another request to make: Can couples stop saving the top tier of their cake to eat on their one-year wedding anniversary? My own top tier is currently sitting in my freezer, and I think it's growing something on it.
The older I get and the more weddings I attend, the more I've come to appreciate weddings that truly reflect the couple tying the knot. I've seen one-woman bridal parties, I've seen dog ring bearers (OK, that was my wedding), and I've even seen a reading given by the groom's stepmother in Arabic and then translated into English, line-by-line, by the groom's mother.
"At the end of the day, you should do the things that matter to you on wedding day," Martinson says. "Some traditional items are great, but you can always put your own spin on it and make it your own." There's no wrong way to do a wedding, after all, so why not get creative?
Source: Read Full Article