Despite the drama surrounding them and Charles, Prince of Wales the late Princess Diana and Camilla, Duchess of Cornwall were seen in public — albeit very, very rarely — together. Below, check out photographs from when watched Charles play polo together.
Camilla Parker Bowles and Princess Diana's lives were entwined from 1980 on
The story of Diana, Charles, and Camilla is one that's been told for decades. Charles couldn't marry Camilla because the British royal family didn't consider her a suitable match for the future leader of the monarchy. She reportedly didn't have a "sufficiently aristocratic background" suitable for that of a future queen. Enter Princess Diana, then Lady Diana Spencer, who ticked all the necessary boxes. 
They watched Prince Charles play polo in 1980
So, when did Diana and Camilla get photographed together? When they showed up to both cheer Charles on in a polo match at England's Ludlow Racecourse called the Amateur Riders Handicap Steeplechase. While these may not be the only photographs of the two women together, they are the only ones of them on Getty Images.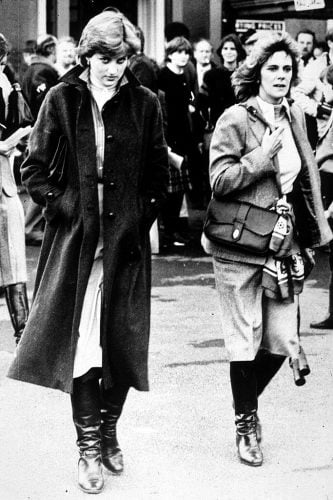 They were photographed walking together (above), both covered up in coats. Diana, living up to her early nickname "Shy Di," had been snapped by photographers with her head titled down, away from the cameras while Camilla walked with her head up. In one photograph (below) Camilla can be seen having had a small smile on her face.
These photos show just how much Diana came into her own as a public figure throughout her time in the royal spotlight. She came to be known as someone who talked to the press about causes that were important to her to draw even more attention to them. 
At the time the photographers were taken in 1980, Charles and Diana weren't engaged. They'd been spending time together but not much time alone. Reportedly they only had a total of 12 dates before Charles proposed to Diana. When they first got together, Charles had been 31 while Diana had been 18. The couple announced their engagement in Feb. 1981 ahead of their royal wedding in July 1981.
Affair became a major source of conflict between Prince Charles and Princess Diana
Throughout Charles and Diana's rocky marriage, Camilla and Charles continued to be in each other's lives. The now-Duchess of Cornwall had been a source of conflict even on the newlyweds' honeymoon; Diana got angry with Charles for wearing cufflinks from Camilla. And at one point during their marriage, Diana confronted Camilla about her affair with Charles.
According to an author, "the Rottweiler" became Diana's nickname for Camilla "because she looks like a dog — and because once she has got her teeth into someone she won't let go."
The highly publicized love triangle came to an end following Charles and Diana's just as highly publicized divorce in 1996. A year later, Diana died at the age of 36 in a tragic car accident. It wasn't until 2005, eight years after Diana's death, Charles and Camilla married in a low-key ceremony. 
Source: Read Full Article