WE WON!!! SPORTS ARE AWESOME!
ByBrianna Sacks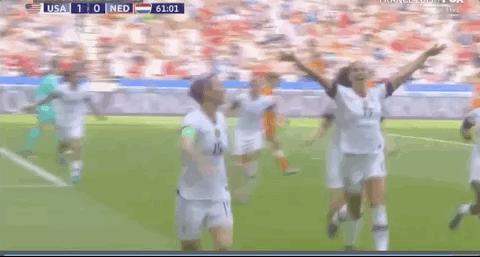 However, it's been a ride.
The Americans have barely edged out their opponents during the past three games in the knockout phase, narrowly beating Spain, France, and England to make it to the championship game against the Netherlands.
Sunday's game was no different.
The US women kept fans extremely stressed out after a scoreless first half. Despite being largely in control and possession of the ball, the Americans couldn't penetrate the Netherlands' extremely bad ass goalie, Sari van Veenendaal, who kept making incredible save after incredible save. Usually, the Americans have been able to score withing the first 12 minutes of every World Cup match this year.
Finally, in the 61st minute, Rapinoe, who wasn't expected to play because of a hamstring problem, kicked the game into gear with a ?penalty kick. I mean, just LOOK at this: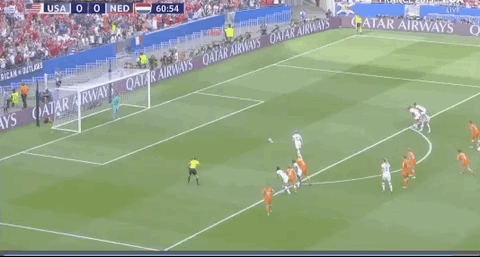 Rapinoe and Morgan were also tied in the the golden boot race, which is the most goals scored during the Women's World Cup, with six successful shots.
About eight minutes later, Rose Lavelle delivered a killer shot to bring the score to 2-0. Her score was the Americans' 26th of the tournament, which is a World Cup record.
This year's World Cup has captivated fans across the world, with record-breaking ratings and viewership numbers, as the Washington Post reported, and brought to the forefront conversations about gender equality and pay in professional sports.
But the USWNT has been kicking ass and taking names for awhile. They went undefeated in 2018 and earned their 500th win after being Portugal in November, making them one of the most successful teams in US sports history, according to US Soccer.
After the win, congratulatory, joyful messages erupted across the internet and bars across the country.
More on USWNT
Photos From The 2019 Women's World Cup That Will Give You Feelings

Alexandra Napoli · July 3, 2019

Alex Morgan Mimicked Sipping Tea After Scoring Against England In The World Cup And It Instantly Became A Meme

Stephanie K. Baer · July 2, 2019
Brianna Sacks is a reporter for BuzzFeed News and is based in Los Angeles.

Contact Brianna Sacks at [email protected]

Got a confidential tip? Submit it here.
Source: Read Full Article