Despite boasting a roll call of clients that some designers could only dream of, Adam Brinkworth isn't the best at blowing his own trumpet. He founded his eponymous practice upon graduating from London's Royal College of Art in 1990, and since, he and his team have worked alongside some of the world's biggest brands to create innovative retail and installation spaces – all while largely keeping themselves to themselves in their East London studio.
Now, as Supreme opens the doors to its biggest store yet — located at an iconic site in West Hollywood, Los Angeles — we sat down with Brinkworth, the brand's longtime design collaborator, to find out what it's like to work with James Jebbia, how together they developed the brand's architectural DNA, and how the team managed to pull off a huge cloverleaf bowl suspended within the new space.
"The first LA store was my favorite, and we're now replacing it," Brinkworth laughs. "Believe me when I tell you it is quite tough to go in and replace something you really love both as a customer and as a skateboarder." Tough, it may be, but somehow the designer has managed to make it work – again teaming up with The Wilson Brothers and architect Neil Logan to bring the new Supreme space to life.1 of 6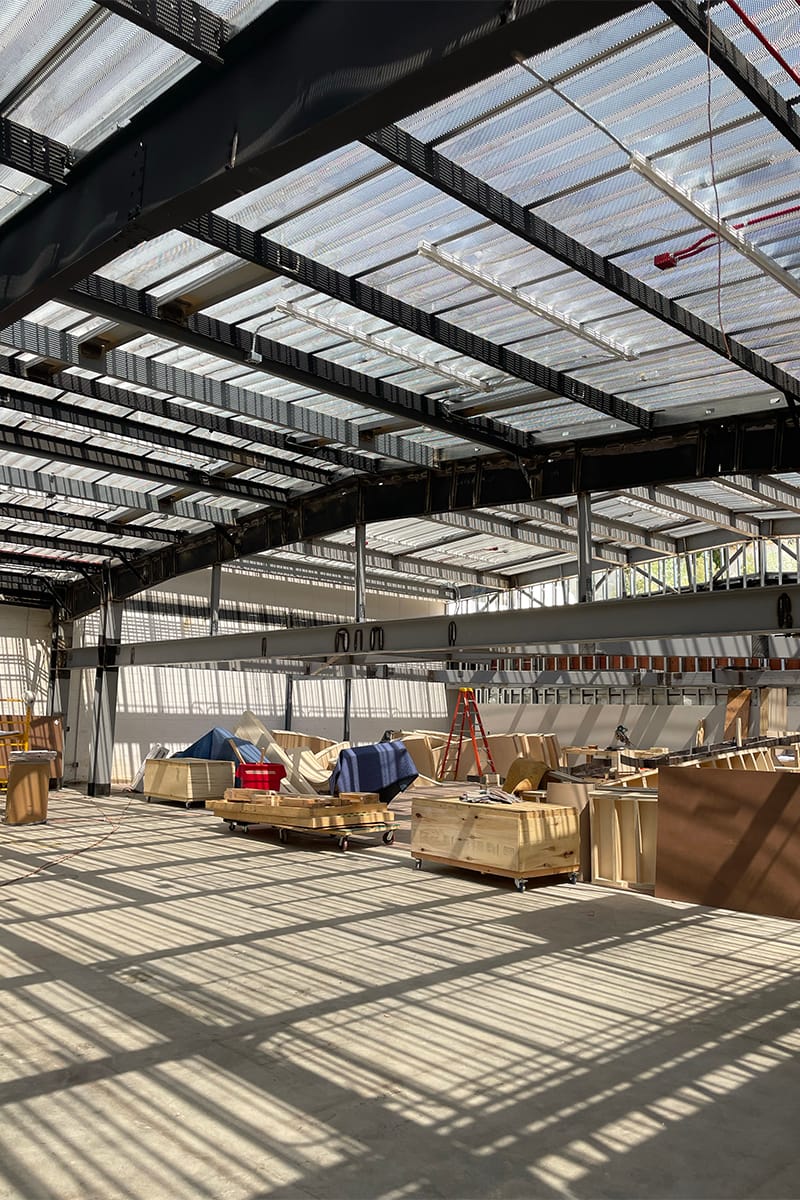 Courtesy Of Brinkworth2 of 6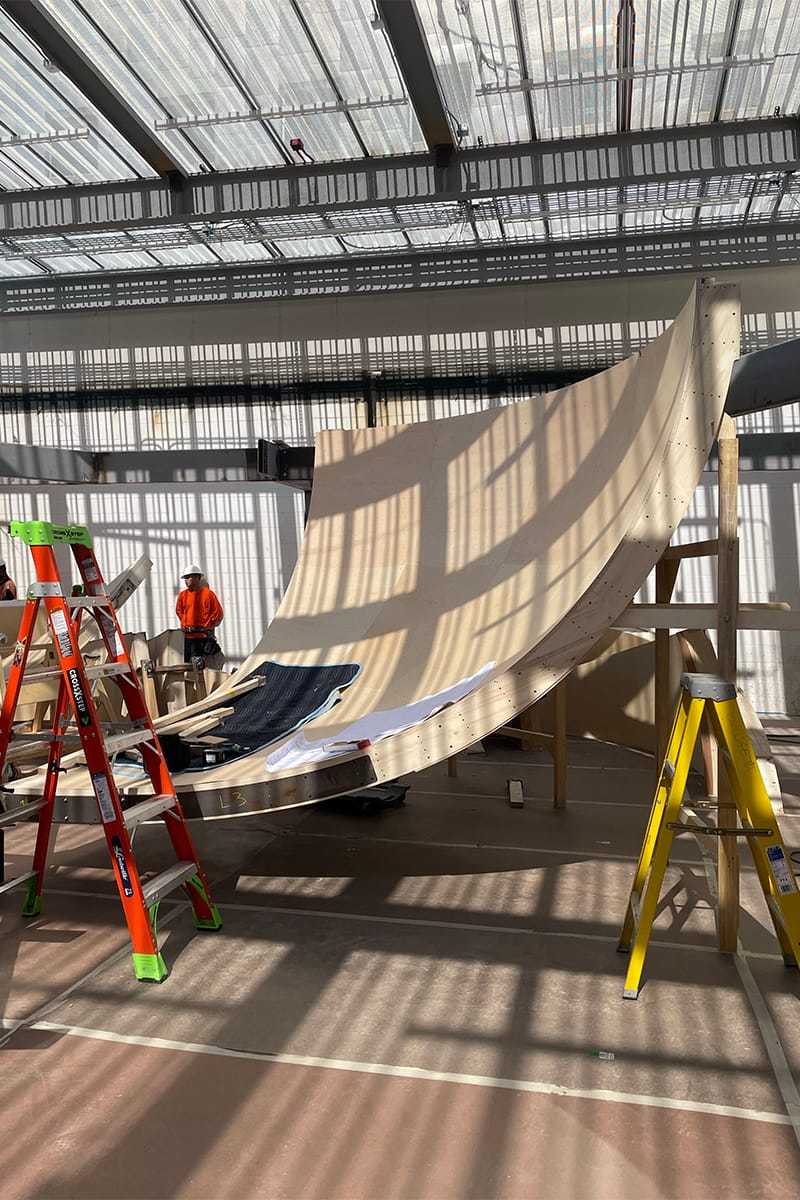 Courtesy Of Brinkworth3 of 6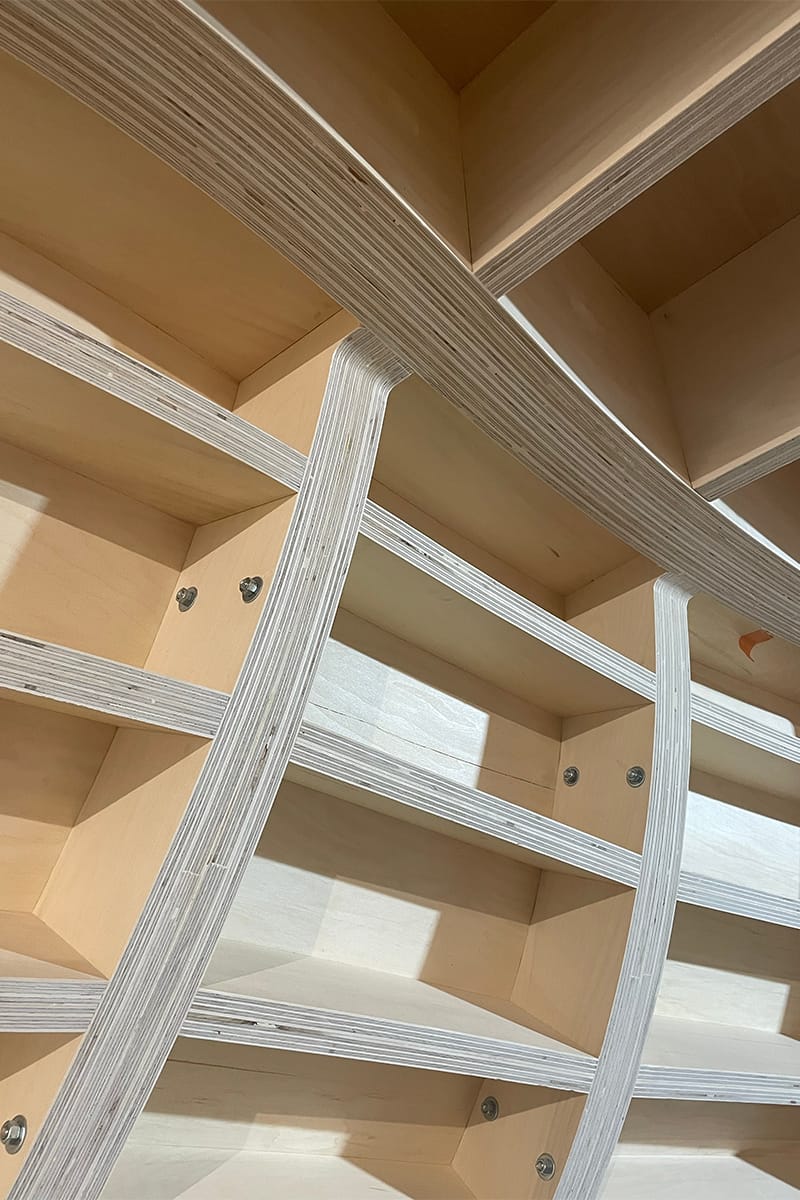 Courtesy Of Brinkworth4 of 6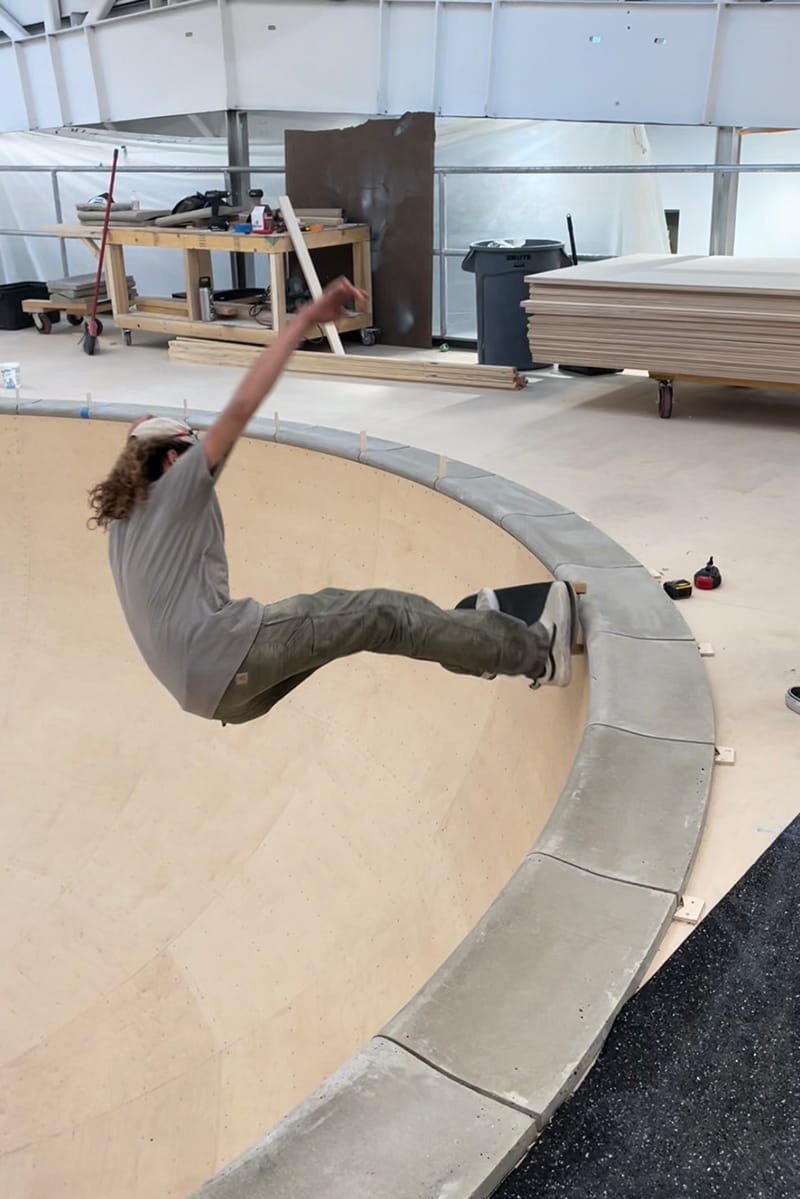 Courtesy Of Brinkworth5 of 6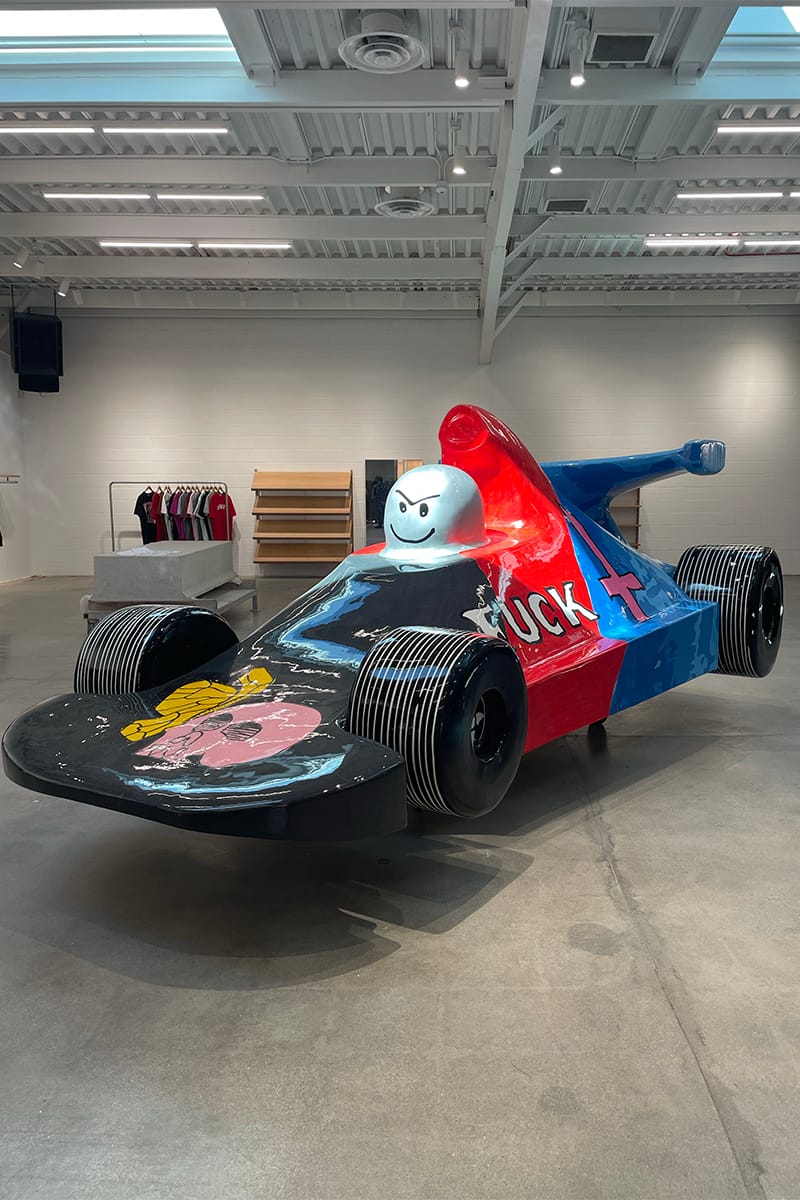 Courtesy Of Brinkworth6 of 6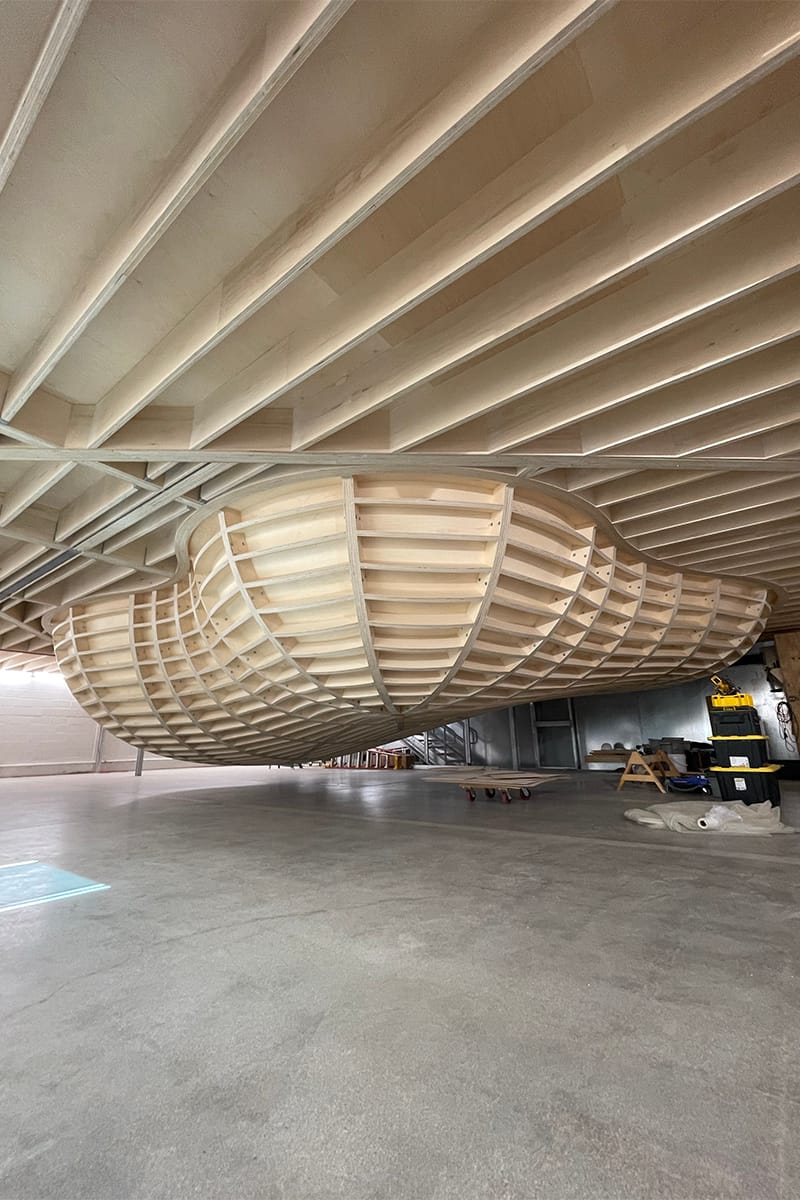 Courtesy Of Brinkworth
Sitting roadside on Sunset Boulevard, Supreme West Hollywood takes over a site measuring 8,300 square feet. In a previous life, the site was home to the biggest record store in the world, owned by Tower Records, and features lofty ceilings and industrial details. Across much of the space, the design team has endevoured to keep its existing soul part of its future design – making decisions to retain and refurbish original elements, such as the wraparound billboard fascia, where possible. Installations throughout have been created by new and longtime collaborators Mark Gonzales, Nate Lowman, Josh Smith, Fuck This Life, and Neckface.
"James [Jebbia] often wants the store to feel natural within its setting, so if it's going to be in LA, it needs to be right for LA."
From the outside, passersby can now see into the space, as the design team opened up the storefront from street and car park levels. Much of the original shell has been retained, while skylights have been added to let natural light flood into the space. "James often wants the store to feel natural within its setting, so if it's going to be in LA, it needs to be right for LA," Brinkworth says. "We look at what is locally appropriate and spend a lot of time traveling around talking to people to understand what the different local cultures are." As such, the ethos of each space evolves, but the recipe for having things on the walls and not overpopulating the floor space remains the design DNA.
Often, a Supreme store will make reference to its local skate scene. "A good example of this is seen in the benches," Brinkworth reveals. "It's not always the case, but if you go into a store such as San Francisco, Berlin, and now LA, you'll spot skatable benches in the store based on ones in the city." In the case of the new space, these benches have been based on ones found at the Santa Monica Sand Gaps. "It's a kind of under the radar if you know, you know detail," he adds.
While the smaller details are important, the piece de resistance of the new store is a huge cloverleaf bowl constructed from timber and designed in collaboration with ​​Steve Badgett. It is entirely suspended within the middle of the space, and according to Brinkworth's account, was no mean feat to install. Part of the building's roof had to be raised in order to account for the sheer height of the bowl, and when it came to removing the metal legs, just about everyone on site looked on with bated breath. "As it doesn't touch the floor, we put car jacks under so we could cut the legs off – and Steve was like 'you're here – you're gonna do it with me', so I lay underneath it while the legs were taken out. Terrifying," Brinkworth recalls.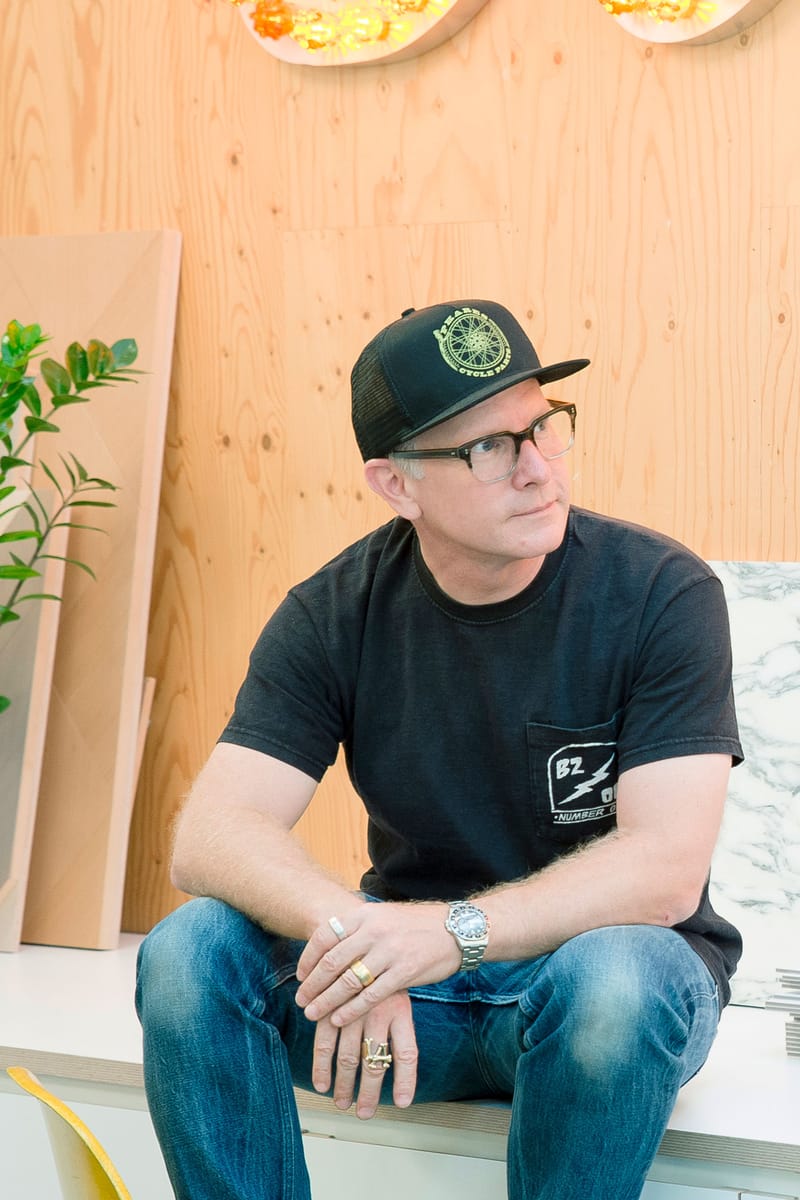 Adam Brinkworth by Saki Hinatsu
Now that the doors have opened successfully, and the bowl has been extensively tested, Brinkworth can relax, albeit momentarily, as his team is already on the clock working on the next space for Supreme. "We can't say where it is, but all you need to do is Google it – people find these things out and splash them online all the time," he says.
---
What spurred you to go down the path of design?
You're obviously inspired by your parents, right? My dad came from a simple background, and he wanted to go to art college, but he couldn't afford to and his dad wouldn't let him. So my dad had this fantasy of what art colleges were like and encouraged me to go. I was pretty naughty at school. I couldn't get my English qualification, but the only way to get a place was to show a portfolio and have your Maths and English GCSEs. So when I went into my art college interview, I just said I had it.
Tell me about your time there.
I didn't know what art college was. I didn't know there was any progression from art college other than becoming an artist. But it was the 3D things that hooked me. There's no escaping from a 3D object: it has a physical presence and a view from many sides. I ended up doing a lot of ceramics, and some woodwork and metalwork, and went on to do a degree called Wood, Metal, Plastics. The idea was that you could design anything you wanted to, in those different materials.1 of 6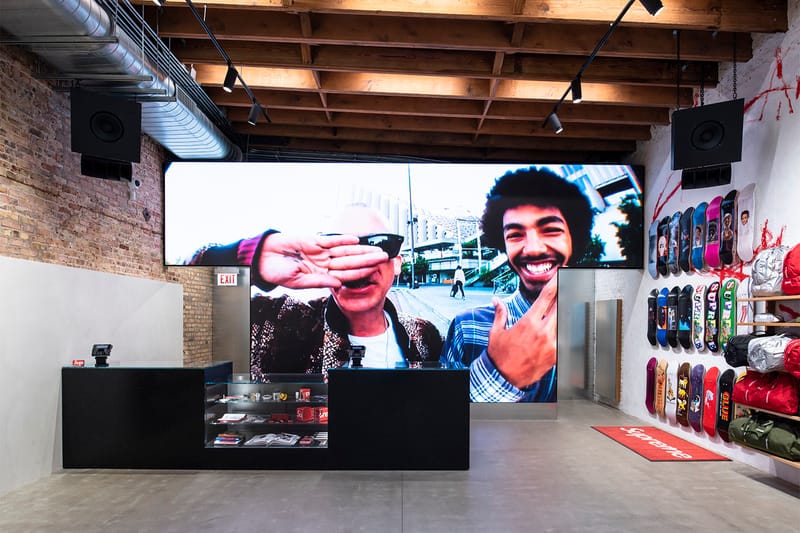 Supreme London, completed 20112 of 6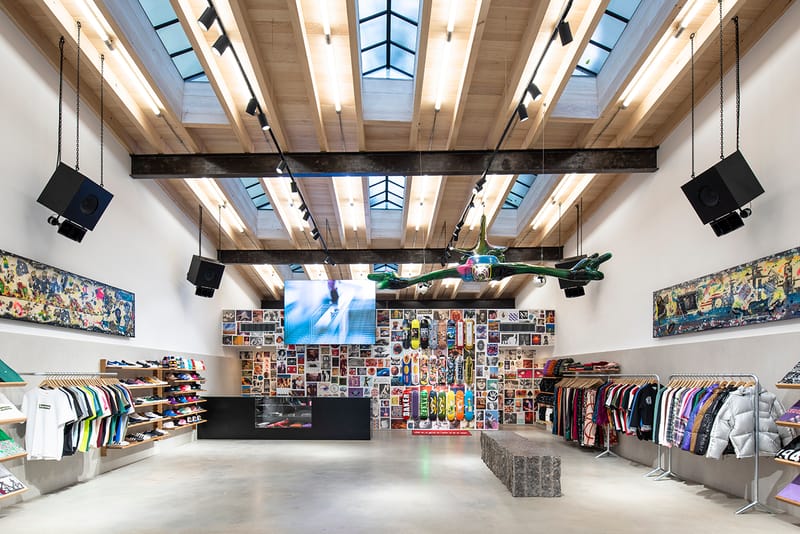 Supreme Paris, completed 20163 of 6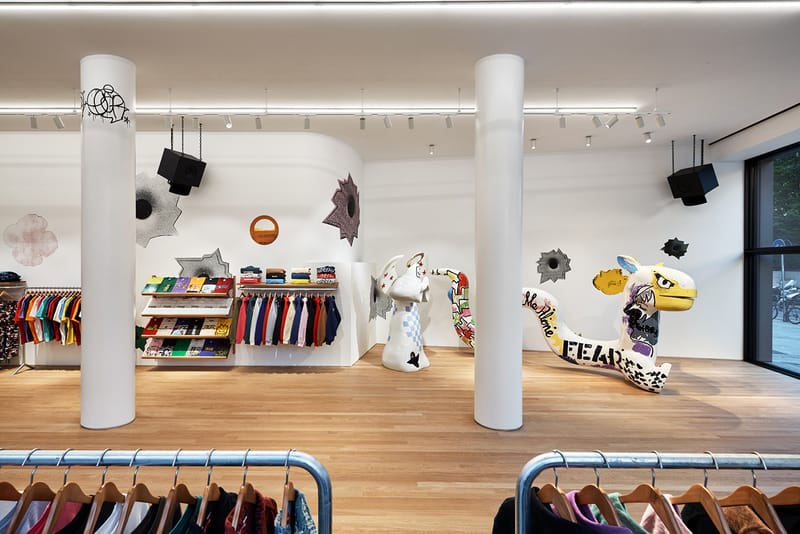 Supreme Milan, completed 20214 of 6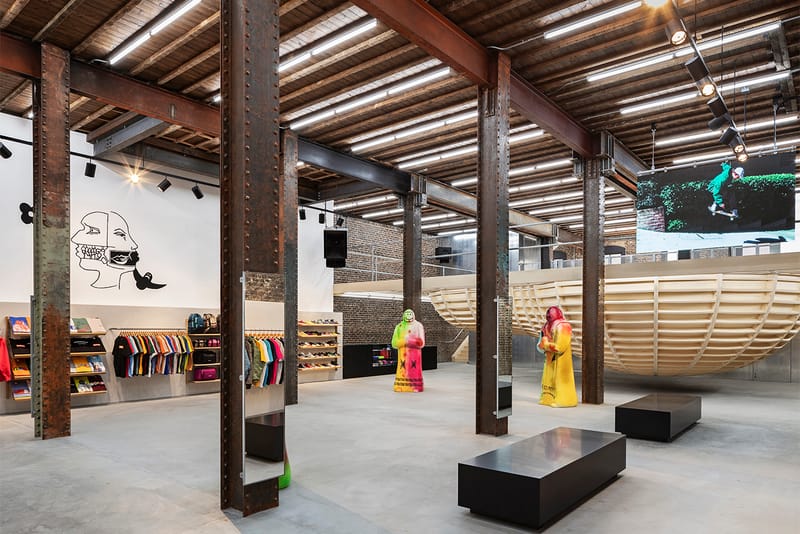 Supreme Berlin, completed 20215 of 6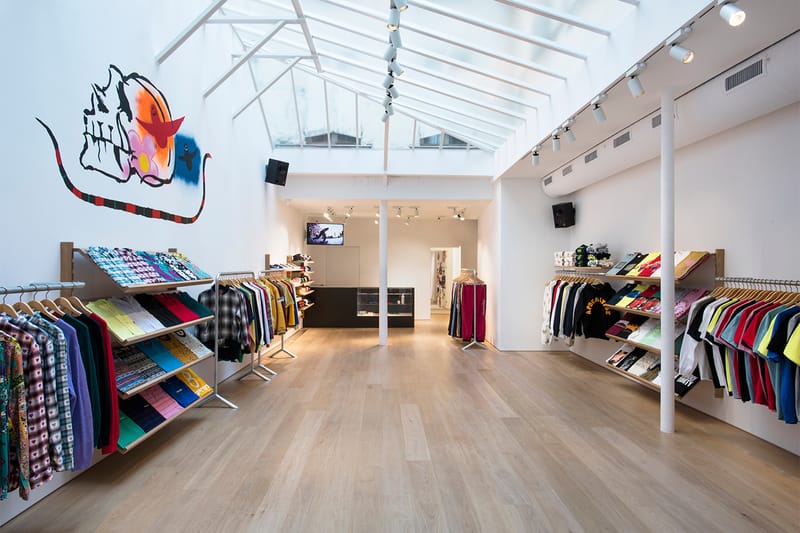 Supreme San Francisco, completed 20196 of 6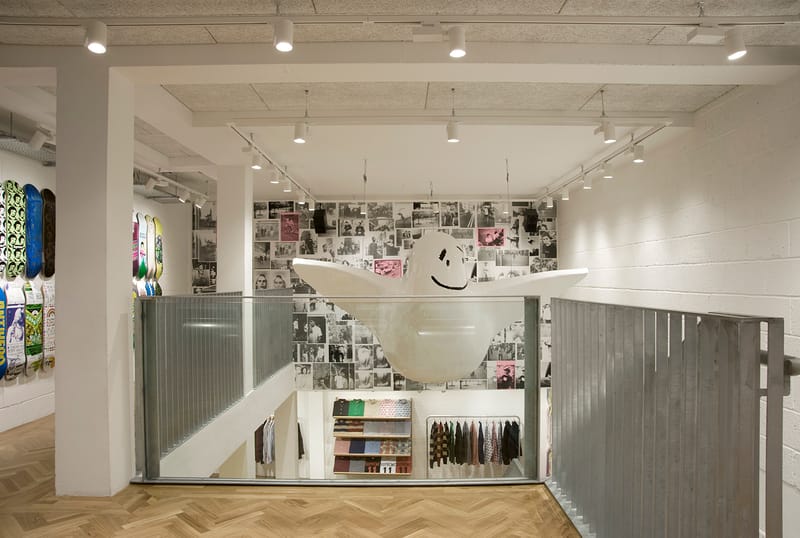 Supreme Chicago, completed 2022
How did you move on from designing objects to designing interiors?
It was completely by accident. I ended up at the RCA [Royal College of Art in London], and I thought I'd do really well when I left college because the RCA kind of builds you up as though you're incredible. But there was just no work at the end of my course, as it was the end of the 80s and we were in a recession. I ended up going to be a blacksmith for a friend in the countryside, and that led me to work on a space for a project that he didn't want to do, so passed it on to me.
I've always thought that there's something about being from quite a dysfunctional home and having quite a scary childhood that makes me want to make better spaces – design is almost like a replacement for a dysfunctional family.
I think that's also why I don't do much domestic design because that's really terrifying – it's almost like trying to recreate a functional home for when you don't feel very domestic. I think there's something in creating spaces that you want to be in rather than spaces you don't want to be in.
"Embarrassingly, when I first met James Jebbia, I was dressed head to toe in Supreme."
How did you end up meeting James Jebbia?
We were working on a Footpatrol space with Michael Koppelman and The Wilson Brothers, and James came on site one day. He said to me that he wanted to buy a shop around the corner, and asked if I could give him some advice. Embarrassingly, I was dressed head to toe in Supreme at the time – and he noticed the jacket I had on (it was the Visvim collab).
We walked around the corner to the space, and I advised him on the practicals – where you can or cannot put staircases, all that sort of stuff. Afterward, we went and sat in a cafe nearby and had something to eat – and my phone rang, flashing up the fact that I had the Supreme logo as my background. Embarrassing.
James then said for me to charge him for my time, but I said a pair of jeans would be fine. "I've got the first North Face x Supreme collab coming out. Do you want one?", he offered. Then, the next day, they'd sent a black jacket from the States to my front door. After that, he said that they'd like to do the store with us, and the rest went from there.
Can you talk me through the first Supreme store you worked on together?
It was the London store in 2011. A really memorable moment for me was these stairs we'd made out of metal. Even after all of the drawings and plans, I hadn't realized that all the light would go through these beautiful little steps and make this kind of disco shadow when you walk down them. That isn't a great creative idea – it's the magic of what happens in three-dimensional spaces.
I had another initial idea, which was to make a red ramp the same as the red box logo. The place was big, and they only wanted a few garments out – so I was getting really excited. I drew up a space, thinking – this is the best idea I've ever had. James came in and was like, "nope – sorry, I want some rails and I want some shelves".
How do you give an individual identity to each Supreme store, given that there's such a tried and tested style for the brand's spatial design?
If you walk into a Supreme store, you'd probably never know how many variations were looked at. James already had two stores when we started working with him, and his vision of their interiors was very different from other people at the time – it was very simple. It's more like a showroom for a fashion company.
The original store in Lafayette in New York has a line of big TVs that show all the skate videos, some decks at the back, and two rails of clothes, so nothing's ever in the middle. That's still the same after all these years. I don't know of many companies that do that, they want to use the sales base more efficiently, but James has always had that very generous nature to kind of go, we just need to say 25 linear meters of clothing, and that's it.
Talk us through creating the bowl for the new LA store.
The first question when you're designing bowls for a room is 'is there enough room to put it in, so that you can fly out and not hit your head?' We realized that here, there wasn't, and the building's middle section needed raising.
We had nice ideas like using the old bowl from the old LA store and putting it inside a bigger one and extending it, but that didn't fly. In the end, it became a cloverleaf shape with three sections, which is fully suspended in the store.1 of 2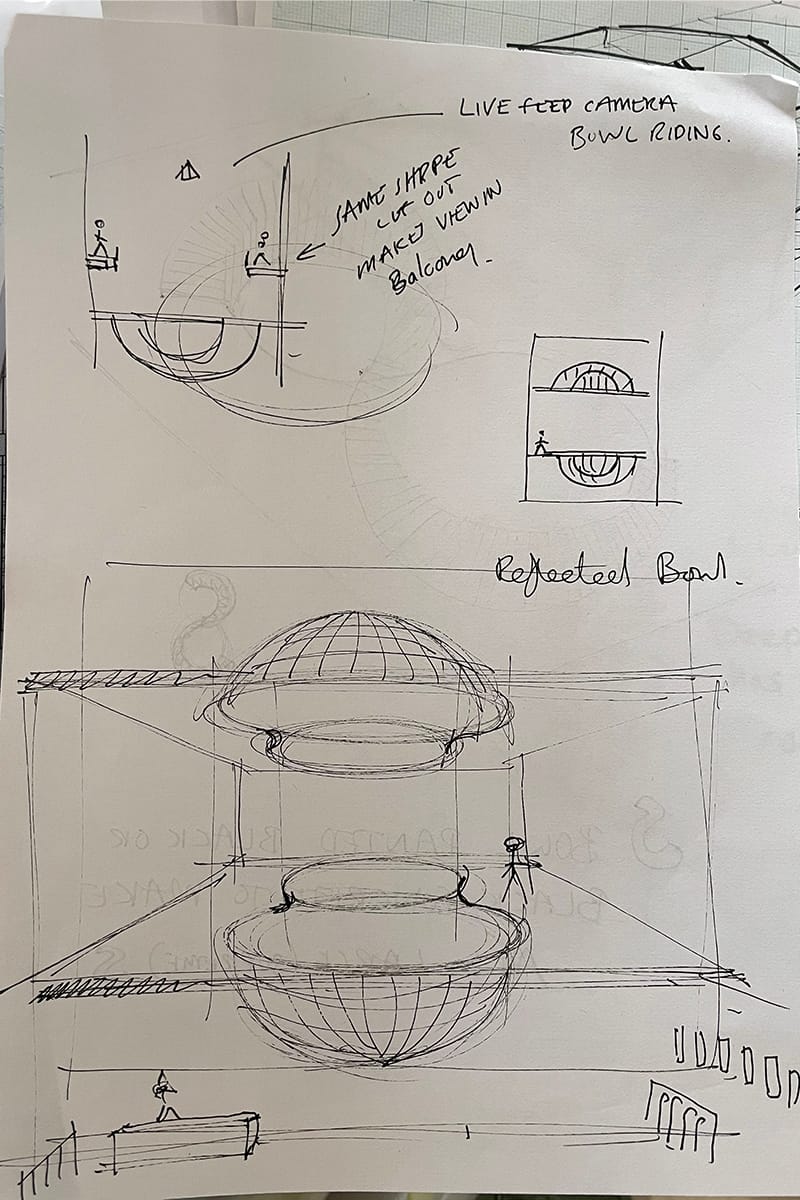 Initial sketches for the bowl at West Hollywood.2 of 2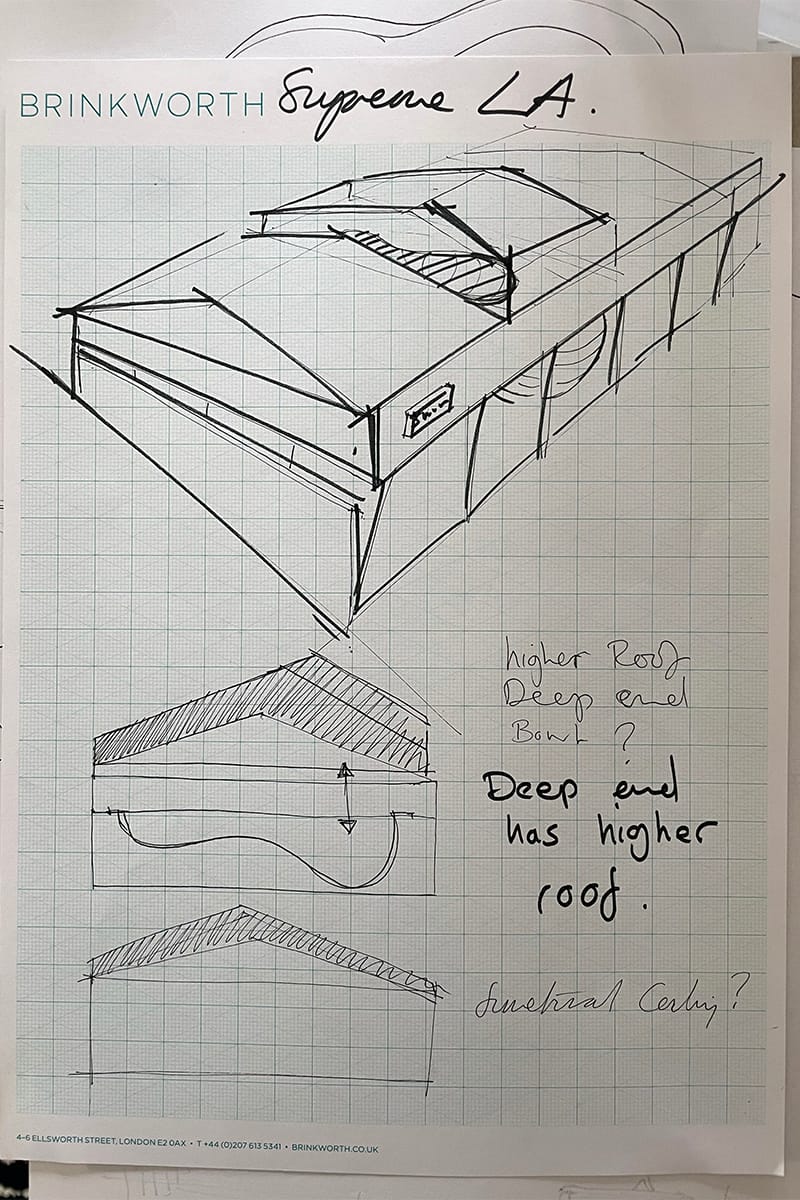 Initial sketches for the bowl at West Hollywood.
To fabricate it, we work alongside ​​Steve Badgett and his studio SIMPARCH. He is just tenaciously skillful, calm, and soulful. You could eat your dinner off the underside of it, it really is that beautifully made. As it doesn't touch the floor, we put car jacks under so we could cut the legs off – and Steve was like 'you're here – you're gonna do it with me', so I lay underneath it while the legs were taken out. Terrifying.
Outside of your work with Supreme, what makes for a successful interior design?
I've been to see some design companies present their projects, and they often say it's all about the "experience" of the space, but it isn't for me. It's more about the relationship, and what's underneath the experience of a space. Otherwise, it becomes an Instagrammable moment that isn't any richer than the superficial elements.
Source: Read Full Article