Star Trek is back, with the new Discovery series continuing the sci-fi franchise that was first seen on screens 50 years ago.
The first two episodes of Star Trek: Discovery have hit streaming services.
They featured Starfleet first officer Michael Burnham, played by The Walking Dead's Sonequa Martin-Green – the first woman of colour to play the lead character in a Star Trek story.
She's deputy to Michelle Yeoh's character, captain Philippa Georgiou.
Fans were largely pleased by the pairing – with one describing them as "amazing women kicking Klingon butt".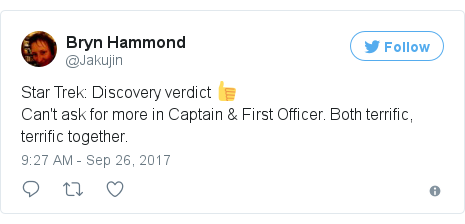 The last TV series, Star Trek: Enterprise, ended in 2005. This new series is available on CBS All Access in the US and on Netflix in 188 other countries – with Netflix offering subtitles in the Klingon language.
Made by Bryan Fuller and Alex Kurtzman, the show is set a decade or so before the original Star Trek.
Former Star Trek star George Takei gave it the thumbs up, writing on Twitter: "Congratulations to @StarTrekCBS on last night's incredibly successful launch, great to have you on board as part of the Star Trek family."
Critics also weighed in. The Guardian reviewer wasn't exactly overwhelmed by the new series, but said it was "not bad at all" and "has a genuine star on its hands" in Martin-Green.
She is the adoptive sister of Mr Spock and is a "homage" to the character played by Leonard Nimoy, wrote Sam Thielman.
Overall, he decided, the show was "laden with eye-popping special effects but rather short on high concepts".
Slate also praised Martin-Green, saying she "carries the show" – and noted that the Klingons have been given a "sexy" redesign.
"'Sexy' here apparently means hairless, with massive forehead ridges and purple-tinged skin that glows as though it's been professionally buffed at some kind of Klingon spa," wrote Marissa Martinelli.
She said it was the darkest and most action-heavy Star Trek to date, telling a "gritty war story".
'Dramatic shift'
Melanie McFarland, writing for Salon, said the first two episodes "unveiled a slick, provocative, frustrating and moving drama that desires to dazzle as much as to be intellectually unpacked".
It's got enough politics to respect the original vision of the franchise "while appeasing viewers who are only in it for the action", she explained.
Meanwhile The Atlantic's David Sims declared it a "radical departure".
He noted: "The show probably needed to make such a dramatic shift in order to return to the air, but it's likely to distress some veteran fans."
Follow us on Facebook, on Twitter @BBCNewsEnts, or on Instagram at bbcnewsents. If you have a story suggestion email [email protected].
Source: Read Full Article