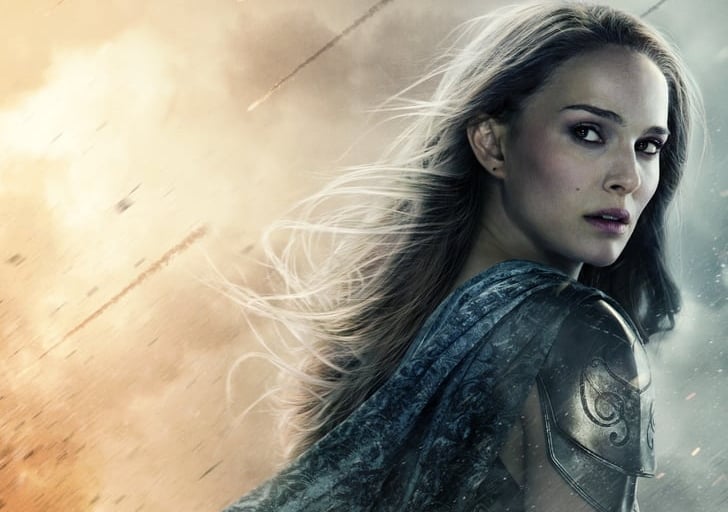 Natalie Portman is returning to the Marvel Cinematic Universe in a massive way: as the first onscreen female Thor!
During Saturday evening's panel at San Diego Comic-Con, Marvel President Kevin Feige took the stage to discuss the fourth film in the Thor franchise, which will be helmed by Ragnarok director Taika Waititi and is officially called Thor: Love and Thunder. On top of the exciting title reveal, Feige brought out Waititi and stars Chris Hemsworth, Tessa Thompson, and Natalie Portman, much to the delight of the screaming audience in Hall H.
Although Portman hasn't reprised her role as scientist Jane Foster since Thor: The Dark World ⁠— not counting her all-too-brief cameo in Avengers: Endgame, of course ⁠— it seems the studio is bringing her back to play Thor's former flame in the fourth installment. What's more? She'll become the Mighty Thor herself, aka the goddess of Thunder, aka Lady Freakin' Thor. Pretty kickass, if we do say so ourselves.
Thor: Love and Thunder will arrive in theaters on Nov. 5, 2021, which gives us plenty of time to dwell on what the plot might entail. Story-wise, is it going to come before or after the events in the upcoming Guardians of the Galaxy 3? And how will the director tackle the events of everything that befell the god of thunder since Ragnarok? It's a big task, but we have total faith in Waititi, Portman, Hemsworth, and Thompson to give us yet another raucous, colorful good time on the big screen.
Source: Read Full Article