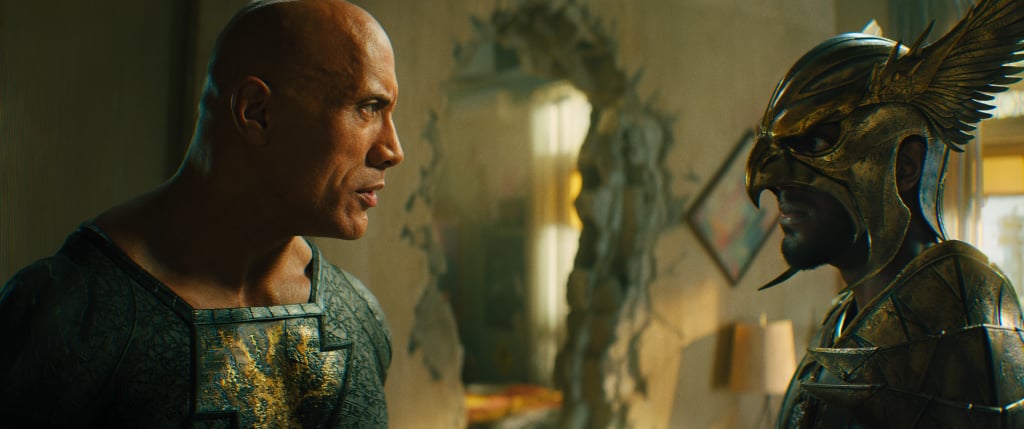 Dwayne Johnson Will Make His "Black Adam" Debut This Fall

DC fans, the wait for "Black Adam" is almost over. The highly-anticipated antihero film will finally make its debut this fall. For years, development for the movie was left in limbo. Dwayne Johnson, who stars as its titular character, voiced interest in the notorious DC comics character over a decade ago before he was cast in 2014 to play the antagonist in New Line Cinema's "Shazam" movie. Now, he leads his own DC film as Black Adam, where he redefines what it means to be a hero.
In November 2019, Johnson broke the news that the long-awaited film featuring him as the classic DC antihero would release on Dec. 22, 2021. "As a kid, Superman was the hero I always wanted to be. But, a few years into my fantasy, I realized that Superman was the hero, I could never be," he wrote in an Instagram post. "Now, years later as a man, with the same DNA I had as a kid – my superhero dreams have come true. I'm honored to join the iconic #DCUniverse and it's a true pleasure to become BLACK ADAM."
According to director Jaume Collet-Serra, Johnson tackling the role of Black Adam was almost fate. "It's always cliché to say that someone was born to play a role, but in this case, it's true," he told Entertainment Weekly. "The movie happened because of him. He's the energy and the push that got this movie made. Even if it took him a long time to fulfill this dream of his, I think that it's been worth the wait."
Following Johnson's initial release date announcement, the movie was pushed to July 29, 2022, before DC issued a new October premiere date. Production on the film took a backseat for a while due to the pandemic. But in August 2020, during DC Fandome — the virtual weekend convention for all things DC — a visibly excited Johnson revealed more information about his film, including animated concept drawings and the featured cast of characters.
Not only are we getting the star in all his spandex-clad glory as Black Adam, but for the first time ever, fans will also meet DC's Justice Society of America in a live-action movie — this includes Hawkman (Aldis Hodge), Doctor Fate (Pierce Brosnan), Cyclone (Quintessa Swindell), and Atom Smasher (Noah Centineo). The film's new trailer, which arrived on June 8, finally gives a full glimpse of what's to come from "Black Adam," and the action-packed story looks promising.
Keep reading ahead for everything we know about "Black Adam" — including the cast, release date, and plot — and brace yourself for the film's exciting fall premiere.
Source: Read Full Article