Declan Rice's experience belies his years. The London-born midfielder is still only 23, but he's already played more than 150 times in the Premier League, racked up 27 caps for England and played an integral role as England surpassed expectations to reach the final of Euro 2020. Aged just 20, Rice wore the West Ham captain's armband for the first time in the Premier League, an early milestone on his rapid rise.
"Growing up, you look at yourself and you know you want to play in the best teams possible," Rice tells HYPEBEAST about his career so far. "I was a big part of the West Ham team last year, when we got into Europe, then in the Euros in the summer I played a big hand in getting to the final. It's a special feeling knowing that I'm a key part of that."
The England team that Rice stars in has turned heads for more than just its tournament performances. Under manager Gareth Southgate's reign, it has also become famed for its team spirit, and the leadership shown by players away from football. "Within the world we live today, it's important to mix," Rice says of the team spirit. "The way England is – and it's how Gareth has made it – is that we're one team. There's a camaraderie between everyone, everyone's together and we know what the objective is every time."
"You need to be able to take criticism and you need to be able to listen and learn. The more you do that the more you can improve as a player."
This has translated into the team's activism in other aspects. Players such as Marcus Rashford and Jordan Henderson have used their status as leaders to deliver real-world change, while Rice himself has spoken out about racism in football and the importance of taking the knee before matches. "We've got so many players who are leaders, and they won't let anything slide," he adds. "It's important because we're powerful people in the football world. We've got a voice, and when we use it to say what we want to say, it's listened and it's heard. That's really important."
As well as being a key part of the England squad, Rice is also central to West Ham's rise up the table in recent years. The club qualified for Europe last season, and currently sits just outside of the Champions League places. "The quality of the team has stepped up, and the manager has been great for us," Rice explains. "We've performed in big games and on big occasions. It's a long season and to get into Europe is really tough, but everyone has come together. The last two seasons have shown we want to stay up there. That's where we want to be."
Rice's role at West Ham includes frequently captaining the team – when club captain Mark Noble isn't playing – showing how important he is to the club. "I try to just take it as it comes, not looking too much into it or thinking too much about it, so it feels pretty natural and normal," he says. "Since I was a kid, I've always wanted to be a big part of a team, to be the captain. But I have the help of Nobes [Noble], he's made life so much easier for me. If he wasn't around, I don't know what I'd be doing."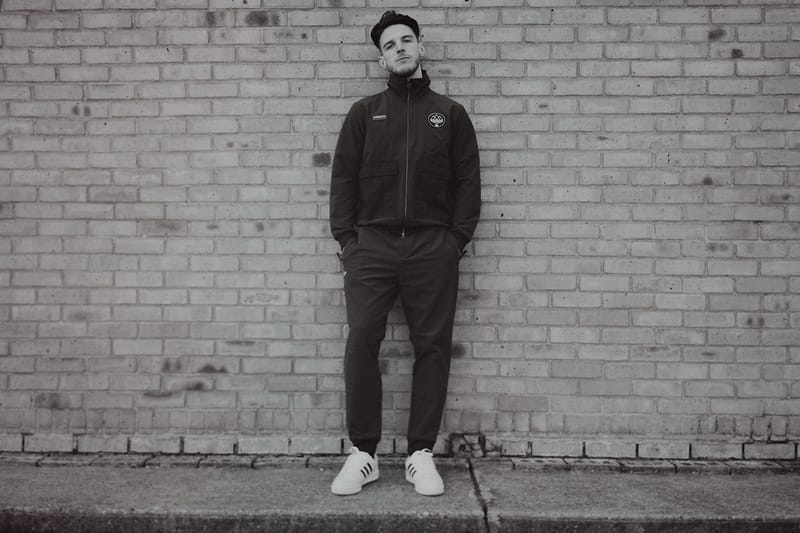 Mikey Massey
It took Rice a little over four years to go from breaking through at West Ham to appearing in the Euro 2020 final, but his ascent has not always been easy. In the past, Rice has spoken openly about his football upbringing, including his release by Chelsea aged 14 and his worries about not progressing at West Ham. Even once he'd begun playing for the first team, he had challenges to overcome.
"Probably my most challenging moment was in the 2018/19 season," Rice says. "We lost 4-0 to Liverpool and I was dragged off at half-time. For the next two games, I was left out of the squad, so then I asked to go out on loan and was told no." This run of games led to a period of self reflection. "In those tough times, you think you're not cut out for it, because you had a bad 45 minutes," he continues. "Then we went on to play Everton, I was named man of the match and I haven't really looked back. It was a test of mindset, of character, and just believing in my ability."
While this was a challenge for Rice, it also reinforced how important his mindset was. "If you want to play at the top and you want to be the best, you need to feel like you're going to go out onto the pitch and be the best every time," he says. "You need to be able to take criticism and you need to be able to listen and learn. The more you do that the more you can improve as a player."
"I just feel like there's no need for someone to look after my social media, it's natural, more authentic, that it's me doing it."
Rice's mindset is something that has won him plaudits over his career – Gary Neville recently described him as "authoritative, confident, humble and quite simply the most impressive young footballer I've interviewed in 11 years" – and his attitude is also replicated away from football. To this day, Rice manages his own social media accounts, something that is increasingly rare in the professional game, and the reason is simple. "I just feel like there's no need for someone to look after my social media, it's natural, more authentic, that it's me doing it."
This approach has combined with Rice's interest in fashion, with the player now being one of the most famous members of London-based streetwear community The Basement. Rice laughs at the mention of the group, and his involvement within it. "I don't even know how I got around to joining it! Everyone in there has shown me massive love and support ever since I got into the first team. I'm just a normal person as well, so it's always good to engage, get involved and half a laugh."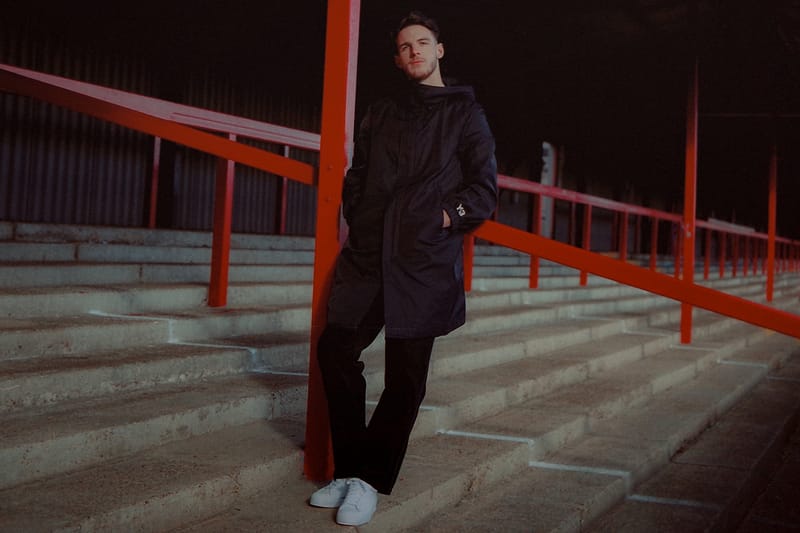 Mikey Massey
Rice is one of a new generation of players who feel more confident to express themselves through their clothing (he's a big fan of the recent adidas x Prada Forum Low). In recent years, the ex-Arsenal player Hector Bellerin has walked for Louis Vuitton, while Everton and England's Dominic Calvert-Lewin has turned heads for his own fashion sense. "It's the time we're in," Rice says. "Probably 10 years ago you wouldn't see so many Premier League players posting about their fashion or doing interviews about it, but that's the way it is now."
Despite the milestones and accolades, Rice's career is just getting started. He has ambitions for the coming season – he speaks of potential silverware for West Ham, and qualifying for Europe again – and he has one eye on the World Cup later this year, hoping that England can go further than the Euro 2020 appearance. Underneath it all is that same mindset, which mixes his humility and sense of humor with the ambition and confidence needed to get to the top.
Source: Read Full Article