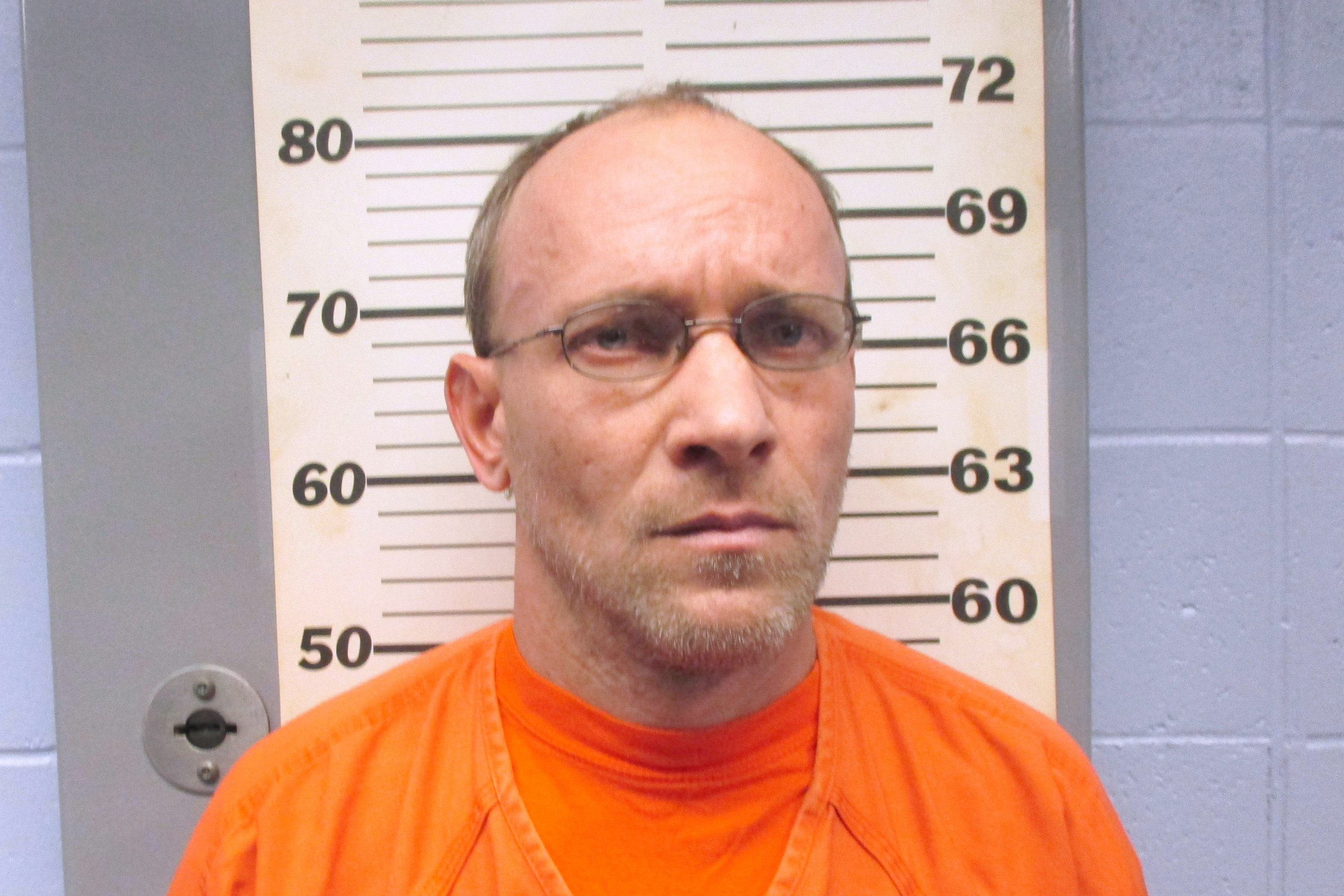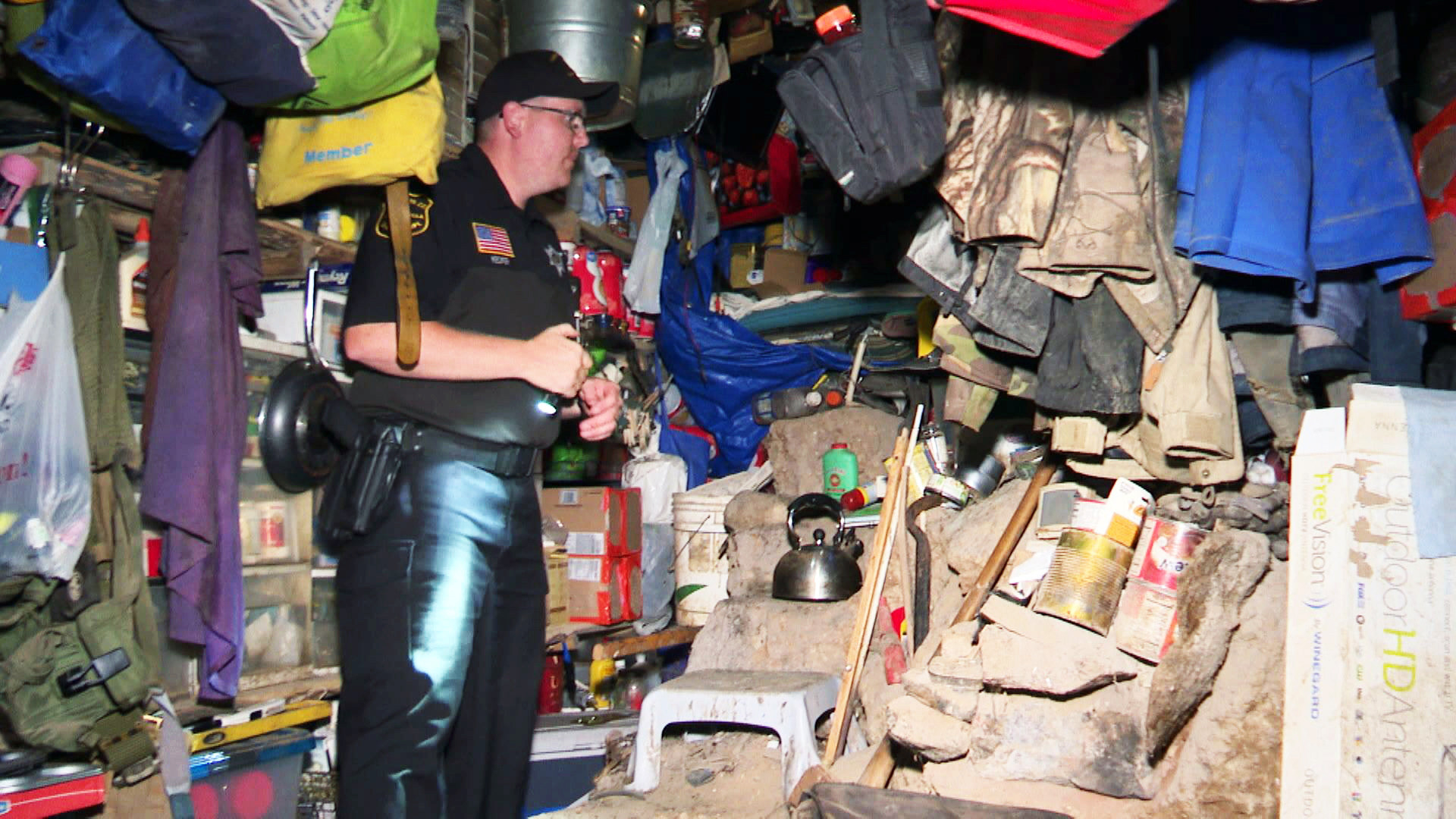 Last year, a Wisconsin hunter discovered a door peeking out from behind some thick underbrush off a trail. After thinking about it for months, he decided to go back last week and see what it was all about.
Hours later, authorities arrested a fugitive wanted on multiple charges of incest, child sexual assault, and child pornography, who they said had been living in a self-made, solar-powered bunker for nearly four years.
Jeremiah Button had not been seen since he disappeared in February 2016, two weeks before he was supposed to stand trial on a slew of child sexual assault and child pornography charges.
The 44-year-old had been out on a $25,000 bond for about 18 months. Authorities say that during that time, Button had been building a small, wooden bunker tucked into the side of an embankment along the Ice Age Trail in the rural, woodsy Wisconsin town of Ringle.
Thomas Nelson, a hunter who has lived in Wausau his entire life, told WSAW-TV that he first stumbled across the brush-shrouded hideout in November. When he first noticed a door built into the earth, he bolted.
But he couldn't stop thinking about it. Months later, he retuned to the state-owned wilderness, retraced his steps, and pushed the door open.
"I come around the corner a bit and there he is, laying in his bed." Nelson said in an interview with the station. "I mean, I was shaking when I went in, I was shaking when I went out."
The hunter then called authorities and led them to the cave. When Marathon County Sheriff deputies arrived, Button was standoffish and refused to comply, Lt. Steven DeNovi told BuzzFeed News Friday night, adding that he was unarmed.
Finally, after nearly 20 minutes, he surrendered and told the officers he was wanted in a neighboring county. He proceeded to explain how he had been living in the woods for nearly four years.
"It's quite something. Definitely a new one," DeNovi, who has been with the Sheriff's office for about 16 years, said of the case.
According to authorities, who later interviewed Button after apprehending him inside his fort, the fugitive had chosen the area for its remoteness and proximity to a local landfill. He then spent months digging and building out his cave.
"This individual in particular was extremely crafty with going into the wilderness and going off the grid," DeNovi said.
To survive, Button had brought in backpacks full of canned goods and other supplies, including a flat-screen TV. As the months wore on, he would walk about a half-mile to the Marathon County Landfill and "scavenge" whatever he needed.
"He was basically living off trash. From what I understand, he went there almost everyday for things," DeNovi said, adding that the bunker was packed full of "all sorts of items" that he had found over the years.
Video from WSAW-TV shows a cramped, dirt room filled to the brim with cans, clothes, buckets, canvas bags, tea kettles, cleaning supplies, a radio, several laptops, storage bins, small fans, mason jars, and an array of other things.
On top of the cave, officers found several solar panels and car batteries, which Button later told authorities he used to power his radio, TV, and fans.
"And from those three car batteries he has running to LED lights and radios and cooling fans, all sorts of electronic equipment, some of it left intact for its intended purpose, and other things he took apart to fit the needs he had," Detective Lieutenant Jeff Stefonek told the station.
For back-up power, Button created a generator using a bicycle that he could pedal. To ensure he had water, the fugitive sought out a wet part of the woods and built a well. He would filter the water through charcoal and sand-lined filters before boiling it.
"He was not only surviving, but thriving in this structure through all of the different supplies he was able to find," Stefonek said.
Despite the elaborate, crowded set-up, authorities say there is no evidence that anyone else had been living there. Detectives do not know if he had been communicating with people from the bunker, DeNovi said.
However, he often interacted with hikers and hunters, like Nelson, and would occasionally chat with people at the dump, the lieutenant explained.
"He stumbled across or had random encounters with people in the woods and the landfill and would pose as someone hiking or who was out for a walk," DeNovi said. "He would have casual conversations with people about the trails or the weather."
Before he disappeared, Button was set to stand trial for four counts of child sexual assault and child pornography from 2014, including first-degree sexual assault and incest with a child, according to court documents. He had plead not guilty to all charges.
Button is currently in custody in Portage County Jail and is being held on a $100,000 bond and will be back in court on Sept. 16.
Authorities say they're baffled at the lengths the fugitive went to create a completely new life in the woods.
"There are fugitives around us all the time," DeNovi said. "It's rare when they go off-the-grid like this and pull off something like this.'
Brianna Sacks is a reporter for BuzzFeed News and is based in Los Angeles.

Contact Brianna Sacks at [email protected]

Got a confidential tip? Submit it here.
Source: Read Full Article