A citizen accountability group is investigating after a Chicago police officer was recorded on video body slamming a man to the street during an arrest on Thanksgiving Day.
In a now-viral video posted to Facebook, the officer is seen grabbing a man in a black hoodie and jeans by the waist then throwing him to the ground, causing the man's head to hit the sidewalk curb. The man lays motionless on the street for the remainder of the 43-second video as another officer stands over him.
The incident, which occurred Thursday afternoon, is being investigated by the Civilian Office of Police Accountability. The officer in the video has been "relieved of police powers" pending the investigation, Chicago police spokesperson Anthony Guglielmi said Friday.
"The incident is under investigation as the actions in the video are concerning," police said in a statement. "If wrongdoing is discovered, officers will be held accountable."
The Chicago Tribune reported that the man was thrown to the ground after allegedly licking an officer's face, threatening him, and spitting in his eye and mouth. Police were attempting to arrest the man for allegedly drinking in public in the 700 block of East 79th Street.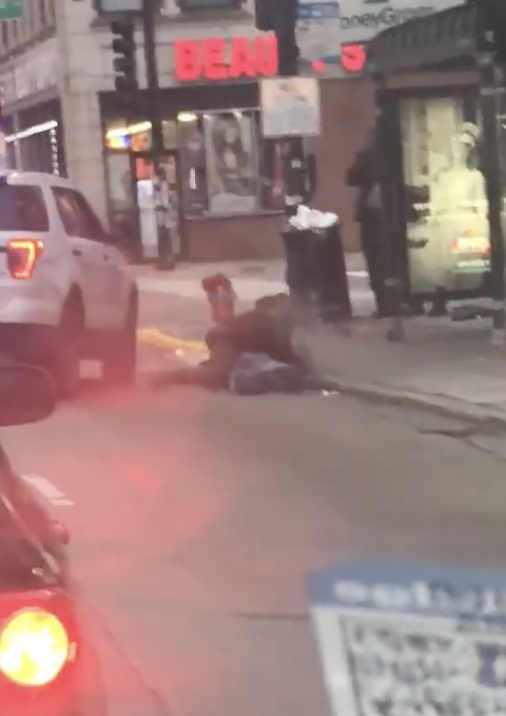 Guglielmi told the newspaper the man was treated at University of Chicago Medical Center and released into police custody "sometime overnight."
In a series of tweets Friday morning, Chicago Mayor Lori Lightfoot said that she had watched the video, calling it "very disturbing."
"While a single video does not depict the entirety of the interactions between the police and the individual, this particular video is very disturbing," Lightfoot said. "It is my expectation that the investigation will be comprehensive and expedited so that the public may gain a complete picture of what happened."
Jovonna Jamison, the bystander who recorded the video, told the Tribune she was waiting at a red light when she saw an officer snatch the man's beer away, adding that he was on the phone when the officer picked him up and threw him to the ground.
"I'm not really surprised because it happens so much in Chicago, but I didn't think I would ever see it front and center," Jamison said.
Stephanie Baer is a reporter with BuzzFeed News and is based in Los Angeles.

Contact Stephanie K. Baer at [email protected]

Got a confidential tip? Submit it here.
Source: Read Full Article