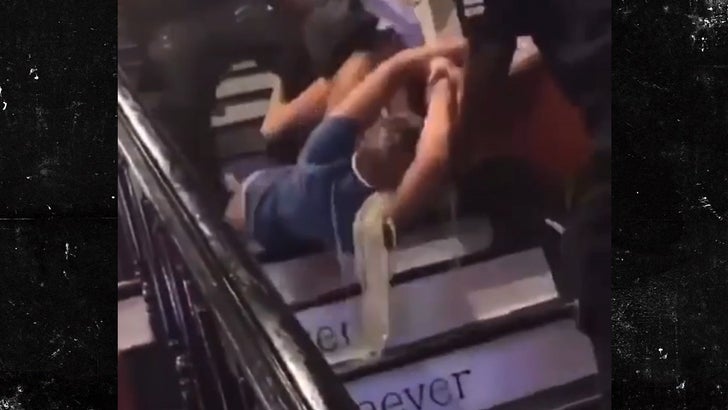 A woman was dragged down a flight of stairs by her hair at a bar, and the horrific act — carried out by a security guard — is sparking outrage and protests.
The ugly incident went down Saturday at Nellie's Sports Bar in Washington, D.C. … a popular LGBTQ+ bar that had been packed following the city's Pride parade earlier in the day. In the video, you hear bar patron's shocked to see the security guard dragging a Black woman, and that shock quickly turned to anger.
Several bystanders started pummeling the security guard, who is Black, and all hell broke loose. A woman named Keisha Young says she was the victim, and told WUSA9 the trouble started when the bar staff mistook her for someone else.
She said, "[Security was] trying to get some other people out because somebody else brought a bottle in there. Somehow I got mixed up in an altercation because I look like somebody else and I got hit and dragged down the steps."
Protests erupted Sunday outside of Nellie's … with dozens of protesters seen holding signs. Nellie's released a statement Sunday saying, "We were incredibly upset and disturbed to see the unfortunate event that took place at Nellie's last night."
Nellie's management says it's going to conduct a full investigation into the matter. They added, "At Nellie's we foster an inclusive and safe environment, so events like this are completely unacceptable to us."
A spokesperson for Metro PD said they didn't get any calls related to the incident.
Source: Read Full Article