Camilla Parker Bowles has arguably steered clear of the drama surrounding Prince Harry, Meghan Markle, and their decision to step down from their roles as full-time working members of the Royal Family. She wasn't involved in the crisis summit between her husband Prince Charles, Prince William, and Harry right before Megxit, hasn't said anything about the Sussexes at all. In fact, she managed to avoid getting name-checked during Harry and Meghan Markle's bombshell of an interview with Oprah Winfrey in March.
Seeing how Camilla is someone who has had her fair share of dodgy headlines in the past, she's decided to focus all of her energy on her royal engagements and public appearances instead. While speaking to The Mail on Sunday's You Magazine in 2017, Camilla put it this way (via the Daily Mail): "Sometimes you get up in the morning and think you can't do it, and you just have to. The minute you stop it's like a balloon, you run out of puff – you sort of collapse in a heap. I think you live on adrenaline."
So it's no wonder the Duchess of Cornwall has hit the ground running with the work she has with her new patronage and with helping women in general in recent years. Keep reading below to find out what it is.
Camilla Parker Bowles is using her voice for the voiceless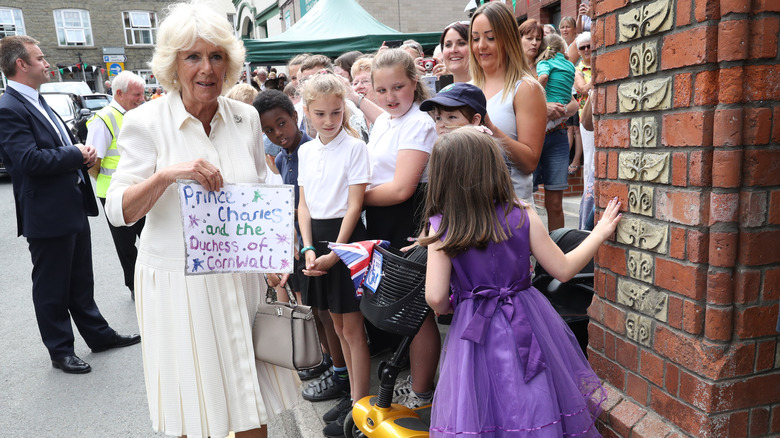 According to People, Camilla Parker Bowles' new patronage is one that will see her really connect to people on an emotional level. The Duchess of Cornwall is the Patron of the Mirabel Centre in Lagos, Nigeria. The center is a safe haven for anyone who has experienced sexual assault and provides medical and emotional support for those who are in need — it's helped more than 6,450 survivors. "It is a truly trailblazing organi[z]ation, supporting survivors of rape and sexual assault as they seek healing and justice," Camilla said in a statement (via People). "Their vital work means that women need no longer suffer in silence …"
This is not the first time Camilla has used her voice to help victims of domestic violence. During the early months of the pandemic lockdown in 2020, she offered her support for victims who had nowhere to go and were forced to stay at home. Taking to Clarence House's official Instagram account, Camilla shared the number for the domestic abuse hotline in the U.K. and wrote, "I can only imagine that being asked to stay there could feel very isolating and frightening for you and your family." As Yvonne Traynor of Rape Crisis in South London told People in 2017 when Camilla began doing domestic abuse work, "If someone of that standing is talking about it, it must make it okay for people to come out and talk about it."
Source: Read Full Article