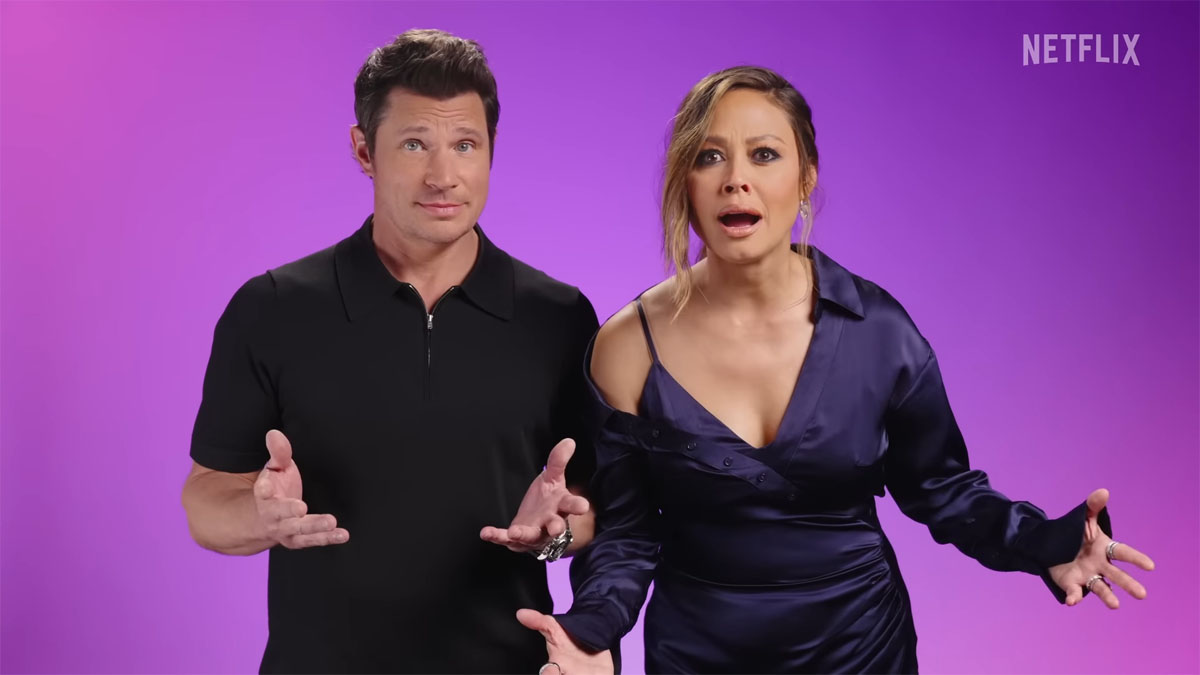 Is the bloom of the rose for Love is Blind? The popular reality series has had a couple of weeks of bad press due to their botched live reunion, serious claims of mistreatment by past contestants, shade from one of the few successful couples from the show, and the Lacheys' uneven hosting. Nick and Vanessa have always seemed a bit superfluous as hosts, but they were seriously criticized after the last reunion special in which Vanessa seemed biased for/against certain contestants and continued her inappropriate pushing for a "Love is Blind baby." Some fans have started a position to replace them, and insiders say their position is actually a bit tenuous.
Love Is Blind's favorite contestants Lauren Speed and Cameron Hamilton are in the running to replace Vanessa and Nick Lachey as Netflix and the show's creator consider their options following an outpouring of demands to ax the 'obnoxious' actors and hire 'the down-to-earth' newlyweds.

'There's always been whispers about replacing them, especially now after the live reunion special which was a complete disaster on so many levels,' an insider who works on the show revealed to DailyMail.com.

'If they want to keep their ratings up, there's got to be a change.'

That change could very well be the ushering in Speed, 35, and Hamilton, 32, as brand new hosts.

The couple captured viewers hearts in season one of the Netflix show when they fell in love, got engaged and married within weeks of meeting each other. The happy couple tied the knot on November 14, 2018, Lauren's 31st birthday.

'Viewers feel a connection with Lauren and Cameron because they are the real deal,' said the on-set source.

'They are down-to-earth, kind people who can actually help the contestants because they have walked in their shoes.

'People want to relate to the hosts – and at this point they can't relate to Vanessa or Nick.'

The former contestants met on the first day of taping the debut season of Love Is Blind, and despite not meeting each other in person for the first month, they claim to have both fallen in love instantly.

Prior to appearing on Love Is Blind, Lauren ran a marketing company in her hometown of Detroit and now hosts the popular podcast We Have the Receipts with comedian Chris Burns recapping Netflix's most exciting reality shows.

Hamilton who hails from Maine is a scientist who founded the Artificial Intelligence company Alliance AI in 2019 and keeps busy with his passion for physical fitness and cooking.

In June, the happy couple will release their book, Leap of Faith, which documents their magical love story and continue to keep fans entertained with their YouTube channel Hanging With The Hamiltons with nearly 800K followers, in addition to their millions of enthusiasts on social media. They share a 'fur baby' Airedale named Sparx.

Thousands of die-hard fans have taken to social media in support of bringing on the couple to replace the Lacheys, berating the hosts – particularly Vanessa – for their 'cringy, 'condescending' and 'obnoxious' behavior towards contestants on the recent live reunion special watched by some 6.5 million viewers.

Immediately following the live show, Love Is Blind fan Libby Cross created a Change.org petition urging Netflix to bring on Lauren and Cameron as the new hosts.

'Join me in asking Netflix to replace Nick and Vanessa as host of LIB….. with LAUREN AND CAMERON HAMILTON. If you agree, please sign this petition and sign the one below to make Lauren and Cameron the new hosts!'

Supporters were quick to give their support, with one fan writing, 'Cameron and Lauren were on the first season of Love is Blind and are proof that love can be blind. Not only have they been through it and can relate to the contestants but they're just plain likable people.'

Another wrote, 'Nick and Vanessa Lachey proved that they are not the right choice as hosts of the show during the season 4 reunion. It's time to save the show by making Cameron and Lauren the hosts moving forward!'

'These two ( Lauren and Cameron Hamilton) are the first EVER living proof of this experiment and happily in love. They deserve to be the hosts of this show,' added another supporter.

Nina Abbott wrote, 'The Lacheys ruin this show with their bias & cluelessness. We need hosts that have been there in their shoes & not just someone who wants to stir up non existent drama.'

Vanessa was called out for grilling contestants about their pregnancy plans with non-stop questions such as 'Who will be the first to have babies? Are you trying? I hope you are trying. By the way, are you trying?' without taking into consideration that not all women can have children.

'Lauren and Cameron understand the contestants and their experiences. Lauren is a class act and will offer more than "when are you going to have a baby?" to the conversation,' another Hamilton supporter wrote in the comment section of the growing petition.

'These guys are actually genuine and care about love. The current hosts just gaslight people and are one sided (Vanessa),' wrote Jocelyn Wilson.

Cross's original Change.org called Remove Nick and Vanessa Lachey as the Hosts of Love is Blind was created five months ago and within the last few days, an additional 30,000 supporters have added their signatures to the petition which now stands at over 40,000.

Several smaller petitions have also sprung up in recent days with the same end.

'For a show that is attempting to be reality TV, Vanessa and Nick make it feel fake, cringy, and poorly produced… Join the thousands of Love is Blind fans in making the show evolve into the best version of itself by removing Nick and Vanessa Lachey as hosts and replacing them with…. Well literally anyone else,' Cross's petition reads.

The on-set source, who asked to remain anonymous for fear of losing their job, told DailyMail.com: 'Vanessa and Nick are fabulous when it comes to interacting with the studio higher-ups and Netflix executives, but there's another side to them which everyone finally got to see because the reunion special wasn't scripted.'

Love Is Blind debuted in 2020 and follows singles trying to make a match and fall in love without ever seeing each other face-to-face. The reality show is in its fourth season and the Lacheys have hosted since day one.

Chris Coelen created the dating show with his production company Kinetic Content which also produces The Ultimatum with hosts Nick and Vanessa, and is best known for the Married At First Sight reality shows.
[From The Daily Mail]
The original petition was created months ago before the most recent reunion, which speaks to Nick and Vanessa's overall inadequacy as hosts, but has received many more signatures since it aired. The insider says that there are musings about replacing them and offered some insight into why they were chosen in the first place, which I'd always wondered about. The executives and producers like Nick and Vanessa, which I guess was all that mattered until it didn't. The petition initially suggested to replace the Lacheys with "literally anyone," though now people are suggesting Lauren and Cameron Hamilton, the first and most beloved of the successful couples from the show. And I actually think it's a great idea. The two of them are genuinely likable, together and separately. Lauren has some hosting experience. And better yet, the couple can actually relate to and understand the contestants and ask nuanced questions instead of just inappropriately interrogating people about their family plans.
https://www.instagram.com/p/Cnr9pjKu0jk/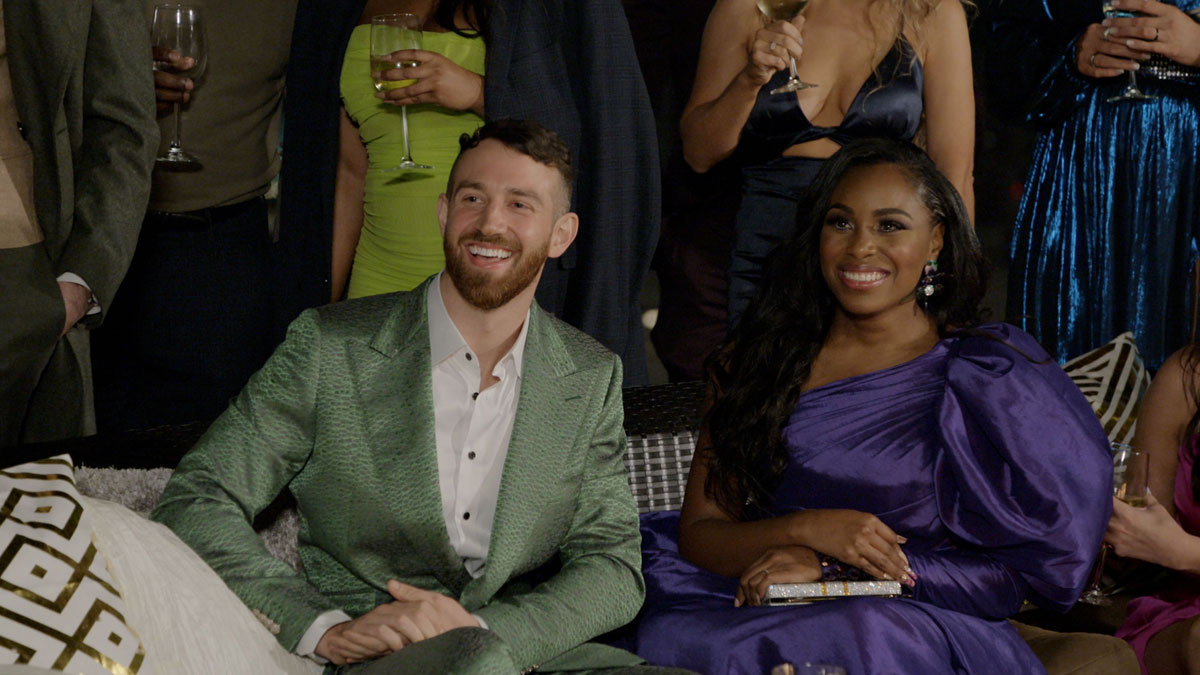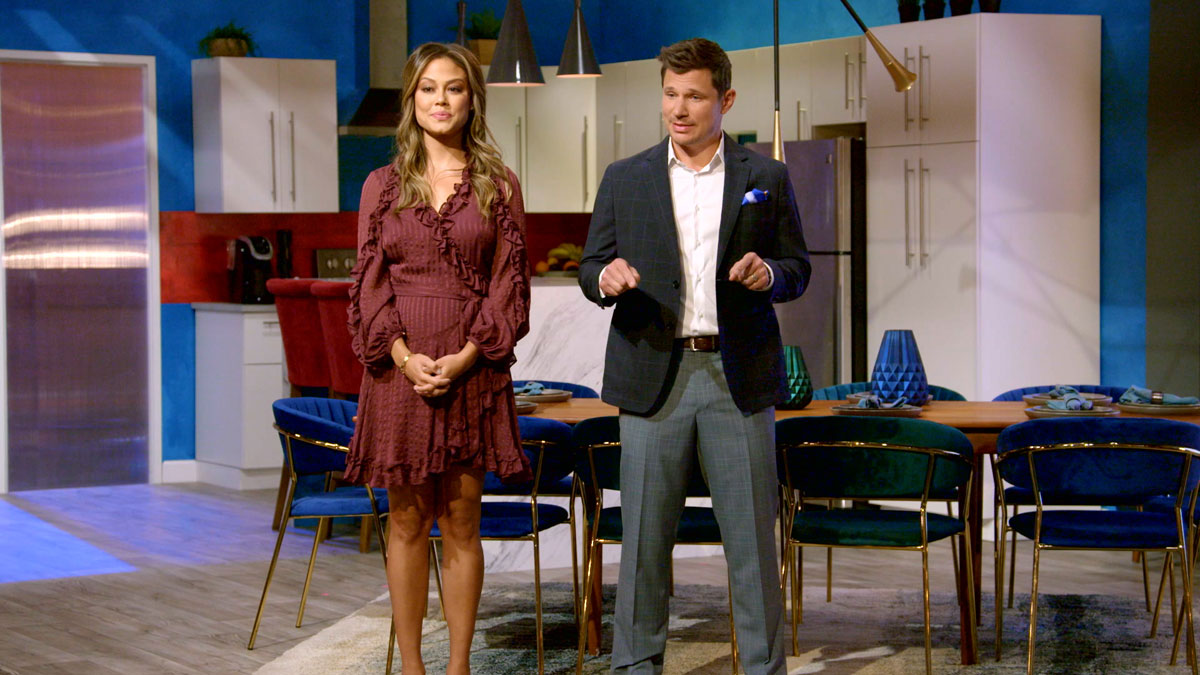 Photos credit: Netflix. Top photo is a screenshot from the YouTube announcement of the live reunion
Source: Read Full Article