After a This Is Us episode fraught with heartbreaking moments that spotlighted Rebecca Pearson's (Mandy Moore) cognitive decline, the series executive producers said a "satisfying and exciting" episode is on the way in "The Train." This episode will piggback on "Family Meeting," where Pearson clan took a hard look at the toll Alzheimer's had on its matriarch. However, the emotional episode also spotlighted the selfless way Rebecca tended to her family over the years. This move by the show's writers was intentional to show the impact Rebecca's love had on her three children.
This story contains spoilers from "This Is Us" episode 16, titled "Family Meeting."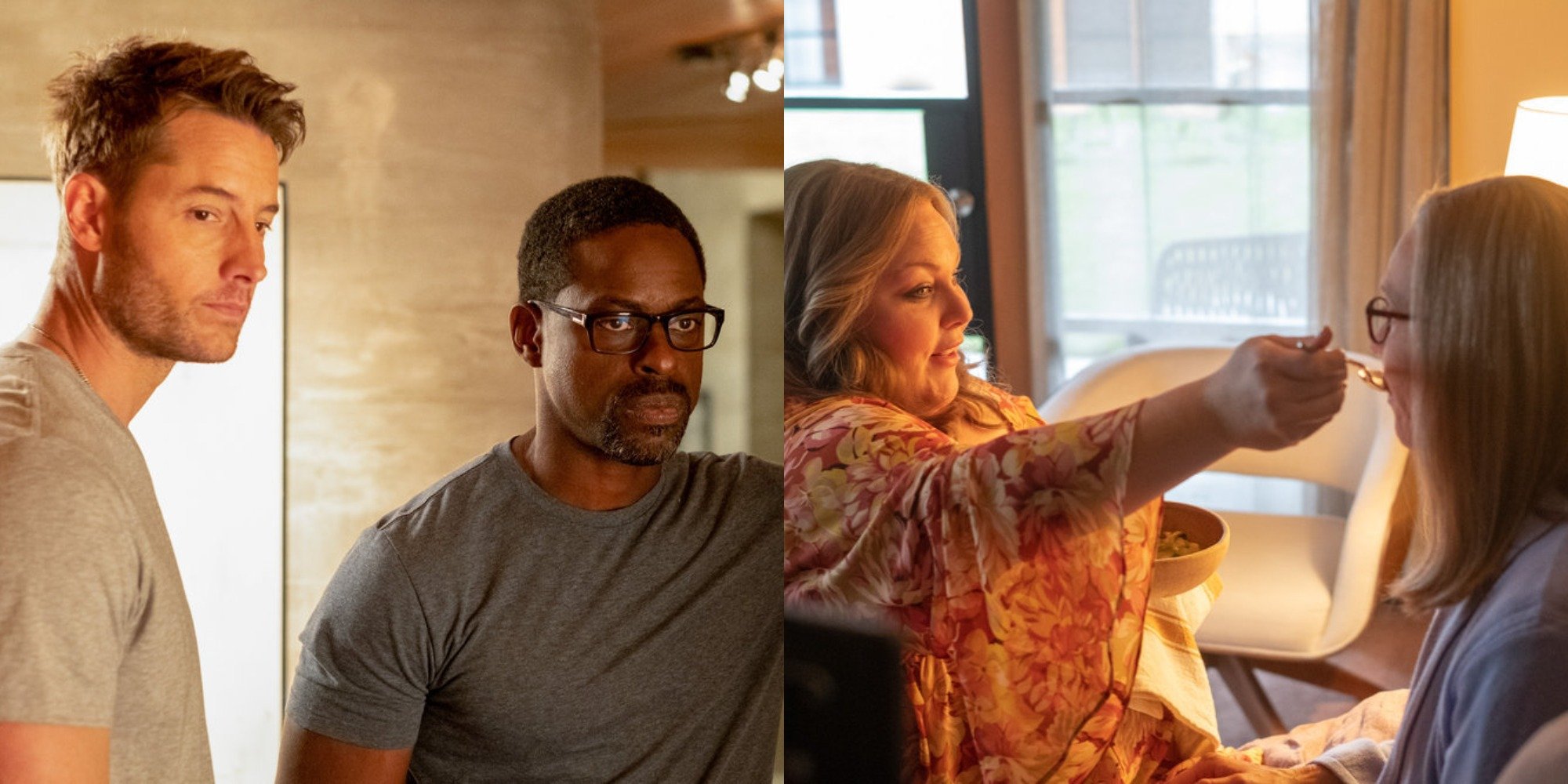 The Big Three honor Rebecca for her 'magic' in 'Family Meeting'
"Family Meeting" centered around Rebecca's lifelong care of her brood: Kevin (Justin Hartley), Kate (Chrissy Metz), and Randall (Sterling K. Brown).
She wanted them to feel her love even when they were too young to understand what that meant.
The trio faced how to handle their mother's care as Rebecca's Alzheimer's progressed.
Although Randall wanted his mother to move to Philadelphia and live with his family, Kevin believes Rebecca's Pennsylvania home is the best place for her to live out the remainder of her life.
Kate also wanted Rebecca to move in with her on the west coast.
However, it would have been difficult for Kate and Randall to provide the round-the-clock care Rebecca needed. Therefore, Kevin and Sophie (Alexandra Breckenridge) said they would move into the home to fill this need alongside Rebecca's nurse.
Kevin's ex-Madison (Caitlin Thompson), her husband Elijah (Adam Korson), and their children join Kevin and Sophie on the property. Also nearby for help is Nicky (Griffin Dunne) and his wife Edie (Vanessa Bell Calloway).
'This Is Us' producers tease new 'satisfying and exciting' episode 'The Train'
This Is Us producers Elizabeth Berger and Isaac Aptaker spoke to Entertainment Weekly. They discussed the love and care the Big Three showed their mother in "Family Meeting."
They also discussed the second to last episode of the series, "The Train."
Consequently, this episode will take Rebecca on a journey toward her final moments on earth.
Berger said Rebecca's heartbreaking character arc was "right for the show."
"Once we committed to it and once we dove in and started breaking it, I think it did prove to be the right decision for the show," Berger explained, for instance.
However, Aptaker concurred, "Most of us will go through caring for an older parent and an uncle, whatever, a loved one."
"Certainly, many people in our writers' room have stories that speak very, very specific to this. And it's a story that, as universal as it is, we don't feel like it's been widely told.
"It very much taps into the show's themes of parents and children, and generations. Carrying things forward and paying back the love you were given," Aptaker concluded.
However, after two difficult episodes, Berger and Aptaker admitted "The Train" has the potential for full-circle moments.
Berger teased, "there might be some cameos in it that people will find satisfying and exciting."
In short, Aptaker added after that, "If they don't, they don't like the show."
Who will make a cameo during Rebecca's rumored final episode, 'The Train?'
https://www.instagram.com/p/Cc3mselBmwL/
Several characters from This Is Us' six-season run are rumored to appear in the second-to-last episode as the Pearsons gather around Rebecca's bedside.
Already seen in flash-forward scenes are Randall, Nicky, Kevin, Toby (Chris Sullivan), and Kevin's children, Nicky and Franny.
Also present are Deja (La Trice Harper), Tess (Iantha Richardson) and Annie (Iyana Halley), Beth (Susan Kelechi Watson), and Edie.
Other characters likely to appear are Kate, Phillip (Chris Geere), and their children, Jack (Blake Stadnik) and Hailey (Adelaide Kane).
However, it appears some characters from Rebecca's past will also be featured.
These include (William) Ron Cephas-Jones and her late husband Jack (Milo Ventimiglia).
An Instagram selfie evidences this with the two actors dressed in character, and posted on Apr. 27, 2022.
No matter who returns for this episode, it will surely tug at the heartstrings of This Is Us viewers.
This Is Us airs Tuesdays at 9 p.m. EST on NBC.
Source: Read Full Article