In insane romance news that not even Shakespeare, man who lived for the drama, could come up with, YouTubers Tana Mongeau and Jake Paul are engaged. It happened in Vegas. Bella Thorne is crying publicly as a result. They've been together two months. You! Cannot! Make! This! Stuff! Up!
Anyway, due to the insanely fast pace of Jake and Tana's relationship, many fans are convinced it's fake AF. Tana already took it to Twitter to confirm that nope, she and Jake are not trolling everyone (peep her tweet below), but still—there's evidence that this engagement was staged.
it's not. i'm engaged. holy fuck. https://t.co/dNIvGfOch1
First of all, the engagement went down in a Las Vegas nightclub. Meaning shots of Tana's ring were dark and somewhat blurry. This part is key, so pay attention!
Congratulations! @tanamongeau & @jakepaul are engaged! 💎💎💎💍🥺(via:TanaMongeau) #TanaMongeau #JakePaul #Monday #diamond pic.twitter.com/gtBokpnuht
According to Ira Weissman, founder of The Diamond Pro, this shot of the ring itself is pretty sus. "Nothing is a sure thing without seeing the ring(s) up close, but everything about this little clip says 'fake,'" he told E! News. "You can see the exaggerated sparkling light reflecting off of something in the bottom right of the frame in the beginning of the clip. This is exactly what you would want to use to try to enhance the sparkle of a simulated diamond to make it look like the real thing. Plus, the glassy look of the very large center stone as it's brought closer to the camera also points heavily towards it being a cubic zirconia."
THE. PLOT. THICKENS.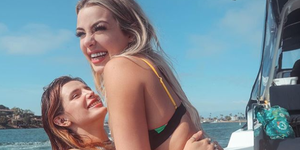 Source: Read Full Article