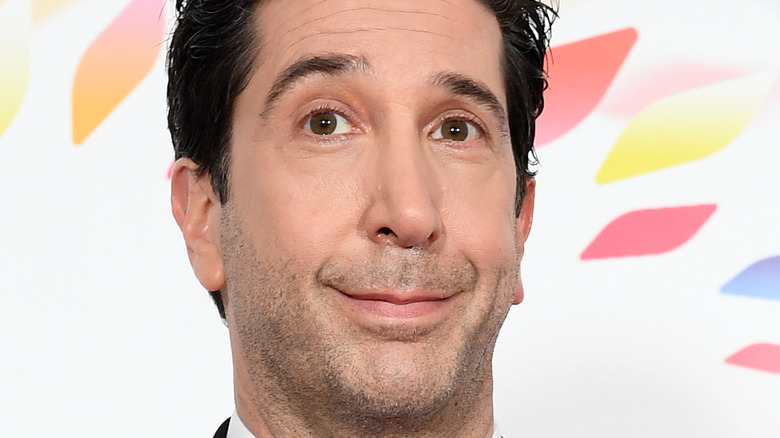 David Schwimmer was born in New York and raised in Los Angeles, the son of two lawyers. After receiving a degree in theatre from Northwestern University, Schwimmer split his time between Chicago, where he was building a reputation as an actor in the city's vibrant theater scene, and Los Angeles, where he waited tables in between auditions while trying to land his big break in Hollywood. 
The biggest of breaks occurred when Schwimmer was cast as Dr. Ross Geller on "Friends." When the show wrapped after a 10-year run, The New York Times reported that the series finale was watched by 52.5 million viewers, the fourth-highest finale viewership in TV history. Given that popularity, it's no surprise that the HBO Max "Friends Reunion Special" was arguably the most-anticipated television event of 2021.
Schwimmer continues to be a familiar presence onstage and onscreen, both in front of and behind the camera. Yet despite the level of fame he's achieved, Schwimmer has remained one of those rare celebrities who's succeeded in keeping his private life private. To find out more about this fascinating actor and director, read on to discover the untold truth of David Schwimmer. 
David Schwimmer cut his teeth in the Chicago theater scene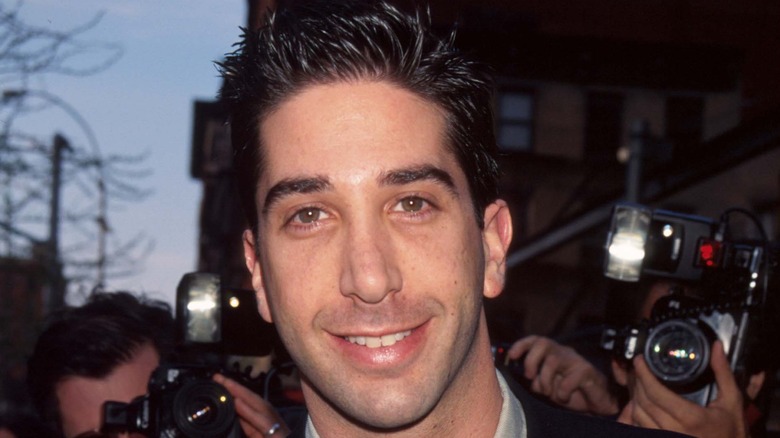 David Schwimmer studied theater at Northwestern University, and his talent shone through while he was still a student. In fact, he told the Chicago Tribune, after performing a scene from Tom Stoppard's "Hamlet"-inspired "Rosencrantz and Guildenstern are Dead" at a talent showcase, he was approached by a Hollywood agent who wooed him with promises of stardom. "I was incredibly naive and I thought I believed her when she said I would make a very good living very quickly," Schwimmer revealed. 
Quickly, however, was definitely not how it happened. In fact, Schwimmer spent the next few years shuttling between California and Chicago. While he performed in theater productions in Chicago, in L.A. he spent his time waiting tables while auditioning for guest spots on TV shows. Even after becoming a huge TV star, Schwimmer continued to perform onstage in the Windy City, which he described in an interview with The Times of Israel as "my artistic home."
Schwimmer also expressed his appreciation for Chicago as "a real working city; there's a humility and pride in craftsmanship that I love," he told Chicago's Splash.
David Schwimmer was once in an improv comedy troupe with Stephen Colbert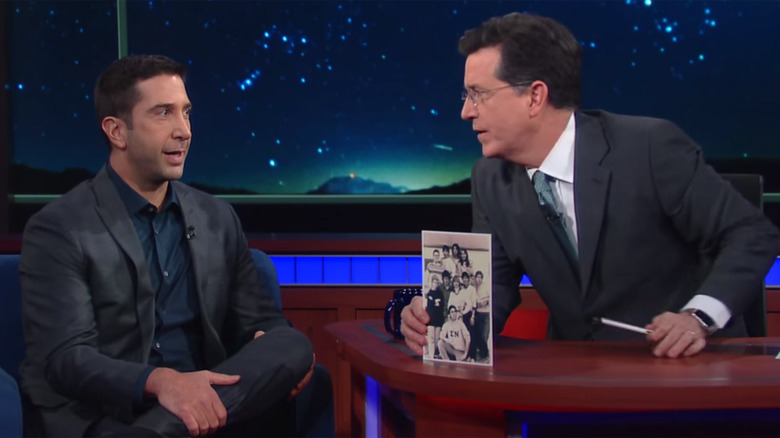 During his years at Northwestern, David Schwimmer got to know a fellow student who was also destined for stardom: Stephen Colbert. When Schwimmer dropped by "The Late Show with Stephen Colbert" in 2016, Colbert revealed that he and Schwimmer had not only studied there at the same time, they had also performed together. "You and me, we were in an improv group," Colbert told Schwimmer. The name of the group, he revealed, was No Fun Mud Piranhas, and Colbert even showed viewers a photo of the group during the time he and Schwimmer were members.
Colbert, in fact, remained particularly fond of improvising alongside Schwimmer in the troupe. "I still have my No Fun Mud Piranhas t-shirt," Colbert revealed in an interview with Northwestern magazine.
Interestingly enough, the No Fun Mud Piranhas improv group was resurrected in 2012, with The Daily Northwestern reporting it was revived as "an audition-free, cost-free program for students interested in learning improv."
David Schwimmer co-founded a famed Chicago theatre company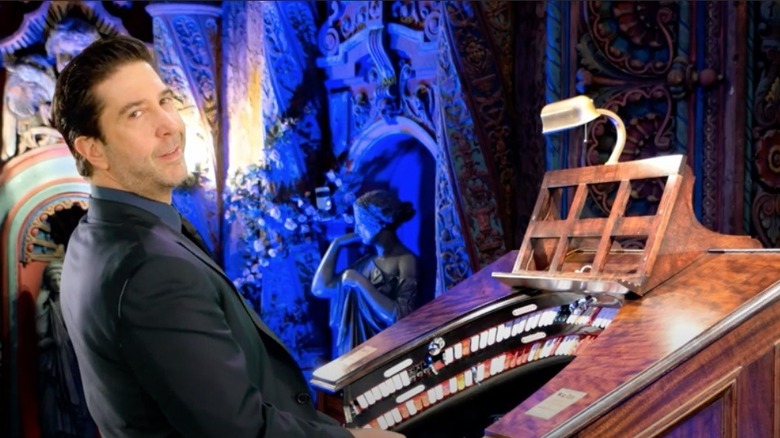 While a senior at Northwestern, David Schwimmer and some classmates co-founded Chicago's Lookingglass Theatre Company. In a 2013 return to his alma mater, reported The Daily Northwestern, Schwimmer shared the company's origin story during a discussion with students. 
Schwimmer was set to direct a school a production of "Alice in Wonderland" when he learned there was no rehearsal space available on campus. The persistent student rented out his own space, funded with money he'd received from his bar mitzvah. When Schwimmer and the cast were invited to Scotland to represent Northwestern by performing the show at the Edinburgh Festival, the dean matched the $5,000 they'd raised, allowing them to afford the trip. "We had this amazing experience which not only bonded us as a group but also taught us that with enough chutzpah and determination we can produce, and we could do it the way we wanted to," Schwimmer recalled.
They then formed Lookingglass, which has gone on to become a Chicago institution. Schwimmer has maintained his involvement over the years, directing and acting in numerous productions, including starring in a 2009 production of "Our Town" and directing a 2018 production of a new play titled "Plantation."
David Schwimmer got his big break when he was cast in The Wonder Years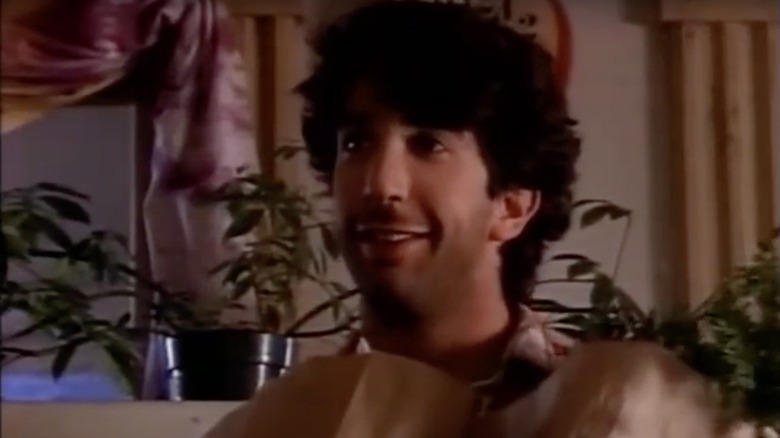 By the early 1990s, David Schwimmer had a few TV credits under his belt when he was cast in his biggest role to date, playing Michael, the live-in boyfriend of Karen Arnold (Olivia D'Abo) in hit drama "The Wonder Years." As Yahoo! Entertainment recalled, his character recurred in four episodes during the show's fourth and fifth seasons. Schwimmer's time on the show ended when Michael and Karen got married and moved to Alaska. 
In an interview with Yahoo! Finance, D'Abo recalled learning that Schwimmer had been cast as her onscreen love interest when the series' executive producer, Bob Brush, told her the actor they'd hired reminded him of Nicolas Cage. According to D'Abo, Brush described Schwimmer as being "kind of dopey and a little goofy, but not too goofy."  
D'Abo continued by lauding Schwimmer's abilities as an actor, noting that he "has a quality that you just kind of fall in love with." Even back then, D'Abo said that she could see "he was on the road to bigger and better things. And I had the utmost faith that he would kind of get to where he is today." 
David Schwimmer directed several episodes of Friends before launching a directing career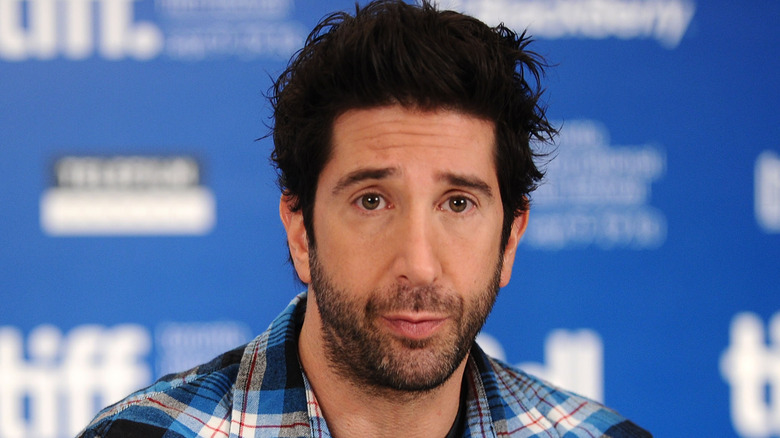 David Schwimmer started off directing plays while he was still a student at Northwestern before going on to direct productions at his Lookingglass Theatre Company. Given that, it's not surprising Schwimmer continued to pursue his directing ambitions onscreen as well. As his IMDb credits demonstrate, he made his directorial debut with the 1998 rom-com "Since You've Been Gone," in which he also starred.
By that point, Schwimmer had already been cast as Ross Geller in "Friends," and he followed up by directing 10 episodes of the show — and even stepped behind the camera to direct two episodes of co-star Matt LeBlanc's ill-fated "Friends" spinoff "Joey." Subsequent directing projects include the made-for-TV movies "Nevermind Nirvana," "Americana" and "New Car Smell." Schwimmer returned to the big screen to direct the 2007 comedy "Run Fatboy Run," in which Simon Pegg stars as an out-of-shape guy who tries to win back his ex by competing in a marathon.
Scwhimmer shifted to drama for the 2010 film "Trust," which CTV News noted was a favorite at that year's edition of the Toronto International Film Festival. 
David Schwimmer returned to the stage when he felt Hollywood had typecast him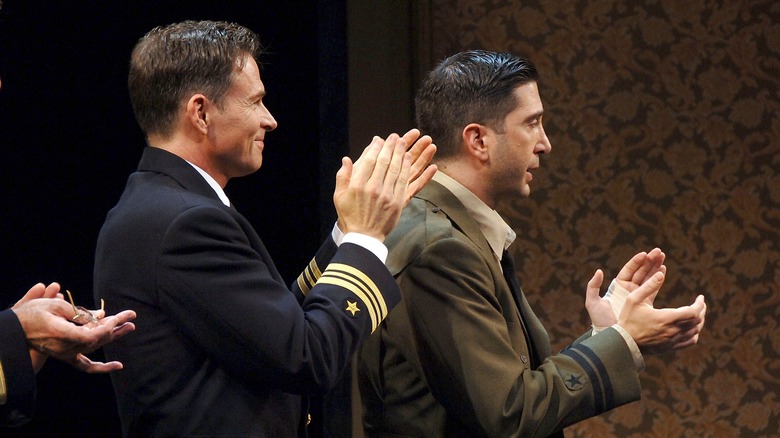 For an actor, the downside of playing a beloved character in an iconic television series is becoming typecast in that role. After playing Ross Geller for 10 seasons on "Friends," David Schwimmer told The Guardian, he found himself "pigeonholed" after the series ended. "I got 'Friends' when I was 27 but I had done all this work on stage. But all that was just eradicated. As far as the public was concerned, I came out of the womb doing sitcom," he complained, admitting he became frustrated that his 10 seasons of "Friends" had "obliterated all the other training, all the other roles I had done."
Fortunately, Schwimmer found the roles he craved on the stage. In 2005, he made his debut in London's West End, starring in a production of playwright Neil Labute's "Some Girls," reported BBC News. The following year, reported The New York Times, Schwimmer starred on Broadway, in a 2006 revival of "The Caine Mutiny Court Martial."  
Over time, Schwimmer told The Guardian, he'd come to terms with being forever associated with Ross. "The older I get and the more my perspective shifts," he explained, "the more you realize just how good you had it."
David Schwimmer portrayed Kim Kardashian's dad in a critically acclaimed TV drama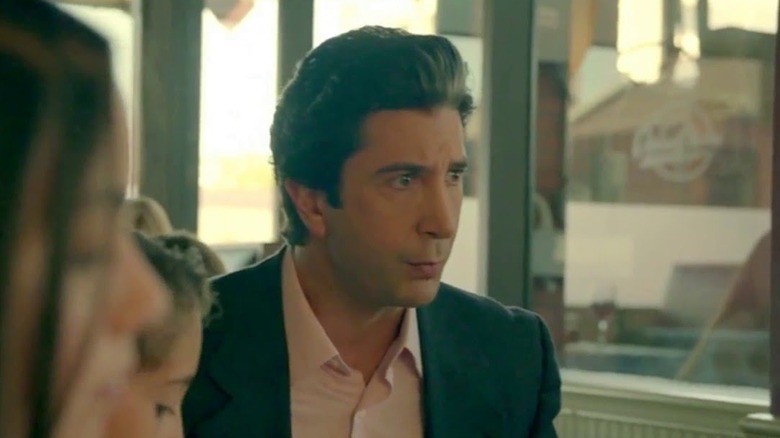 David Schwimmer appeared occasionally on television after "Friends" ended, with IMDb listing guest spots on "30 Rock" and Lisa Kudrow's comedy "Web Therapy," along with playing himself in "Entourage" and "Episodes." However, it was more than a decade after "Friends" ended that Schwimmer signed on for another series, playing attorney Robert Kardashian in "The People v. O.J. Simpson." 
Back in the '90s, the Kardashian name was most associated with O.J. Simpson's murder trial, with the lawyer (who died in 2003) best known as being a good friend of the former NFL star. As Schwimmer told The Hollywood Reporter, he'd come to view Kardashian as "actually kind of a tragic figure."
In the decades that followed, however, Kardashian's daughters — Kim, Khloé, and Kourtney Kardashian — went on to become famous thanks to the success of their reality show "Keeping Up with the Kardashians." In preparing for the role, Schwimmer turned down an offer to meet with the late lawyer's daughters. "The producers of ['Keeping Up With the Kardashians'] had asked me if I wanted to talk to the daughters, too, but I didn't feel that was necessary," he told The Hollywood Reporter. "And they wanted to do it on camera."
David Schwimmer was the first actor cast in Friends, but he nearly turned the role down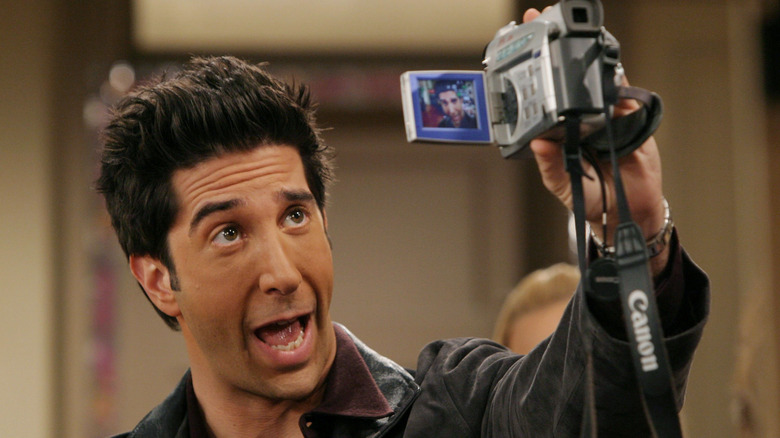 When the creators of "Friends" were determining which actors would play the six characters they'd written, David Schwimmer was the first person they cast. During a 2019 appearance on BBC's "The One Show" (via Mental Floss), "Friends" co-creator David Crane revealed Schwimmer had previously auditioned for him, for an earlier TV show. While Schwimmer didn't get that part, Crane remembered him and thought he'd be perfect for the role of Ross Geller. 
However, at the time, recalled Crane, Schwimmer "didn't want to do it because he had theater experience." As a result, the producers "had to persuade him to come back to television."
Interestingly enough, another actor who auditioned for Ross was Eric McCormack, who went on to fame as the star of "Will & Grace." As McCormack revealed in an interview with HuffPost, he subsequently learned his audition was in vain. When he once told director James Burrows (who directed episodes of both "Friends" and "Will & Grace") he'd been "up for Schwimmer's part," Burrows let McCormack know he never had a shot. "Oh, honey, you were wasting your time, they wrote the part for him," was Burrows' reply, said McCormack.
David Schwimmer issued an apology for some comments he made about diversity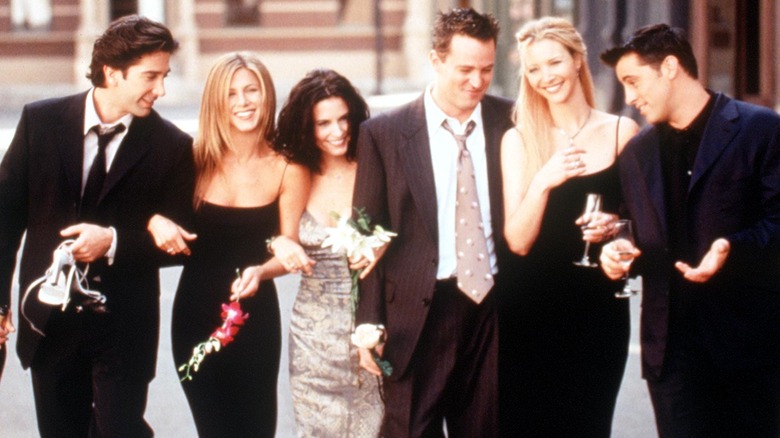 David Schwimmer isn't the type of celebrity who typically makes headlines for controversial comments, yet that's precisely what happened after the publication of a 2020 interview with The Guardian. Discussing the lack of diversity on "Friends," Schwimmer declared that, "Maybe there should be an all-Black 'Friends' or an all-Asian 'Friends.'"
Schwimmer's comments, while well-meaning, earned a Twitter rebuke from actress Erika Alexander. "Hey @DavidSchwimmer @FriendsTV, r u seriously telling me you've never heard of #LivingSingle?" she tweeted of her sitcom "Living Single," which actually premiered before "Friends" did, and featured a group of Black pals. "We invented the template. Yr welcome, bro.
," she added.
Schwimmer responded by tweeting a statement of apology. "I didn't mean to imply 'Living Single' hadn't existed or indeed hadn't come before 'Friends,' which I knew it had," Schwimmer wrote, adding, "I was a fan of 'Living Single,' and was not implying 'Friends' was the first of its kind." In fact, Schwimmer offered, it was "entirely possible" that the success of "Living Single" led NBC and Warner Brothers, the studio that produced the show, to give "the 'Friends' pilot a green light."
David Schwimmer launched a campaign to combat sexual harassment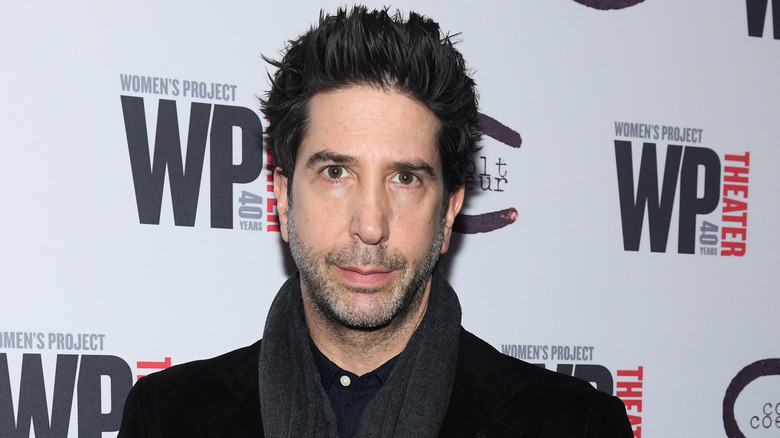 In 2017, David Schwimmer used his platform as a celebrity to shine the spotlight on sexual harassment. He appeared on NBC's "Today," where he discussed a series of public service announcements he produced, with a goal of increasing awareness by dramatizing examples of sexual harassment in various settings. The morning show aired a clip of one in which Schwimmer appeared, putting the moves on a female co-worker in an office. 
Schwimmer decided to produce the "six short films" because he felt it was important "to put a face on what sexual harassment actually is," he explained. The issue was something had been ingrained in him, he told The Guardian, given that his mother was "a very vocal, groundbreaking feminist activist lawyer." 
During a panel on sexual harassment, chronicled by Cosmopolitan, Schwimmer admitted that while Hollywood has a poor track record for combatting sexual harassment, the "Friends" set "was one of the better ones" in that regard. As he explained, the reason for that was simply due to "who we were as actors, and the executive producers on the show were not going to let anything like that happen." There were, he conceded, "other shows and other sets" where "it was worse."
David Schwimmer found working with Marcel the monkey to be a "bummer"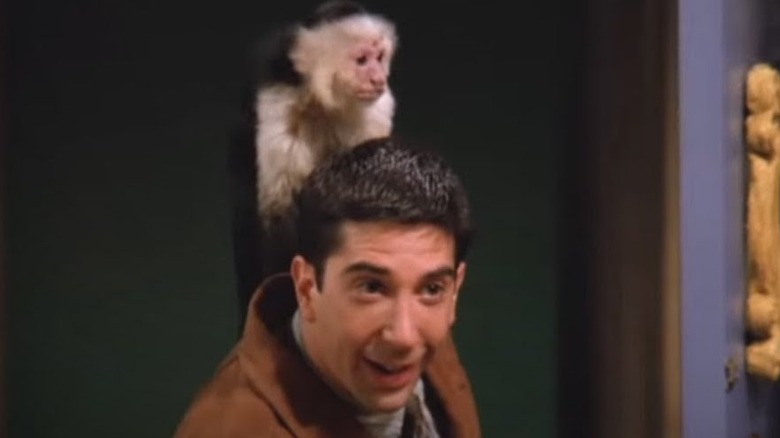 In the first season of "Friends," Ross Geller had a pet capuchin monkey named Marcel, resulting in several episodes that ventured into primate-related comedy. And while Ross and Marcel appeared to be the best of inter-species buddies, that apparently wasn't the case behind the scenes between David Schwimmer and the monkey, whose real name was Katie. "I hate the monkey," he told Entertainment Weekly in 1995 of his animal co-star. "I wish it were dead." 
As Schwimmer explained, the problem was actually with the monkey's trainers, who "won't let me bond with it. They're really, really possessive. It's like, 'Land on your marks, do your job, don't touch or bond with the monkey.' It's a bummer."
Schwimmer's "Friends" co-star Matt LeBlanc confirmed that Schwimmer's off-camera relationship with Katie was far from affectionate. "I liked the monkey. I like animals. And the monkey was really cool. Schwimmer, not so much," LeBlanc admitted during an appearance on "Jimmy Kimmel Live!" 
David Schwimmer admits he feels "contempt" for paparazzi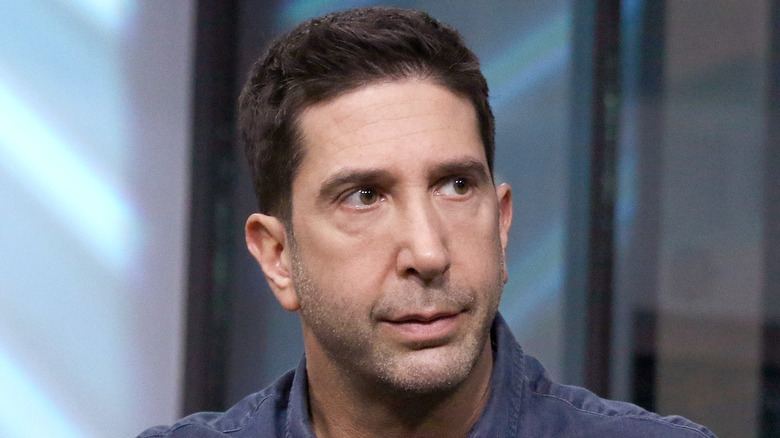 As stars of one of television's all-time most popular shows, all six of the "Friends" stars were catapulted to an extreme level of fame. That upper echelon, in fact, made them highly desirable for gossip-spewing tabloids and the photographers who trail celebrities. 
While some stars have learned to make peace with the paparazzi, Schwimmer is not one of them. "I'm a pretty easy-going guy but it depends on my mood," Schwimmer said of the paparazzi in an interview with the Independent. "Sometimes I'm in a good mood and I couldn't give a s**t — whatever, take your picture, do your thing."
However, Schwimmer admitted he's come to loathe how these photographers operate. "I do have a contempt for the profession of paparazzi," he declared, noting that if he's walking down a street or enjoying his leisure time in public, "to suddenly come outside and find this guy following me down the sidewalk, I invariably find myself saying: 'Get a life.' It's not a real life, it's a waste of life." As Schwimmer sees it, stalking celebrities in order to take pictures of them is nothing less than "a waste of your existence on this planet."
David Schwimmer nearly had Will Smith's role in Men in Black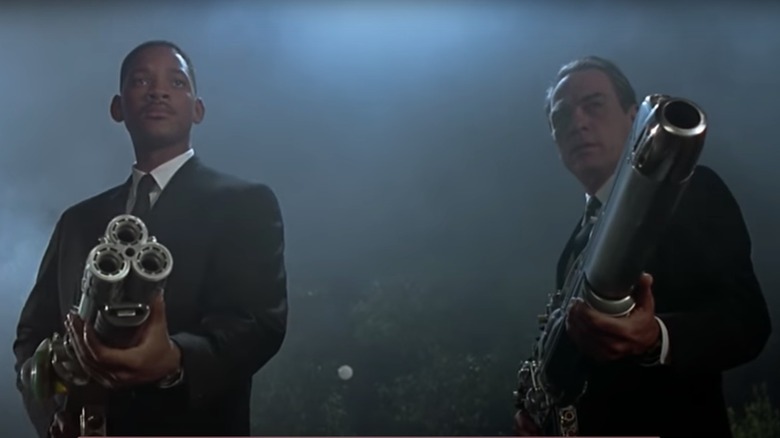 When David Schwimmer signed on to star in "Since You've Been Gone" — in which he also made his debut as a film director — he was able to get the studio to agree to shoot the film in Chicago, and cast his friends and fellow actors from his Lookingglass Theatre Company in their first film roles. As he told The Hollywood Reporter, he instructed them all to block out those six weeks the movie would be shooting. "So everyone turned down all these opportunities. These teaching jobs. Other plays. You know, everyone was banking on doing this first film with me," he explained. 
While prepping for the movie, Schwimmer told the Chicago Tribune, he was unexpectedly offered the lead role in "Men in Black" that ultimately went to Will Smith. The production schedule for "Men in Black," however, was in conflict with "Since You've Been Gone." Ultimately, loyalty won out and he turned it down. "I just said, 'I can't. These are my closest friends in the world. This is their first shot at a movie, my first shot at directing,'" Schwimmer revealed. "It wasn't even like a choice for me. I was like, I just can't."
David Schwimmer's net worth is beyond impressive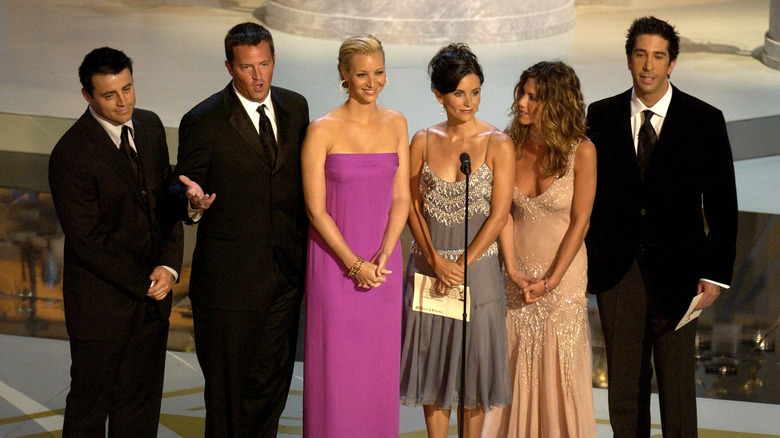 During the final two seasons of "Friends," David Schwimmer and the rest of the cast found themselves in the enviable position of having the upper hand. With their contracts up, the show remained a massive hit for NBC; meanwhile, "Friends" had also been sold into syndication. With the network willing to do anything possible to keep the cast intact and the show on the air, those seasons saw each member of the cast receive an extraordinary salary of $1 million per episode. 
Given that 22 episodes of "Friends" were produced each season, that meant each member of the cast raked in a whopping $44 million for those two seasons. Add in royalties from syndication and streaming, revenue from his Lookingglass Theatre Company, and subsequent acting and directing work, Celebrity Net Worth estimates Schwimmer has amassed a staggering $100 million. 
Despite his extraordinary net worth, Schwimmer is only the fourth-wealthiest member of the "Friends" cast. While Matt Matt LeBlanc and Lisa Kudrow are worth $80 million and $90 million, respectively, Matthew Perry and Courteney Cox are each worth an estimated $120 million apiece. Sitting at the top of the heap is Jennifer Aniston, with a net worth of $300 million.
Source: Read Full Article