As anyone with a social media account knows, watching Hollywood couples kiss it up for their followers is a basically daily occurrence. While some couples ham it up for the cameras, there are some who are tamer, though no less passionate. Take Sacha Baron Cohen and Isla Fisher!
This twosome has been killing the acting game the last few years, and Sacha's nominated for two Oscars for The Trial of the Chicago 7 (for Best Supporting Actor) and Borat Subsequent Moviefilm (for Best Adapted Screenplay), but that doesn't stop him and Isla from being silly. Plus, they always look so damn good at every red carpet they walk, which how?? Someone get me their stylist, STAT. But I digress!
Sacha and Isla's 20+ years of coupledom are truly romantic inspo (can someone please pen a novel about them?), and trust me when I say they will quickly become your OTP…that is, after you read about how they've been able to keep the romance alive for so long. Check out a brief timeline of Isla and Sacha's relationship, below.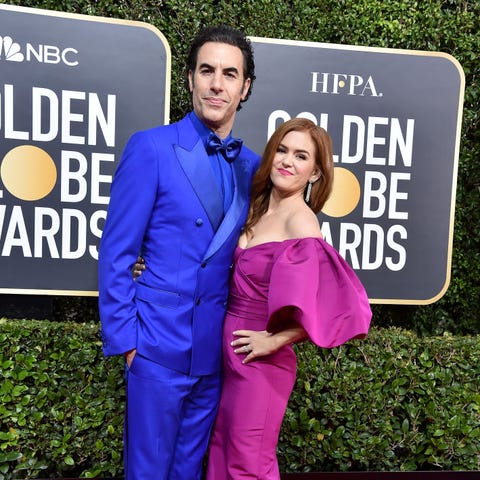 The couple first met at a party in the early 2000s.
It was 2001, if we're going to be exact. Both attended a soiree in Isla's homeland of Australia. Sacha recalled to the New York Times the two's first introduction: making fun of the other guests invited (sounds like true love tbh). While Sacha has joked over the years about Isla not being so keen on him initially, the actor clearly knew he liked Isla right away.
"We were at a very pretentious party, and me and her bonded over taking the mick out of the other people at the party," he told the publication in October 2020. "I knew instantly. I don't know if she did—it's taken her about twenty years to know."
https://www.instagram.com/p/CGSkIStgJlg/?utm_source=ig_embed&utm_campaign=loading
A post shared by Isla Fisher (@islafisher)
Three years after they started dating, Sacha popped the big question.
The notoriously private couple made the big announcement in 2004, and thus began Isla's three-year road to making an important commitment: converting to Judaism like Sacha. By 2007, she adopted a Hebrew name ("Ayala," meaning a doe).
While Isla is private about the conversion process, she did reportedly tell The Evening Standard about the importance of a religious wedding to her and Sacha: "I will definitely have a Jewish wedding just to be with Sacha," she told the publication. "I would do anything—move into any religion—to be united in marriage with him. We have a future together, and religion comes second to love as far as we are concerned."
https://www.instagram.com/p/Bq8yVhZBtC3/?utm_source=ig_embed&utm_campaign=loading
A post shared by Isla Fisher (@islafisher)
She further explained her decision to convert in an article with Allure in 2009, saying she "never saw it as a losing or gaining situation, just an embracing situation. If one wanted to be buried next to one's beloved and they were Jewish, then one would have to be Jewish, too. That came out really weird. Scratch the burial."
The couple eventually tied the knot in a small Jewish ceremony in 2010.
https://www.instagram.com/p/CDiIZ6dAido/?utm_source=ig_embed&utm_campaign=loading
A post shared by Isla Fisher (@islafisher)
They also have three kids together.
Not long after Isla converted, the couple announced they were expecting their first child. Their daughter Olive was born in 2007 (she was reportedly present at her parents' wedding!), and their second daughter Elula followed in 2011. Their son, Montgomery, came into the world in 2015.
Don't expect Sacha or Isla to share pics of them on their socials, though. "If you speak about your children or if you take them to a red carpet event, you can't be litigious later on when there is a picture of them in something and say, 'Hey, they deserve anonymity,' but they do," Isla explained to The Today Show in 2017. "They have rights, too. It's a very conscious decision and truly I would feel really disgusting about myself if I used my family to sell something. It wouldn't sit right with me. It doesn't line up with my values."
https://www.instagram.com/p/CK1NwHKgnQh/?utm_source=ig_embed&utm_campaign=loading
A post shared by Isla Fisher (@islafisher)
Isla and Sacha's marriage is just what you'd expect from them.
If you're expecting a lot of love and hilarity from this partnership, you'd be right. Isla has said frequently how her charming husband can be a tad embarrassing at times, but hey—she knew exactly what was getting herself into when she married him. She learned this the hard way when the couple starred together in 2016's The Brothers Grimsby: "Of course [he brings his characters back home]. It's hard to drop the accent when you're doing it all day on set," she said in a February 2016 appearance of Lorraine in the U.K. "Obviously the kids would get very confused when they were tiny. You know, the Dictator would be holding Elula. It's very amusing."
You know what? At least there's a lot of laughter going on at home!
https://www.instagram.com/p/CK1cQ6mAd2C/?utm_source=ig_embed&utm_campaign=loading
A post shared by Isla Fisher (@islafisher)
The couple is more in love than ever.
To quote our queen Beyoncé, Isla and Sacha are still a couple crazy in love almost twenty years after first meeting. In fact, they're so in love with each other, they're not afraid of doing the deed in some—how shall I say it—public places.
Isla even joked about having sex with her husband in the limo right before stepping onto the Golden Globes red carpet in 2019. As she told Access that night, their sexual escapade was a memorable moment, because "it's not every day you get to be with a Golden Globe nominee."
https://www.instagram.com/p/BsV7_4dhivp/?utm_source=ig_embed&utm_campaign=loading
A post shared by Isla Fisher (@islafisher)
Clearly, these two are wild about each other. As Sacha said at the 2021 Golden Globes, "Thank you to my incredibly patient wife Isla, who has put up with all my madness."
Source: Read Full Article