Black Swan saw best friends Mila Kunis and Natalie Portman coming together to play rival ballet dancers. Directed by Darren Aronofsky, the film was critically acclaimed and won Portman an Oscar for best actress. Although Portman and Kunis were grateful for their roles, they admitted shooting their sex scene was an awkward moment.
Natalie Portman got Mila Kunis her role in 'Black Swan'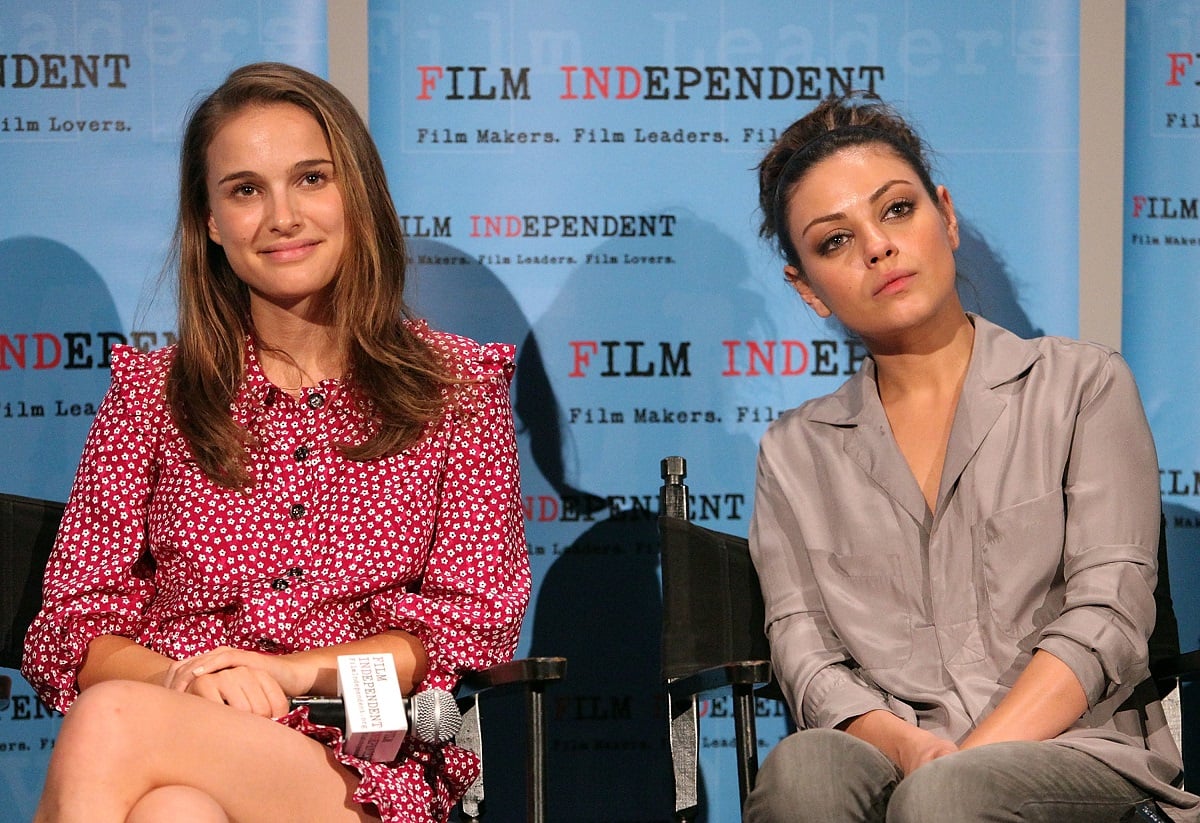 Portman and Kunis were already longtime friends before they worked together in Black Swan. Their friendship came in handy for Kunis, who got her chance to star in an Aronofsky film thanks to Portman's recommendation. Portman, who was already cast in the film, was asked if she had anyone in mind to play her character's rival.
"It was really crazy, because Mila and I were very good friends," Portman said according to MTV News. "And when Darren asked me, 'Who do you think could do this part? Who has sort of a similar height, coloring, physique?' I was like, 'Oh, Mila, Mila, Mila!'"
After meeting with Kunis, Aronofsky cast her in the role. However, the Requiem for a Dream director didn't want the two to remain friends on set.
"He didn't want us to be friends while we were shooting, because we're rivals in the movie," Portman said. "So we both had to do this ballet training, but he would make it at different times, and then he would tell me, 'She's doing really well,' and then tell her, 'Natalie's doing so much better than you.'"
But Kunis and Portman would share the exchange with each other, nullifying Aronofsky's plans.
Natalie Portman believes her sex scenes with Mila Kunis would've been more comfortable if they weren't friends
One of the more difficult parts for Kunis and Portman to shoot was the sex scenes. When Portman first suggested Kunis for the part, she admitted their characters' sex scenes quickly dawned on her afterward. And it was a sequence she wasn't looking forward to.
"I didn't really think through the fact that I was going to have to have sex with her in the movie," Portman said.
=Portman theorized her closeness with Kunis was what made the sex scene as uncomfortable as it was.
"It was pretty awkward. I almost feel like it would be easier to do it with someone you didn't know," Portman said. "But, having said that, it was great to have a friend there who, we could laugh and make jokes and get over it together."
Kunis shared Portman's feelings towards the sex scene.
"We knew it was going to attract attention. We were just hoping that people would walk away after seeing the movie not just isolating in their memory that scene when we have sex," Kunis said as reported by Digital Spy.
Like Portman, their friendship made it awkward for Kunis to display such strong affection for her co-star.
"I don't think we were laughing between takes. I think we were like, 'Let's just get this over with.' It's uncomfortable doing a sex scene. It's just bizarre," Kunis revealed.
Mila Kunis stopped her dad from seeing her sex scene in 'Black Swan'
If there's one person in the world Kunis doesn't want to see her sex scene, it's her father.
"My dad's not allowed to watch these movies. He's certainly banned," Kunis told MTV News in a separate interview.
Her father agreed with her, and did his part to reinforce the ban.
"My dad walked away in the middle of the film. I asked him to," Kunis revealed.
Source: Read Full Article