Um…can someone find the Paul family's chill, pls? Jake has been making headlines with his super-controversial (and maybe fake) engagement to Tana Mongeau, but today, it's Logan who's making us go 🤔 with his new Fox Business interview with Liz Claman.
TBH, where do we even begin? He started off the interview introducing himself as an "ex-controversial YouTuber," then called his podcast, Impaulsive, the "number one podcast in the world" (lol). And when he and Claman discussed how his "expenses just surpassed [his] income for the first time ever," Logan got super nervous and admitted that he's "definitely going downhill from here." Which might be true, who knows, but it's an odd thing to say out loud to an interviewer. He also impulse-mentioned that he has pink eye, then said it's not contagious, and THEN took that back, clarifying that it actually is…so that's good to know, I guess.
He even admitted he didn't really know how to weigh in on the social media topics Claman asked about. "I don't know, you're talking about a lot of stuff I don't really know much about. Kinda just like out here," he said. I mean, props for honesty?
And while Paul is a notorious YouTuber, he's no stranger to other forms of social media. To that, he said, "I'm everywhere, baby….No, I'm everywhere. And I'm nowhere. I'm like a ghost." (I'm uncomfortable.) Claman also mentioned Paul's Facebook page, which, despite being inactive, has a casual 15 million Likes. After discussing some super-controversial videos Paul has released in the past, notably the Japanese suicide forest video (which he's publicly apologized for), Claman mentioned the Challenger Games, which Logan is organizing.
According to the EventBrite page, it's essentially "an Olympic-style track & field" competition between "online content creators, entertainers, and artists." The proceeds will go to a charity, which is actually awesome. In the interview, Paul boasted, "I'm the fastest YouTuber. I'm the fastest entertainer on the planet….I could be the quickest man on the planet." @ Usain Bolt…thoughts?
YOU GUYS. There are so many awkward pauses in this video, and I have literally 50 questions about them, so you're better off just watching it for yourself, above.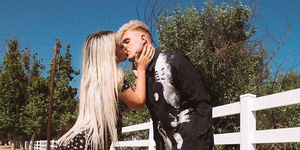 Source: Read Full Article