Having found himself under fire for kissing his dancer while performing 'MONTERO (Call Me By Your Name)' at the annual event, the rapper defends himself and says it's indeed a 'song about gay and sexual s**t.'
AceShowbiz –Lil Nas X is no stranger to firing back at haters. Having sparked backlash for kissing one of his dancers during his BET Awards 2021 performance, the "MONTERO (Call Me By Your Name)" singer urged the critics to "work on [themselves]."
The MC clapped back at the trolls via Twitter on Monday, June 28. "Y'all hate yourselves so much. y'all live your lives trying your best to appease straight ppl. y'all are uncomfortable with what i do because y'all are afraid they will be uncomfortable with you," he began his message. "work on yourselves, i love who i am and whatever i decide to do. get there."
Nas X, real name Montero Lamar Hill, said in another tweet, "we are 4 months in and people are still acting surprised that i am being gay and sexual in performances of a song about gay and sexual s**t." He then emphasized, "like the song is literally about gay sex what y'all want me to do play the piano while baking a cake?"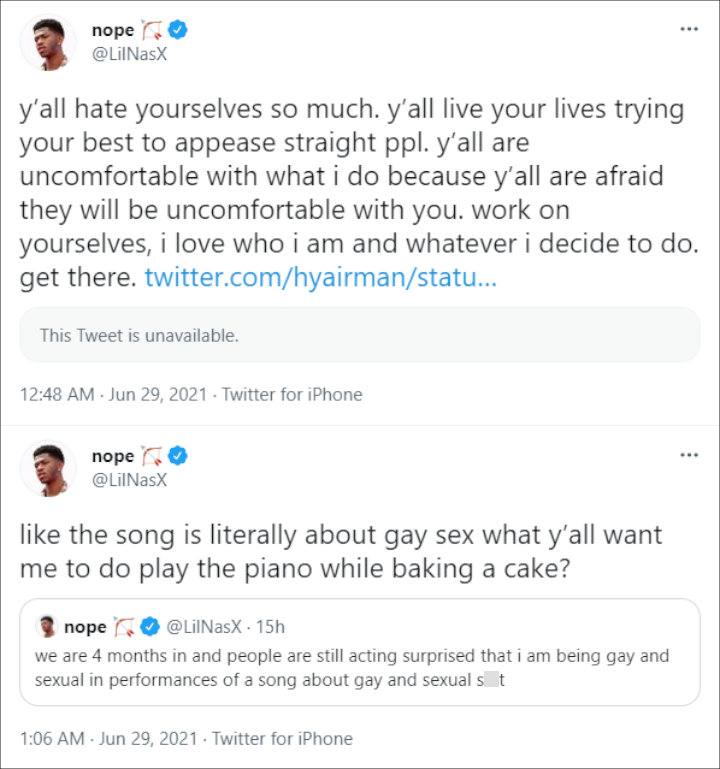 Lil Nas X called out haters criticizing his BET Awards 2021 performance.
Nas X admitted that he is "insecure" about his sexuality, but he has "never denied that." He went on to explain, "When you're conditioned by society to hate yourself your entire life it takes a lot of unlearning. which is exactly why i do what i do."
Not stopping there, the "Old Town Road" hitmaker hit back at an individual who argued, "you got kids watching that s**t bro it wasn't cool." In response, he shouted back, "that's not my problem, stop letting ur kids watch the bet awards n***a put on 'Cocomelon'."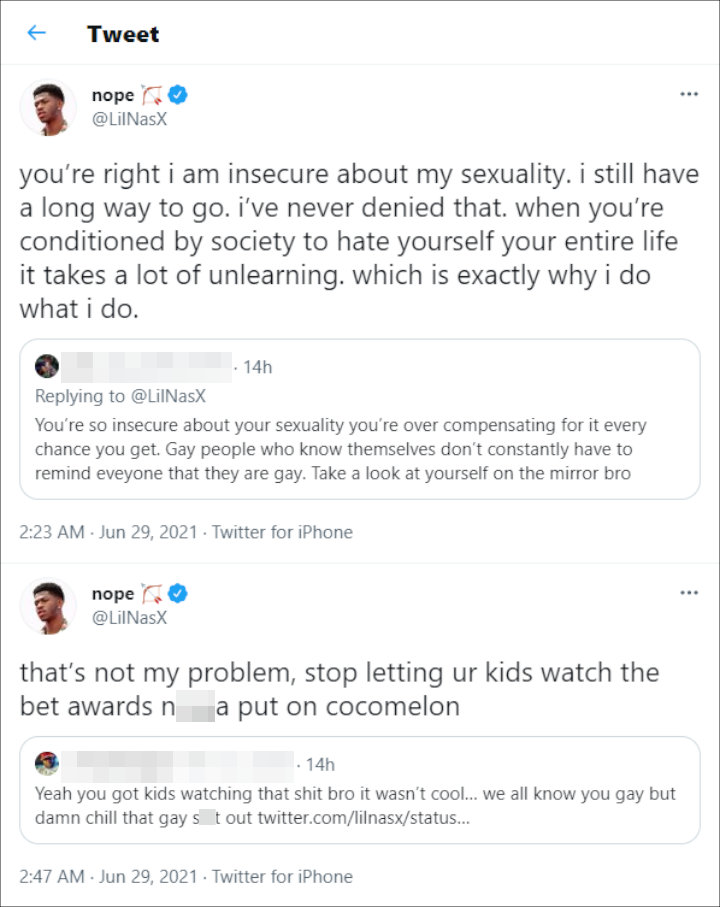 Lil Nas X continued firing back at the trolls.
After responding to trolls' comments, Nas X confessed that "it took [him] a lot of time to mentally prepare for [the] performance." He additionally spilled, "While on stage i was trembling knowing that i was performing something like that in front of my straight peers. even during the performance i was having a hard time calming my nerves. thank you guys for the love."
Nas X heated up the Sunday, June 27 event by singing his chart-topping single "MONTERO (Call Me By Your Name)" in an ancient Egyptian theme. At the end of his performance, he shared a passionate kiss with one of his dancers atop a staircase next to a throne.
Source: Read Full Article