No, Kim Kardashian West did NOT remove any ribs — she's just all about that vegan life!
The momma of four joked with gal pal Anastasia Soare, CEO of Anastasia Beverly Hills, in a now-expired Instagram Story about how her waist is so snatched, and it's all thanks to being vegan at home!
Anastasia complimented Kimmie's physique, joking:
"Please explain to me how it's possible … this waist! … Did you remove your ribs?
The aspiring lawyer laughed it off, saying in response:
"Oh, come on! Don't worry. I didn't remove any ribs, you guys… I think that honestly being a vegan now helps."
Undoubtedly, the social media personality was referring to the controversy following her appearance at the Met Gala earlier this year where her waist was near-invisible in her custom Thierry Mugler dress.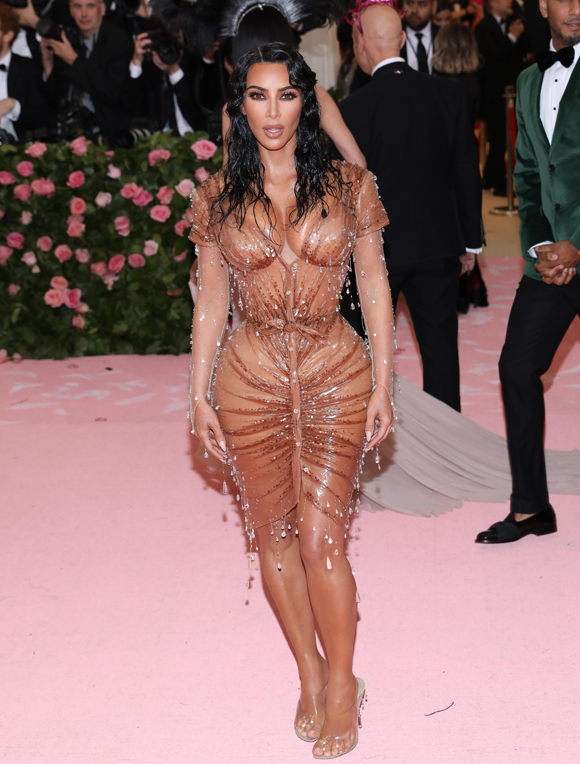 Mrs. West's trainer Melissa Alcantra chimed in after comments continued to pour in and set the record straight about her client:
"To make things clear: 1. This dress is corseted BUT 2. Kim trains her ass off 6 days a f**king week, she wakes up early AF and is dedicated. 3. I paved the road for her but SHE did the work! MOST IMPORTANTLY I don't give a s**t about your opinions on her body, if you think fake or not! I see her every morning, I see her train and I see her sweat and I see all the work she does outside the gym and THAT is commendable!"
Ch-ch-check out the full video (below):
https://www.instagram.com/p/Bz1hW2Qh4bx/
Of course, Kim does get a little help from the outside. Specifically shapewear!
As we reported, in an interview with the Wall Street Journal published last week, the Keeping Up With The Kardashians star opened up about her new "solutionwear" line (formerly Kimono — the name will be changed after claims of cultural appropriation by the people of Japan).
While speaking to the WSJ, the 38-year-old shared (below) she prefers her bod to look "all smoothed" rather than have a dimpled appearance, dishing:
"I'll never be a person who says it's a more positive thing if I show my cellulite… The feeling when I had to wear that corset, is not that. It's the second skin that makes me feel comfortable and cozy and all smoothed."
After she gave birth to six-year-old daughter North West and three-year-old son Saint West, Kim gained around 60 pounds.
In regards to the scrutiny she faced, Kanye West's wife said:
"It changed my body, my skin… photographed from every angle… All I have to do is type Kim and Shamu… That really changed my security. It broke my soul for a while."
The KKW Beauty founder isn't the only celeb who's hopped on the vegan train! She joins the likes of Beyoncé and JAY-Z, who have promoted the Greenprint plant-based diet, and Kevin Smith who went vegan after nearly dying of a heart attack.
Are U convinced, Perezcious readers? Or still suspicious she had work done on her waist?! Sound OFF (below) in the comments with all your thoughts!!
Source: Read Full Article