It's no secret that not every celebrity is the warmest individual on the planet and that even the rich and famous can wake up on the wrong side of the bed. After all, they're human. Plus, it seems even celebrities are in danger of getting snubbed by their peers — and it's just as unpleasant for them as it is for us.
One celebrity who's happy to dish the dirt on some of her awkward Hollywood run-ins is comedian Kathy Griffin. Now we all know Griffin isn't one to hold back on what she really thinks, as the controversial personality has faced her fair share of public disputes over some of her more risqué jokes. Remember that Donald Trump tweet that led to her getting fired from CNN? 
While Griffin may have gotten on the wrong side of a few celebrities, there's a couple she is happy to detail her own not-so-pleasant experiences with. Keep scrolling to learn about the rudest celebrity she's ever met.
Kathy Griffin will 'never' like Jon Hamm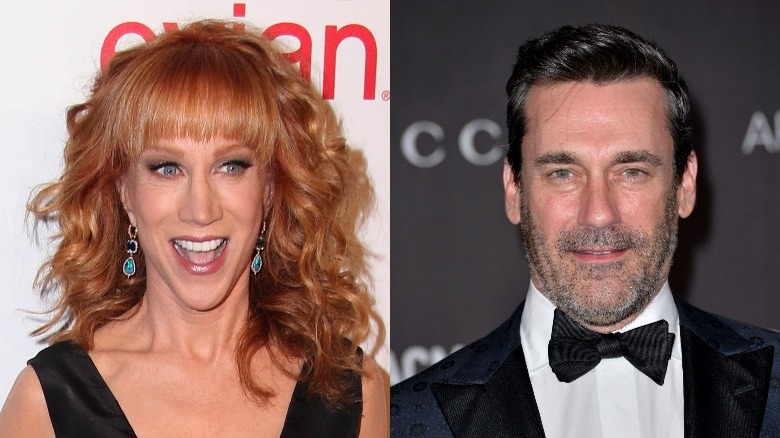 Revealing all in her book, "Kathy Griffin's Celebrity Run-Ins," Griffin shared the inside scoop about a rude encounter she had with Emmy-award winning actor, Jon Hamm. "You'll never convince me to like Jon Hamm," Griffin wrote in her 2016 tell-all book, per Us Weekly. "The vibe I've always gotten from him is cold and somewhat disrespectful … toward me. I'm suggesting he's one of these hot guys who's mildly funny but actually thinks he's comedian-level funny."
Griffin and Hamm met whilst attending a star-studded dinner party where Griffin was hoping to schmooze fellow guest, Jack Nicholson. "So when Hammy showed up, too, inside I thought, 'Oh great,'" she shared. "He even said to me, 'What are you doing here?' I said, 'I earned my seat at the table. What are you doing here?'"
Things only went from bad to worse as the "Mad Men" actor continued his slight digs at Griffin as she spoke with Nicholson. "Hammy picks that moment … to start whispering boozy yammering into my ear," she wrote. "First it was, 'You know your Emmy isn't a real Emmy.' I let that one go, but then he whispered, 'You're so o-o-o-old.'" It wasn't the insults that annoyed Griffin, but more so the timing of them in front of one of Hollywood's greats, Nicholson. Talk about awkward moments. Believe it or not, there's another actor Griffin is not too fond of, either. 
Ashton Kutcher snubbed Kathy Griffin three times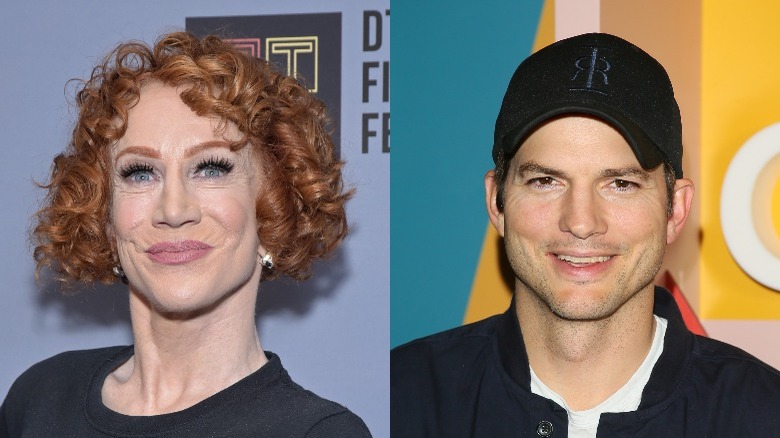 Kathy Griffin also had an unpleasant encounter with our favorite prankster, Ashton Kutcher. While co-hosting a charity event in 2005, Kutcher allegedly refused to speak to Griffin throughout the event. Doesn't sound like the easiest gig, right?
"At least three separate times, we were standing in the wings, waiting to go out and present, and I'd say something like, 'Hey, what if, when we go out, we do this …,' and suggest something, and he'd just ignore me," Griffin wrote in her book, "Kathy Griffin's Celebrity Run-Ins," per Us Weekly. "If he said five words to me the whole day, I'd be surprised. It was bizarre and rude and made me feel as if he thought I was beneath him, someone not worth talking to in the slightest." The pair reportedly ran into each other three years later along with Kutcher's wife at the time, Demi Moore. Griffin greeted him, but was met once again with cold silence. "If you won't say hi to me in the Mexican takeout joint, you're a d-bag," she added.
They say three time's the charm, but this certainly wasn't the case for Griffin and Kutcher. While talking to P. Diddy at a party, Griffin recounted how Kutcher stepped in front of her as though she wasn't there. She wrote, "So that's three incidents. Do I loathe him? No. He's just someone who's made it perfectly clear to me that I have absolutely nothing to offer him during his precious time on earth." 
Source: Read Full Article