The Jumanji franchise is about to get even bigger!
It was just announced on Thursday (March 17) that the recent movies are getting the theme park and hotel treatment, according to Deadline.
Teaming up with Merlin Entertainments, Sony Pictures Entertainment will be developing theme park rides, attractions, lands, retail outlets and themed hotel rooms at Merlin's Resort Them Parks and Waterparks in Europe and North America!
Get more details inside…
The first experience launched will be the world's first Jumanji ride, opening in April at Merlin's Gardaland Resort in Italy, and the second is already in development for a different theme park, opening in 2023.
Named "Jumanji – the Adventure," the ride will "transport guests to the fantastic world of Jumanji, where an exhilarating adventure awaits them: a journey full of pitfalls, surprises and dangers through the wild jungle. The new 'Jumanji – the Adventure' attraction will be a dark ride for adventure lovers of all ages, designed to appeal to a wide audience of families, teenagers and young adults."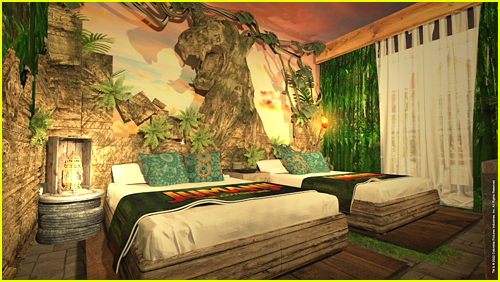 "Jumanji – the Adventure" will open THIS April, and at the same time, the first Jumanji-themed hotel rooms will also be launched.
"We are excited to be taking our relationship with Sony Pictures Entertainment to the next level with this strategic partnership. Sony are one of the top movie companies on the planet and Jumanji is a multi-billion-dollar brand which has appealed to guests of all ages, for over two decades," Mark Fisher, Chief Development Office of Merlin Entertainments, said in a statement. "Our Merlin team are already hard at work developing brilliant creative concepts, which will bring to life the blockbuster-famous Jumanji film across our Theme Parks and Waterparks. We can't wait to deliver thrilling rides and experiences for guests and film fans alike! The game is certainly on!"
If you didn't know, Merlin Entertainments operates 139 attractions, 23 hotels and 6 holiday villages in 24 countries and across 4 continents.
Some of the parks and attractions you may know of are the Legoland Parks across the world, the Alton Towers Resort and Thorpe Park in the UK, the Madame Tussauds wax museums, and the Sea Life aquariums in the USA, Australia and more.
Source: Read Full Article