Barack and Michelle Obama are a real power couple. The 44th U.S president and his first lady made history when Barack won the race for president. It's not just the lineage that made the Obamas stand out from the crowd. Their close-knit family really resonated and Barack and Michelle's relationship became an inspiration for people around the globe.
Even though their time has come and gone, the Obamas still manage to steal the spotlight. To this day fans of the family are still pining after news surrounding America's most loyal (and beautiful) couple.
How long have Barack and Michelle Obama been together?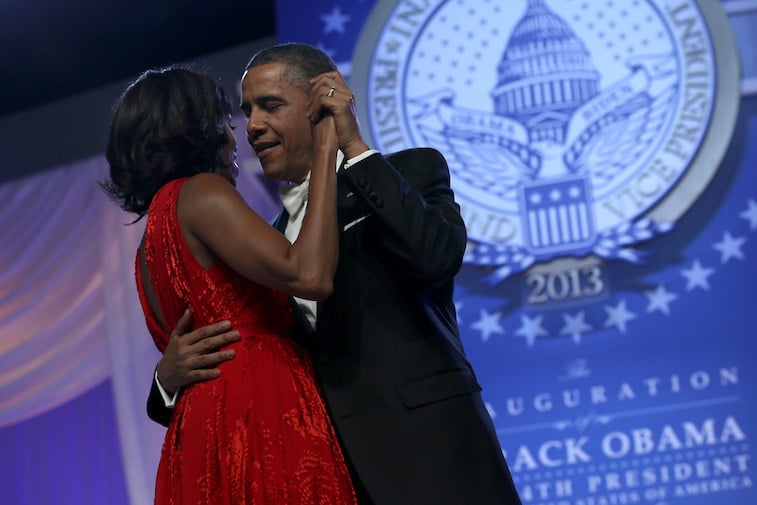 Barack and Michelle Obama are a prime example of what every couple should aspire to be like. Somehow, through the stresses of running a country for two terms, Barack always managed to make time for his family and Michelle always made sure to be there for her man.
In fact, for Barack to even take on the title, the former first lady had quite a few sacrifices to make. For example, she had to leave her dream job behind to accompany her husband on his new venture — her $215,000 per year dream job. 
While being the first lady has its flair, parting with the gig was difficult, but after spending 20 years together what's a wife to do? As of this year, Barack and Michelle have been together one more decade, putting them at the impressive 30-year mark.
This is how Barack and Michelle Obama met
30 years through thick and thin is nothing to sneeze at! With that much time in, and almost a decade of it spent running a country, the pair clearly had a pretty solid start. Barack and Michelle first crossed paths at Michelle's place of work. Obama got a job as a summer associate at Sidley Austin LLP, but not just any associate. He was Michelle's underling, and her — his mentor!
"Because I went to Harvard and he went to Harvard, and the firm thought, 'Oh, we'll hook these two people up,'" Michelle / ABC News.
Barack was immediately smitten with his new "boss" and threw his hat in the ring. His initial request for a date was met with a resounding no. Barack, not one to give up, continued to push for some personal time with his mentor.
Eventually, she caved and the two had a memorable outing. They visited the Art Institute of Chicago and checked out Spike Lee's Do The Right Thing. The date was all Michelle needed to realize she had caught a pretty big fish. They got engaged just three years later on the day the celebrated Barack passing his BAR.
What have the Obamas been doing since they left the White House?
The Obamas made it through what was, without a doubt, the most stressful years of their lives. So, what are they up to now that Barack's honeymoon phase with freedom is over?
Of course, they are taking the time to really enjoy civilian life. Barack's worked on his golf swing. Michelle has dedicated her free time to working up a sweat a SoulCycle. Their enjoying quality time, traveling the world, and generally relaxing. They also have a pretty big project on the horizon!
The couple recently signed a multi-year deal with the streaming giant Netflix. According to the media mastermind, the deal could result in everything from scripted series to documentaries. Seven different programs have already been announced including Crip Camp, Listen to Your Vegetables & Eat Your Parents, and Overlooked.
The first shines a light on the disability rights movement, the second a preschooler show that focuses on healthy eating, and the final one zeroes in on deaths that were not covered in the media. Looks like the Obamas have a lot on their plate!
Source: Read Full Article