You know how Selena Gomez just released a new single about Justin Bieber? Yeah well now fans are convinced The Weeknd is about to release a new single about Selena. Mostly because he recently registered a song titled "Like Selena"—at least according to the ASCAP (via E!). So subtle! Truly no idea what or whomst it could be about!
The Weeknd seemingly teased new music on Instagram yesterday, captioning this blurry photo "the fall starts tomorrow night."
He also uploaded the photo to Instagram Stories with the caption "tomorrow night we start again." In other words, it's going down tonight—though who knows if The Weeknd's first release off whatever project this is will actually be "Like Selena." Either way feel free to debate it with your relatives at Thanksgiving. They definitely want to hear your pop culture conspiracy theories instead of updates on your work/romantic life!
FYI in case all the recent celebrity breakups and makeups this year have irreparably confused you: Selena and The Weeknd started dating in January 2017 and split up after about 10 months. A source told E! "It's been hard for them to come to the realization that this is the direction things were heading, but it's been hard for months. They have been open and honest about it and where they were going. Distance definitely played a factor."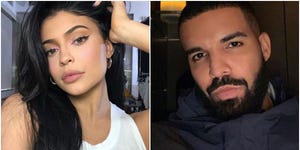 Source: Read Full Article