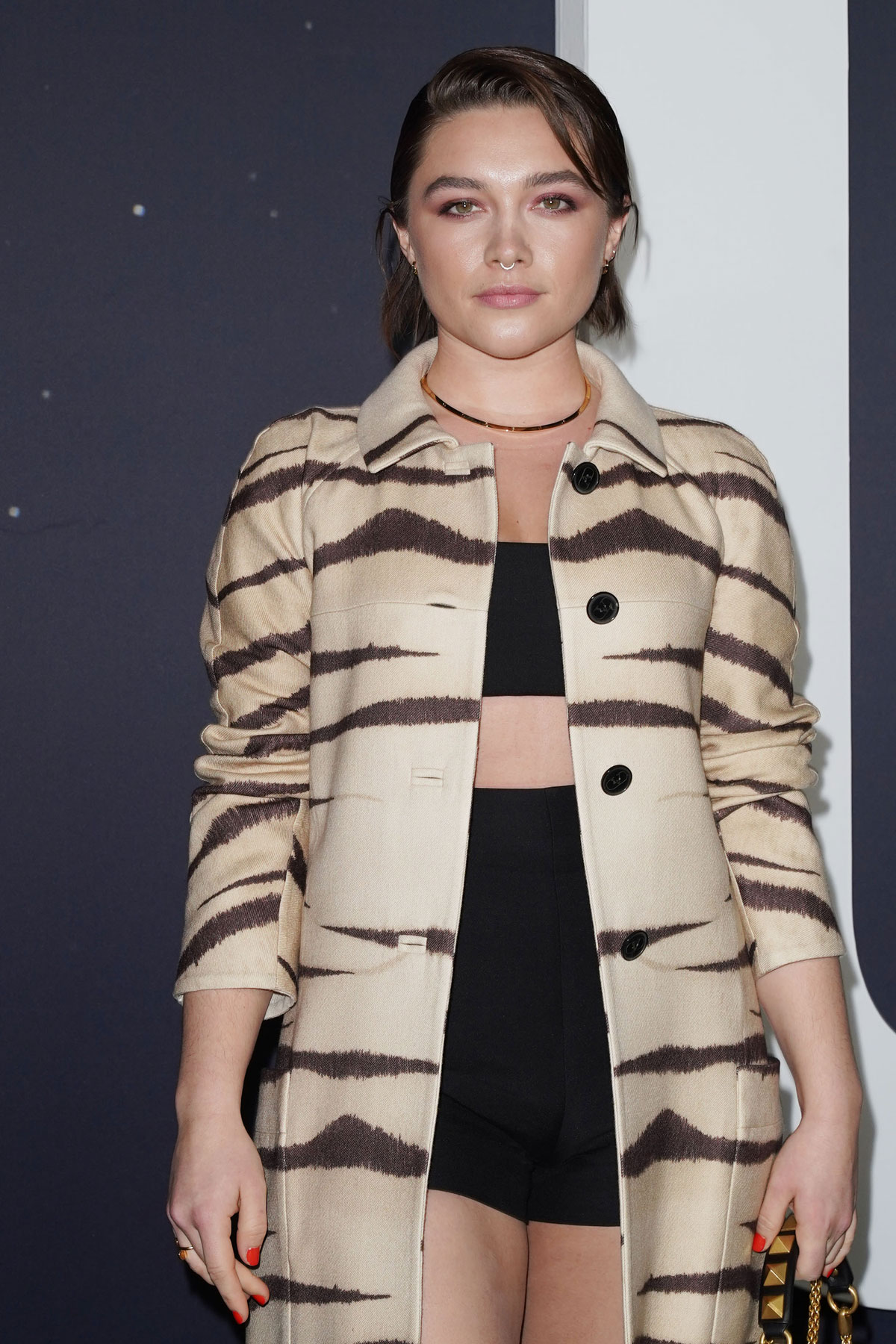 Florence Pugh is part of the new crop of A-list Gen Zers since starring in Little Women in 2019. And after upstaging Scarlett Johansson in Black Widow (she is also the new Black Widow after Scarlett's exit), Florence has practically become a household name. It seems the brighter Florence's star shined the more inclined she is to make drastic fashion changes. In October, Florence got a new dark brown pixie-ish hair cut. She had done away with her signature long blonde locks for a more modern do. Wanting to do more "adult stuff," Florence decided to get her septum pierced recently. Over the weekend, Florence shared the story behind her new septum piercing. Florence shared a few snaps of her new septum ring including one with a needle pierced through. She wrote on Instagram that she fainted halfway through the piercing. Fortunately for Florence her bestie Zoe Lister-Jones came to the rescue with a lollipop to help raise her blood sugar. Below are a few highlights via People:
"When you wanna be a cool grown up and get a cool new piercing and you instantly fail, go green and then faint," Pugh wrote alongside the post.

She then explained that friend Zoe Lister-Jones came to her rescue after the mishap. "Praise the piercing heavens for my trusty @zoelisterjones to have a handy lollipop to make me feel better. FAAAAAANKS," she said.

Pugh also shared a quick "warning" at the bottom of her caption, noting that the "last slide," which features her with a needle through her nose, "will make your stomach scream."

Pugh's new piercing comes about after the Black Widow star said goodbye to her long locks in late October.
[From People]
I am pain adverse but I still make crazy choices like getting my nostril pierced in the middle of Penang, Malaysia and that was painful enough for me for years to come. I am not sure if I could handle having my septum pierced. I probably would have fainted just like Florence. Florence is every woman. We tend to either change our hair (cut, color, style) when we are stressed out or when something drastic has changed in our lives or get a tattoo or a piercing. So far Florence has done two out of the three. I won't be surprised if I wake up some day this week and Florence is showing off a new tattoo on the Gram. I liked Florence's new haircut. I honestly think her septum piercing is quite delicate (considering) and I don't really like septum piercings. I was also once a surgical tech for ten years so seeing the needle piercing her septum in the last picture did not make me queasy. I was quite fascinated with the process she had to go through to get to that point (weird I know, but I'm a blerd). Anyways, I hope Florence stops while she's ahead. I do not want to wake up to Florence showing off a unicorn tattoo (I actually want one) in an awkward area.
https://www.instagram.com/p/CXE-oeuotKv/
A post shared by Florence Pugh (@florencepugh)
https://www.instagram.com/p/CXJw2XAoq9n/
A post shared by Florence Pugh (@florencepugh)
photos credit: Avalon.red and via Instagram
Source: Read Full Article