Put a little jig in your step with Food Network star Bobby Flay's flavorful and filling Irish oatmeal.
This isn't a typical bowl of oatmeal. Packed with apples and spices, Flay's morning recipe is topped with a sweet and crunchy brûléed crust that takes this "oatmeal for grown-ups" to another level.
Flay's Irish Oatmeal is 'creamy and chewy'
The Beat Bobby Flay star introduced in 2011's Bobby Flay's Bar Americain Cookbook his satisfying recipe for Steel-Cut Oatmeal. The breakfast staple's reputation is transformed from 'ho-hum' to superstar in the Irish-American chef's dish.
"Bland and mushy are forever banished; this is oatmeal for grown-ups," Flay writes. "Steel-cut oatmeal (also referred to as Irish oatmeal) has a wonderfully nutty taste and a texture that is at once creamy and chewy."
Recalling that as a child, he "always loaded my oatmeal with raisins and brown sugar," Flay now incorporates "tart apple slices with the same ingredients for an unexpected yet familiar treat to layer with the oatmeal."
The best part of Flay's Irish oatmeal? The "sweet brûléed crust" it gets from turbinado sugar and "a quick hit from the broiler."
Bobby Flay's morning dish will have you falling 'in love with oatmeal'
For the chef's dish, you'll need for the oatmeal: steel-cut oats, kosher salt, finely grated orange zest, whole milk, and light brown sugar.
For the topping, have on hand: granulated sugar, pure maple syrup, ground cinnamon, raisins, light brown sugar, fine salt, Granny Smith apples, and turbinado sugar.
Do not skip Flay's Cinnamon Cream, which you'll make with heavy cream, crème fraîche or sour cream, maple syrup, orange juice, and ground cinnamon.
Once the oatmeal and topping have been cooked, it's time to serve with alternating layers of apple mixture and oatmeal in ovenproof bowls. Finally, the turbinado sugar is sprinkled on top and broiled on a baking sheet until the sugar has melted and is golden in color.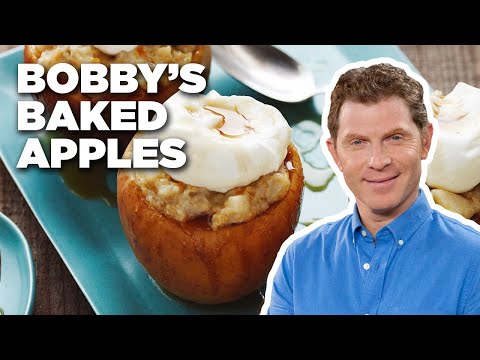 Remove the oatmeal bowls from the oven and allow them to cool for "about one minute." At that point, the sugary crust is cracked with a spoon and the cinnamon cream is poured in.
As Flay assures in his cookbook, "oh yeah, you'll be in love with oatmeal after this."
Get the recipe and reviews on Food Network's site.
Reviewers on Food Network's site praised Bobby Flay's irresistible oatmeal dish
Oatmeal is oatmeal: high in fiber and filling, it's good for us. But Flay proves that just because it's healthy doesn't mean it has to be boring. His delicious recipe accents the steel-cut oats' toastiness with the tartness of apples and the warmth of the ground cinnamon. To literally top it off, the dish's crunchy brûléed crust and citrus-infused cream turn cooked oats into an experience.
Home cooks wrote of Flay's porridge: "Love this. Have made it several times," "Loved the recipe and will definitely be making it again!," and "Made a version of this today and it was delicious. … Nice way to change up oatmeal."
Source: Read Full Article